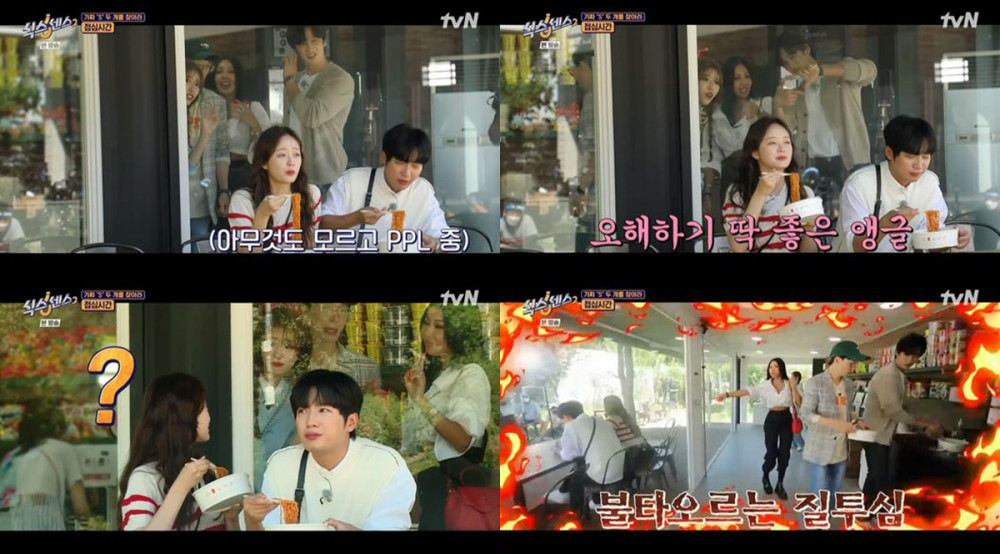 On September 24, the second season of the tvN variety series 'Six Sense' bid farewell to viewers with the last episode of its season.
On this day, actor Ahn Bo Hyun joined the cast members as the final guest. Once again, the stars visited various locations in order to correctly guess which location was fabricated by the production staff.
The second location that the cast members visited was a self-service cafe. Each of the cast members picked out the lunch options that they wanted to eat, and Jeon So Min and Lee Sang Yup, who finished preparing their instant noodles first, went out to the picnic table outdoors to start eating.
But when Jessi spotted Jeon So Min and Lee Sang Yup eating outside side by side, she suddenly shouted, "Why are those two together? Look at this. It's suspicious." She then added on, "I'm okay. But I'm not in a good mood. I've never been rejected by a man before."
While Jessi fumed inside the self-service cafe, Jeon So Min noticed some food on Lee Sang Yup's face and wiped it off for him. Watching them through the window, Jessi warned, "Sang Yup oppa, if we were in the United States right now, a group of oppas that I know would come find you," causing laughter! (In the past, Jessi showed interest in her co-star Lee Sang Yup by confessing that he was close to her ideal type.)
Meanwhile, at the end of this week's episode of 'Six Sense 2', the production staff greeted viewers with a simple message, "See you soon," hinting at the possibility of season 3.