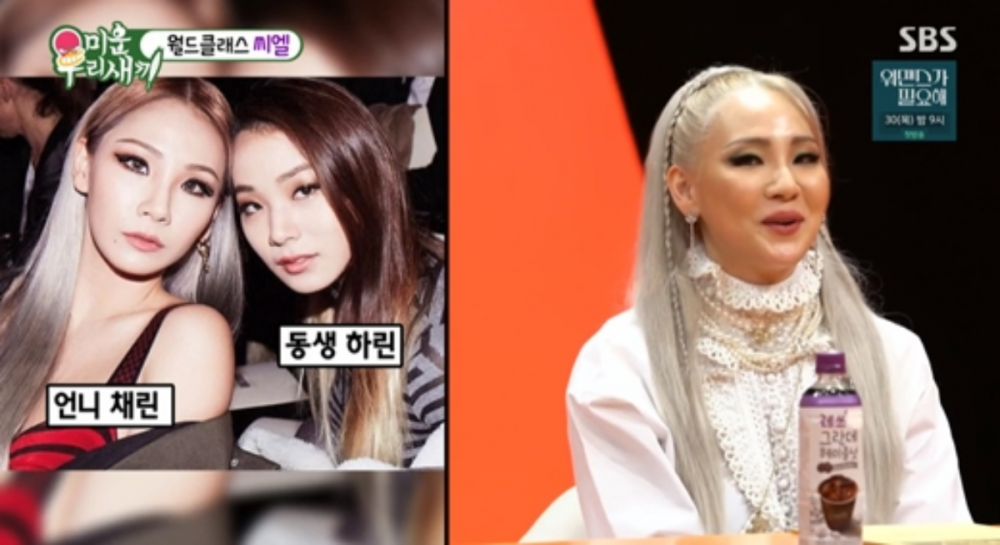 CL was recently a guest on the SBS variety program 'My Little Old Boy'!

During the September 26 KST episode of the program, the rapper opened up about her close relationship with younger sister Harin.

"You said you currently live together with your younger sister," cast member Seo Jang Hoon commented at one point of the episode. "Is she the type who is afraid of their big sister?"

"She may look nice, but she's actually a 'bad GZB,'" CL responded, making a reference to her hit single "Baddest Female." "People sometimes even say that they thought she was the older one. Women [like Harin] who wear jeans and a white tee are the scariest women. We have a four-year age difference."
As photos of the two were revealed to the viewers, she also confessed, "When we both have makeup on, we really resemble each other."

Soon after, cast member Shin Dong Yup asked CL if she and Harin fought often as children.
"My sister went to school overseas from a young age, and I also debuted pretty early, so we didn't spend a lot of time together," she explained. "Right now, I think we're affectionate with each other. If we were together at a little bit of a younger age, I think we also could have fought, but we're older, so I feel like there's more affection there."
Meanwhile, CL's upcoming pre-release single "Lover Like Me" will be released on September 29 at 1 PM KST/ September 28 at 9 PM PST, and her full album 'ALPHA' will be dropped in October.

Stay tuned for more CL news!