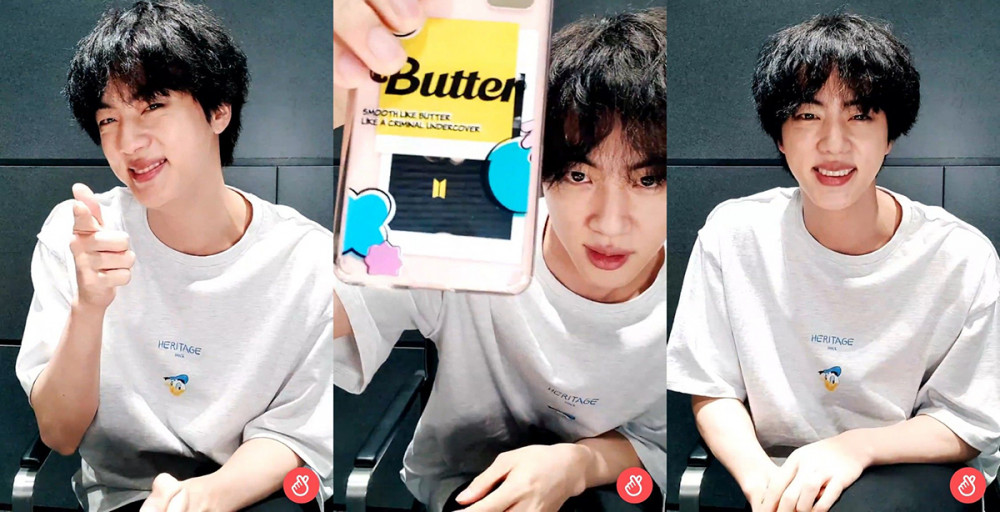 On August 9, BTS's Jin chatted with fans in a casual 'V Live' broadcast.
On this day, fans asked if they should expect new music from BTS soon. Jin began, "There is about one and a half songs. There's one song, and then there's a half of one that is still in the works."
He continued, "There's one where we've referenced a source, and I think if we keep working, more songs will be ready. But there are no plans to release anything immediately. We recently had 'FESTA' too. You all will be able to hear some more music later."
Jin then also commented, "There are ones that have been made official and there are ones that haven't been made official yet, but there is a famous celebrity whom I've always loved. They are an artist from overseas, and there was some good discussion... I heard that there was a leak. There might be some good news involving this celebrity soon. I also took a picture with them. I've been a fan since I was young, so I put the picture in the back of my phone like a little charm. Taehyung took the polaroid photo for me, like this." Jin then went on to show fans a polaroid photo tucked away in his phonecase, but with any faces hidden.
Meanwhile, many fans suspected that the "famous celebrity" Jin mentioned during the live broadcast was Chris Martin of Coldplay.
Recent rumors have raised speculations that BTS will be featured in a song titled "My Universe" from Coldplay's upcoming 9th full length album 'Music Of The Spheres', set for release in October.