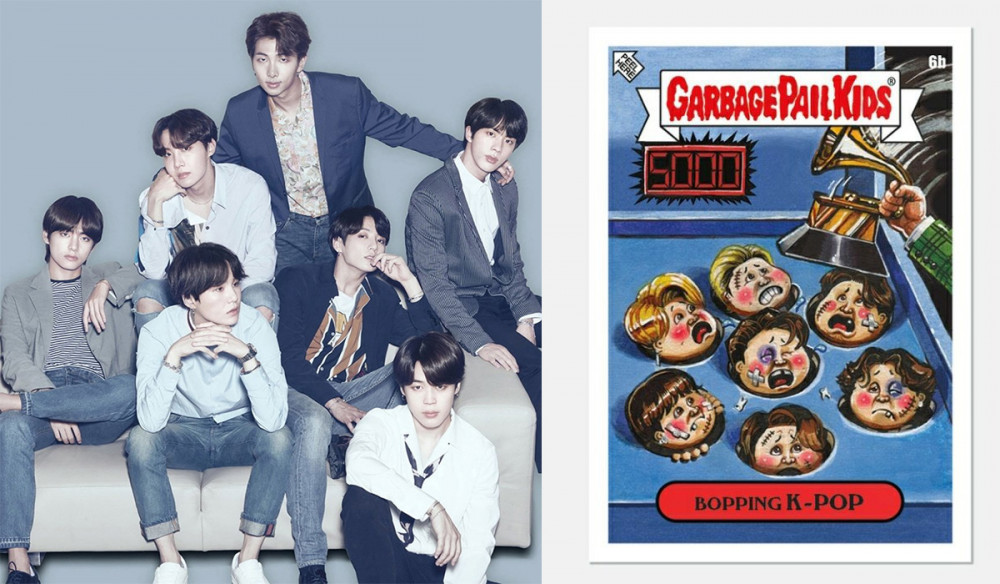 With the recent COVID19 pandemic bringing hate crimes against Asians across the globe, there has been another controversy in which the globally popular Korean music act, BTS, was targeted as a subject of ridicule and mockery by an American company that manufactures collectibles.
Topps has been known to produce collectible cards and stickers but has recently been under fire for their depiction of the global K-pop group BTS. BTS has set another record by being nominated at the 63rd Grammy Awards and also performing solo for the event. However, unfortunately, they were not able to take home the trophy for 'Best Duo/ Group Performance.'
This led the Topps company to create an illustration in which seven Asian boys are being beaten with the Grammy trophy in a 'whack-a-mole' game. The seven boys are bruised and cut as they look up at the trophy in horror. The illustration is titled "Bopping K-pop."
With more Asian hate crimes on the rise, the Asian community, as well as the K-pop fan community, banded together to protest against the company for their implausible actions.
Soon, many netizens gathered to social media outlets such as Twitter to send out their message using the hashtag, #RacismIsNotComedy. Angry BTS fans also banded together to request the product to be removed.
Soon Topps tweeted a message explaining that the product will not be manufactured and that it has been removed from their website. However, this was not enough to alleviate the anger of the Asian community, nor the K-pop fan community, as the company has not apologized for their actions.