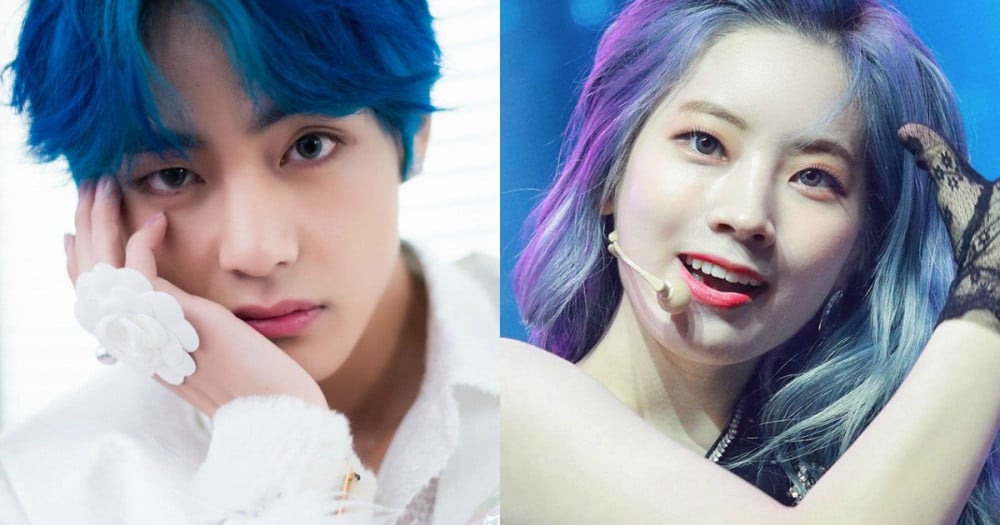 Blue hair is not a color just anybody can pull off, but somehow, these fifteen idols do it so effortlessly!
1. MAMAMOO's Wheein

Wheein dyed her hair blue in 2019 for MAMAMOO's "HIP" promotions, and it definitely matched her milky white skin!
2. BTS's V
Who can forget V's iconic blue hair during BTS's "Boy With Luv" era? The look is iconic to this day, with fans still referencing it in tweets and posts on social media.
3. GFRIEND's Eunha
Eunha dyed her hair blue in 2018 for GFRIEND's "Sunny Summer" promotions. The bright color made Eunha shine like the summer sun!
4. IU
To match her "Blueming" promotions, IU dyed her hair blue! It has been a while since we saw such a bright shade on IU, and the female soloist effortlessly proved she could rock any hairdo.
5. EXO's Xiumin
Xiumin dyed his hair blue while promoting EXO-CBX's (Chen, Baekhyun, and Xiumin) debut song, "Blooming Days." Like the title, Xiumin bloomed on stage with the bright 'do!
6. TWICE's Jeongyeon
Jeongyeo dyed her hair blue in 2018 while promoting "What Is Love?". The color was such a hit with fans; her name trended worldwide for days after she revealed the color to fans!
7. Red Velvet's Wendy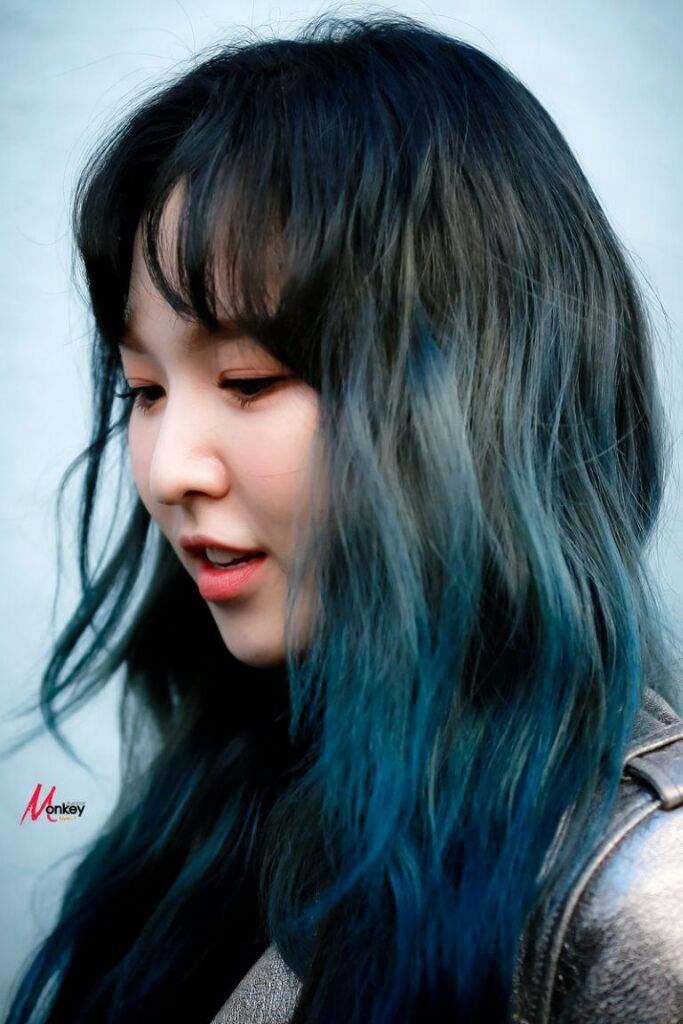 Fans first saw Wendy with blue hair in 2014, when she rocked the iconic two-tone hair with electric blue ends for the group's debut song, "Happiness." She rocked blue ombre hair again in 2016, which gave fans flashbacks to the past!
8. Stray Kids' Han
Han surprised fans during the 2018 Mnet Asian Music Awards (MAMAs) when he showed off his blue hair! His new color stole the show and definitely made him stand out even more.
9. SEVETEEN's S.Coups
S.Coups was sen rocking blue hair in two separate eras. He first sported electric blue hair in 2016 while SEVENTEEN was promoting "BOOM BOOM." In 2017, he rocked a softer, more subtle shade of hue for "CLAP."
10. NCT Dream's Jisung
Jisung dyed his hair a bright, electric blue while NCT Dream promoted "We Young" in 2017. The color is just as bright as he is and definitely put a spotlight on him while performing.
11. TWICE's Dahyun
Dahyun shot fans in the heart with her denim-blue hair in 2019, while the girls performed "FANCY." The look was huge with fans, as it perfectly complimented her visuals and skin tone. She took on a darker shade of blue in 2020 for TWICE's "MORE & MORE" promotions.
12. IZY's Ryujin
Ryujin sported blue hair in early 2020 while promoting "WANNABE." The hair is blue-black, meaning in the dark, it could look black, but it is absolutely blue under the light. The shade highlighted her girl crush side, and fans loved it!
13. TXT's Yeonjun
Yeonjun rocked blue hair in 2019 while TXT was promoting "Run Away:" He surprised fans with his upgraded visuals and is still remembered as one of his best-loved hair colors.
14. BIGBANG's G-Dragon
How can we forget The King? Throughout his career, G-Dragon has rocked blue hair a handful of times. Some times he had short hair, other times long, some times he rocks electric blue hair, other times it is a cotton candy blue. No matter which way he does it, G-Dragon looks amazing!
15. AOA's Seolhyun
Seolhyun dyed her hair blue while AOA was promoting "Come See Me" in 2019. This dye job took the internet by storm, as it marked the first time Seolyun has ever dyed her hair since her debut.