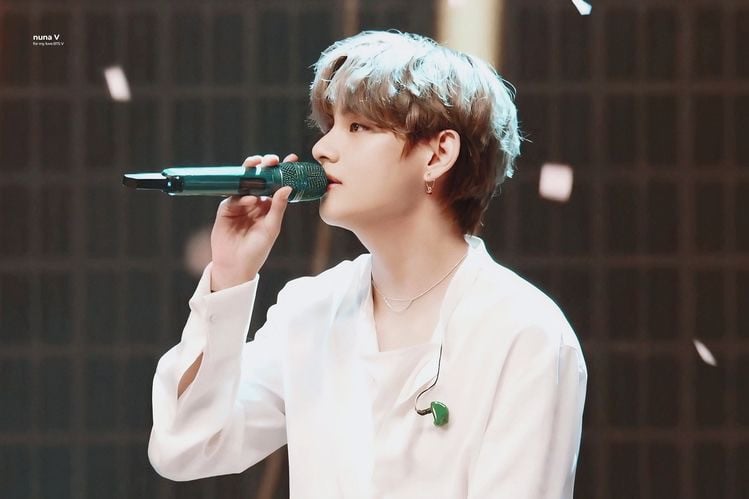 V of the global pop group BTS is often described as one of the most soulful vocalists of this generation. Whether it is the ardent fans, non-fans, music critics, and trainers, V's unique vocal tone is always mentioned as a favorite and a memorable highlight.
In his most recent column, Kim Youngdae, a renowned South Korean music critic talked about the seven gems of BTS and their contribution to the discography of the septet.
In an insightful review, he remarked that even though one of BTS's charm is not being known for one individual voice, V's is incredibly special. He wrote, "His gifted vocal color and tone in itself have an important place in BTS's musical identity."
Kim Youngdae also noted the uniqueness and soulfulness of V's voice as enviable and tough to recreate. He said, "Even from a man's point of view, his elegant pastel baritone gives us envy. His voice resonates deeply without sounding over-the-top and still has a crisp freshness with plenty of texture. More than anything else, V's unique soulfulness is difficult for others to replicate."
The fans of BTS have oftentimes discussed how the full potential of V's entrancing vocals are unexplored due to him being the only baritone vocalist of the group. Kim Youngdae also briefly highlighted this topic and said: "The truth is, given the limitations of group music, it is difficult to fully understand V's charm through just BTS's music, where each member must play only their part. So I often look for his solo songs…"
He also noted a few performances of V that cemented his role as a powerful vocalist and an integral part of BTS's music and said, "His breathlessly emotional cries in "Epilogue: Young Forever'' are BTS's identity itself and his desperate voice within "Save Me" shines without fail in the most important moments of BTS's career." He further added, "His deep but thick and elegant tone in "DNA" is an important factor that gives credibility to the musical narrative, and keeps people listening.
Kim Youngdae concluded his review stating the emotions that V effortlessly convey through his solo music as his most prominent charm and said: "Singularity (...) sparked a new interest in V as a vocalist. When you listen to "Winter Bear" and "Scenery" you will realize that this vocalist's charm is not just his vocal timbre and deep voice, but it is his emotions and sentiments that he usually does not reveal too much."
V is often revealed as a favorite of various music critics and trainers. Lee Jae-lk, an honorable writer stated that he foresees V on musical stages and wrote: "V, whom I consider to have the most unique voice since Taeyang of Big Bang follows the traditions of musicals." Heea, a popular Korean music critic, remarked V as one who is good at stage presence and said: "His voice is really deep and sexy and he knows how to attract people." Meanwhile, vocal trainers Oh Jok-Do and Shim Jong Seob praised V's diversity, noting him as one who excels in any genre.