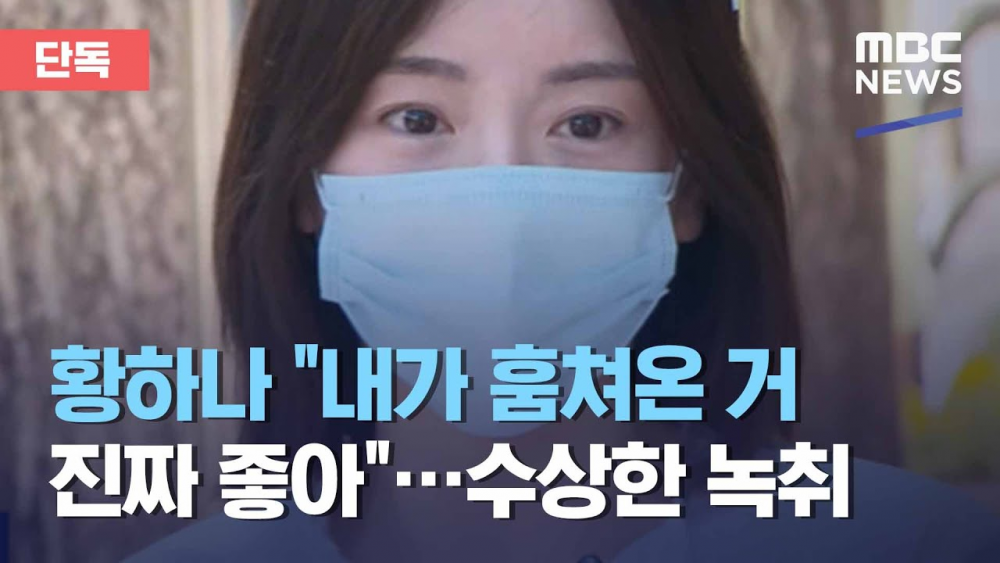 A voice recording of Hwang Ha Na, Park Yoo Chun's ex-girlfriend, has been released and has been causing a stir. This is because the voice recording revealed that Hwang Ha Na admitted to taking drugs while under police investigation during her probation period.
On January 4th, MBC reported that they have obtained several recorded files containing the conversation revealing that Hwang Ha Na and her former boyfriend Mr. Oh and his friend Mr. Nam had administered drugs. In the recorded file, Mr. Nam says, "When we did (drugs) at Suwon, the quality was excellent," to which Hwang Ha Na agrees as she cursed. In particular, Hwang Ha Na began explaining about the place she purchased her drugs and explained about the drug called 'Snowflake,' saying, "That's the meth I did in 2015."
The police also secured related recordings and transcripts to check the facts. It has been revealed that Mr. Nam, Hwang Ha Na's acquaintance, attempted to take his own life on December 17th and is in critical condition.

Since then, the situation turned sharply when Mr. Oh, Hwang Ha Na's ex-boyfriend, suddenly appeared at the police station and said he wants to revoke his previous statement.

He stated, "We can all just be honest, Hana came here on August 15th and did meth from the beginning to the end. Either way, I'm on my way to (Yongsan) to tell the truth," and confessed to his acquaintance that he lied during giving testimony because Hwang Ha Na asked him to.

However, two days later, Mr. Oh was found dead in his home with a suicide letter saying, "I'm sorry that I got Hwang Ha Na into drugs." He changed his confession once more after he revoked his testimony and ended his own life.

Acquaintances of Mr. Oh have claimed that Mr. Oh is not a person to take his own life and is raising suspicion that he did not, in fact, take his own life. Even netizens who have come across this news commented, "I'm suspicious whether this guy really took his life or not too, I mean think about who benefited most when the two witnesses killed themselves," "All the people who gave testimony against Hwang Ha Na made an extreme choice to take their own life," and "It's also weird how Mr. Oh tried to revoke his testimony, and then he changed his words again in his death note."

One netizen commented on how Hwang Ha Na asked Mr. Oh's acquaintance if they saw Mr. Oh's suicide note and implied that he had left one right after she received news of his death.

Meanwhile, Hwang Ha Na received public attention when she promised to marry Park Yoo Chun. However, they broke up in 2018 and have been put on trial on charges of purchasing methamphetamine three times and taking drugs with Park Yoo Chun.

Hwang Ha Na has been sentenced to two years probation and one year in prison if she breaks the probation.