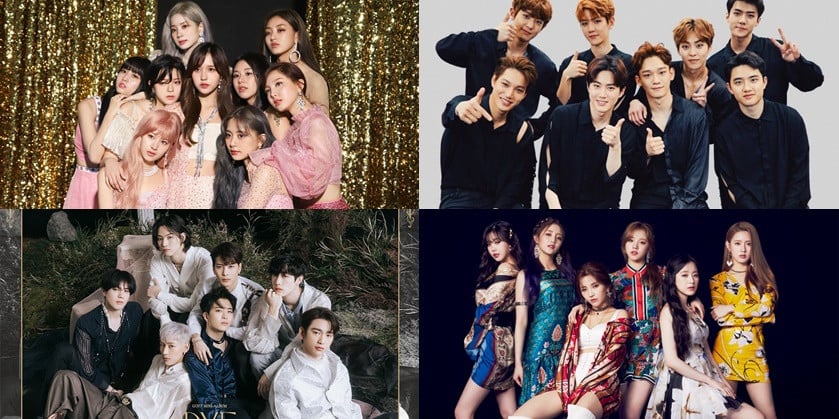 The awards season continues, while the United States waits for the 2020 Billboard Music Awards, Brazil and Mexico have awards in progress. Last night (Los Angeles local time), the 2020 BreakTudo Awards released a list with the partial result of their votes and ended up surprising about k-pop artists.
The highlights of the list go to Twice and Harry Styles who appear leading in two categories. Twice appears leading in the two categories that compete: International Fandom for "Once" and Female K-pop Group. (G) I-dle, who is also nominated in two categories, appears leading the category International Music Video for "Oh my god", the MV "How You Like That" of Blackpink appears as the second most voted.
EXO, which last year won a prize for the first time at the Brazilian awards, appears as the most voted in the International Group category. GOT7 appears as the most voted in the category Male K-pop Group. Will the group win its first Brazilian award this year?
Blackpink and BTS that are among the most nominated for the awards this year appear losing in all categories, the groups are also competing on MTV Miaw Brazil, Meus Prêmios Nick and KCA Mexico.
The BreakTudo Awards is one of the most importantawards in Brazil. It was the first Brazilian award to put a k-pop group on its list of nominees, nominating BTS in two categories at the 2017 BreakTudo Awards. The 2020 BreakTudo Awards will take place on October 24 in São Paulo, so far the Brazilian artistsGabi Martins, Francinne, Pedro Arcafra, MTK and Giovanna Bianco have been announced as performers of the award ceremony.
Check out the list with the most voted until now below!
Brazilian Female Artist
Ivete Sangalo
Joelma
Anitta
IZA
Brazilian Male Artist
Jão
Gustavo Mioto
Luan Santana
Vitão
International Female Artist
Billie Eilish
Ariana Grande
Selena Gomez
Taylor Swift
International Male Artist
Harry Styles
Justin Bieber
The Weeknd
Sam Smith
Artist On The Rise
Ava Max
Melanie Martinez
Jackson Wang
Ally Brooke
Latin Artist
TINI
Lali
Sebastian Yatra
Maluma
Brazilian New Artist
Gabi Martins
FLAY
Carol Biazin
Day
International New Artist
Hwasa
Conan Gray
Danna Paola
Doja Cat
Global Artist
IU
WizKid
Little Mix
Sia
Live of The Year
Joelma
Ivete Sangalo
Alok
Sandy & Junior
Brazlian Duo/Group
Melim
Simone & Simaria
Anavitória
BFF Girls
International Group
EXO
Blackpink
BTS
5 SOS
K-pop Female Group
Twice
Blackpink
GFriend
Loona
K-pop Male Group
GOT7
TXT
ATEEZ
Seventeen
Hymn of The Year
Old Me – 5 SOS
Shameless – Camila Cabello
Magnetic Moon – Tiffany Young
Dasies – Katy Perry
Best Collaboration
ALREADY – Beyoncé, Shatta Wale, Major Lazer
Sour Candy – Lady Gaga, Blackpink
Tusa – Karol G, Nicki Minaj
Past Life – Trevor Daniel, Selena Gomez
Brazilian Hit
Girassol – Priscilla Alcantara, Whindersson Nunes
Áudio de Desculpas – Manu Gavassi
Braba – Luísa Sonza
Desce Pro Play (PA PA PA) – MC Zaac, Anitta, Tyga
Latin Hit
Oye – TINI, Sebastian Yatra
Tímida – Pabllo Vittar, Thalia
Lo Que Tengo Yo – Lali
Tócame – Anitta feat. Arcangel & De La Ghetto
International Hit
Lose You To Love Me – Selena Gomez
Don't Start Now – Dua Lipa
everything i wanted – Billie Eilish
Yummy – Justin Bieber
Best Soundtrack
Always – Sofia Carson – (Feel The Beat)
Let Me Move You – Sabrina Carpenter (Dançarina Imperfeita)
Boss Bitch – Doja Cat (Birds of Prey)
Diamonds – Megan Thee Stallion & Normani (Birds of Prey)
Brazilian Music Video
Sedanapo – Gloria Groove
Suas Linhas – Carol Biazin
Amor de Que – Pabllo Vittar
Combatchy – Anitta, Lexa, Luisa Sonza feat MC Rebecca
International Music Video
Oh my god- (G)I-DLE
How You Like That – Blackpink
Watermelon Sugar – Harry Styles
Stay Gold – BTS
Album of The Year
Fine Line – Harry Styles
Chromatica – Lady Gaga
Future Nostalgia – Dua Lipa
Rare – Selena Gomez
Best Release of New Artist
Vou Estar Com Você – Nanda Loren
Be Happy – Dixie D'Amelio
right there – keshi
Meu Olhar – Ananda
Brazilian Fandom
Furacões – Gizelly Bicalho
Vittarlovers – Pabllo Vittar
Calorentos – Elana Valenaria
Carlu – Carlinhos Maia e Lucas Guimarães
International Fandom
Once – Twice
Blinks – Blackpink
Jaguars/The Coven – Lauren Jauregui
EXO-L – EXO