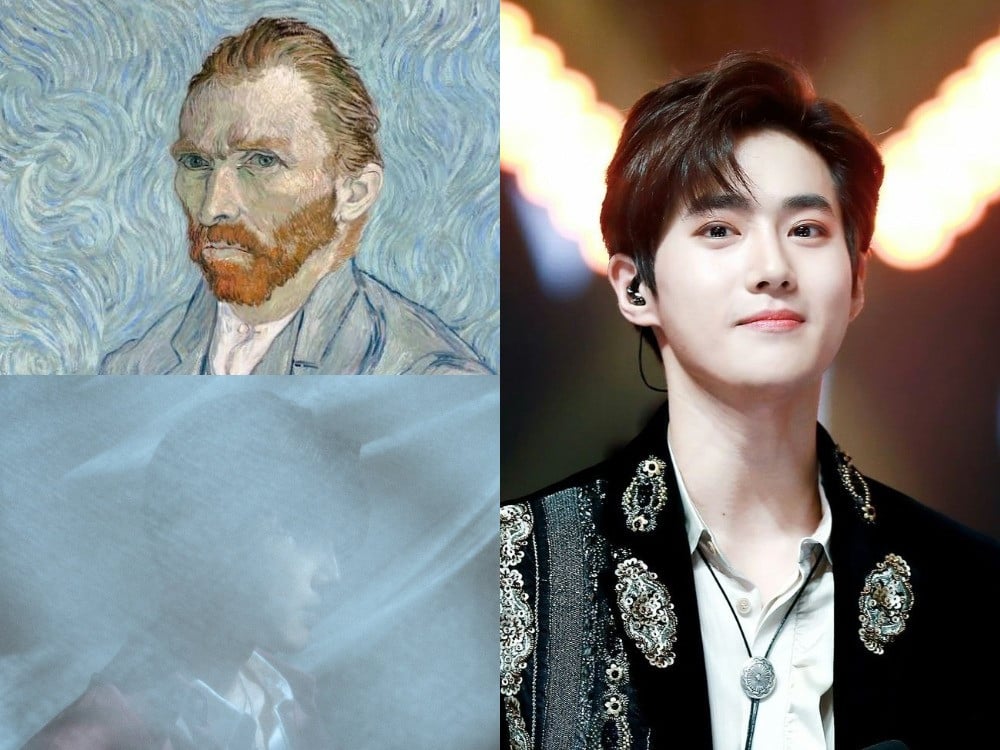 Earlier this week SM Entertainment unveiled the teaser image for EXO leader Suho's solo debut.
What shocked netizens and fans are the potential hints the EXO member left everywhere in plain sight long before the album announcement going as far as 1 year ago. The mini-album called "Self-Portrait" is referencing to the painting of Vincent Van Gogh called "Van Gogh self-portrait" (1898).
The biggest hint everyone remembered immediately was the iconic Bulgari commercial Suho filmed last year around April 2019 as their regional ambassador. In the commercial, Suho introduced Vincent Van Gogh as his personal icon.

After the album news, fans went through his old pictures searching for other things they have missed and noticed that he went into such little details that even his phone screen and phone case had Vicent Van Gogh on them which they dismissed previously as just his love for the painter and his art. He has also posted pictures of the iconic painting "Self-portrait"(1898) on his social media and the date he picked for his solo album is Vicent Van Gogh's birth date 30th of March 1853.
The more fans kept digging, the more they found. One EXO-L remembered the postcard Suho wrote on EXO's debut anniversary, while another found a previous interview Suho did for "Singles" in which he expressed his love for the art created by Vincent Van Gogh.
These are one of many things that have hinted at Suho's album. Many remembered a joke his fellow EXO member Baekhyun made last year and they could not help but think the joke might have been inspired by the obvious love Suho has for Vincent Van Gogh's art.
Recently, Suho made a post on Instagram and many fans wonder if it could have been from the set for the title track MV or teaser photoshoot. Others remembered his SM station solo song called "Curtain" and wonder if it's somehow related.
The dedication and love Suho has art throughout the years and the inspiration he has taken from Vicent Van Gogh's art has many fans excited for the genre, concept, and songs of the album as it is said Suho has taken part in many stages of the creation of the album.
Suho's 1st solo album "Self-Portrait" is set to be out on March 30th, 6 PM KST.
More details are set to be out soon!