Translated from :Sports DongA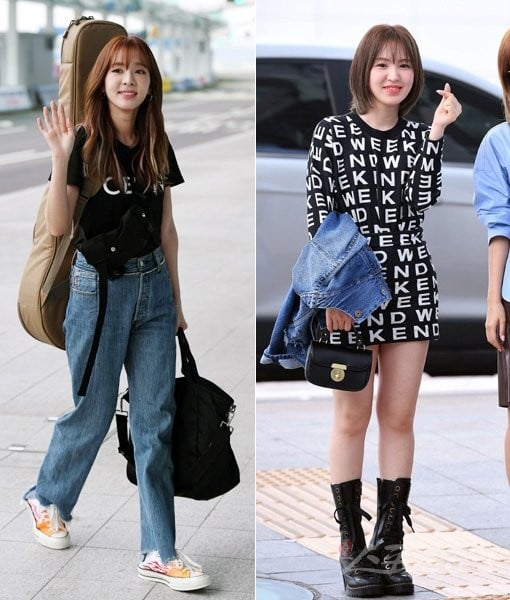 Idol group members show off their fashion sense in various spaces. Singer Sandara Park (left) and Red Velvet Wendy, who are traveling overseas for filming and shooting, are showing 'Airport Fashion' at Incheon International Airport.

Airport Look · Going-to-Work Look · Rehearsal Look - "Stars' Fashion Wars"
Airport Look
The first stage where you can get a glimpse of the stars
Promoted on behalf of fashion industry sponsors

Going-to-Work Look
Idol stars display their casual style
Some of them reveal their bare face

Rehearsal Look
Full preparation that reminds you of a fashion show or an awards ceremony

Stars' 'catwalk/fashion show stages' have been gradually increasing. Although they receive the touch of the stylist's hands, stars usually complete their fashion style with their own senses. That's why interest in the 'fashion clothes' that celebrities wear is so high. The airport is where most pictures are taken. Attention is also drawn to the stars who are heading to the studio for the music shows. These are called 'going-to-work look' and 'rehearsal look'.
■ Airport Fashion ■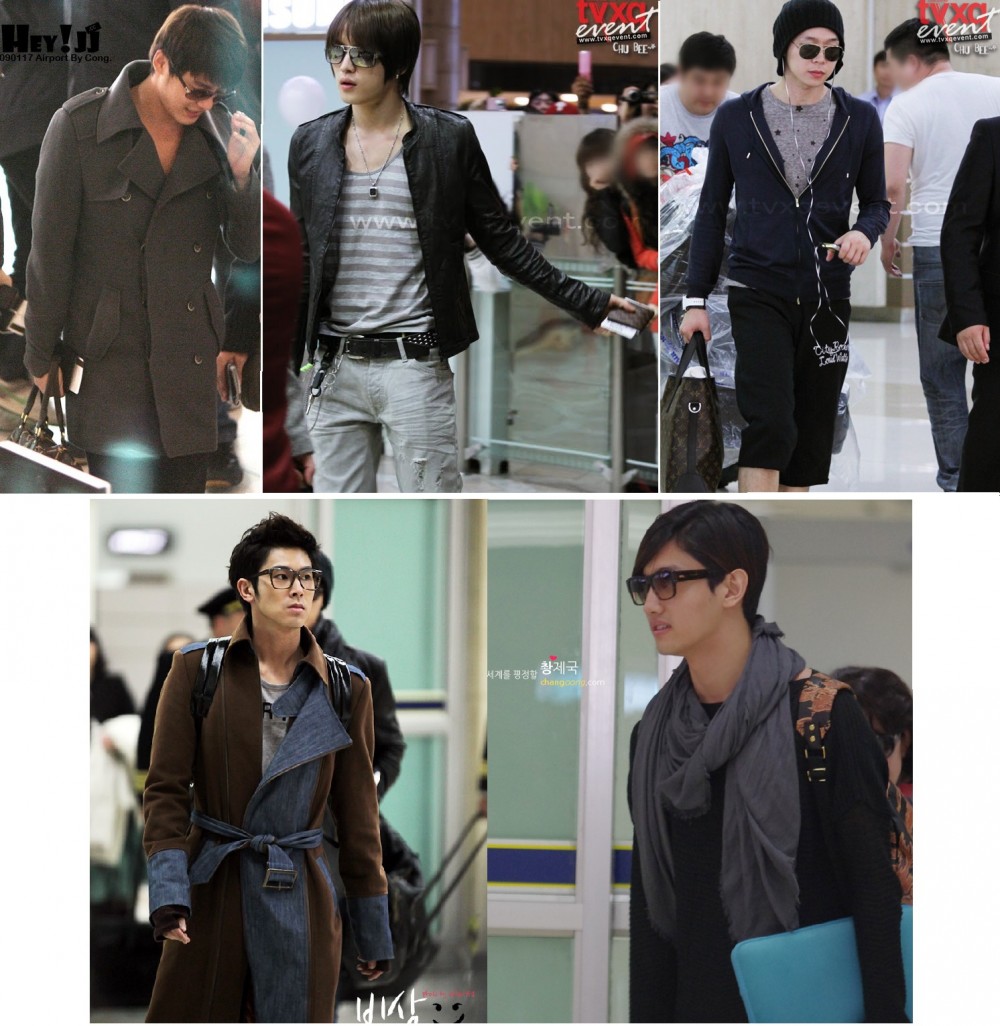 TVXQ's airport fashion photos taken by fansites in 2009

The airport is the first stage where you could get a glimpse of the stars' 'overseas escape'. The timing of when it completely came into the spotlight is unclear, but the entertainment industry sees it as around 2008~2009 when TVXQ reached their peak in popularity. As they emerged as Asia's stars, fans flocked to the airports, took their photos and released on the internet. At that time XIA Junsu drew a lot of attention with his 'unusual' fashion sense. Fans called it 'extreme fashion' and 'airport Junsu'. XIA Junsu himself said, "I'm worried about what to wear at the airport. It's stressful."

Hyun Bin, Jang Dong Gun and Ko So Young are the main actors and actress that helped 'airport fashion' settle down in 2010.
They all showed the essence of fashion and have made the entry and return routes a runway.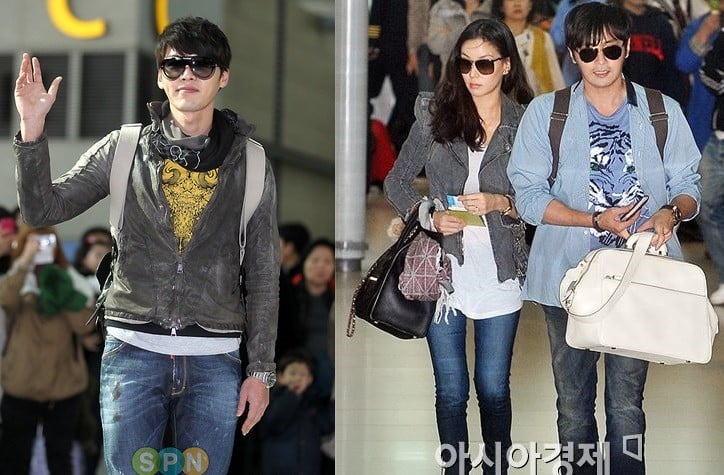 Hyun Bin, Go So Young and Jang Dong Gun's airport fashion in 2010

■ Going-to-Work Fashion ■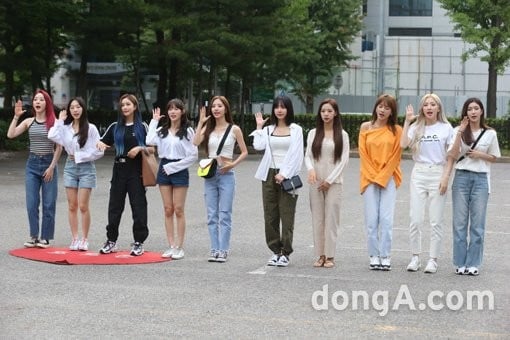 There are also singers like Cosmic Girls who showed the 'going-to-work look' before appearing on music shows.

After 'airport fashion' became impactful and a huge topic, production teams of music programs created a section called 'going-to-work' fashion for idols.
Recently, KBS 2TV 'Music Bank' production team prepared an official photo zone at the parking lot of KBS Hall in Yeouido, Seoul. Fans and reporters from various media outlets gather early in the morning to wait for the stars to appear.
Stars start to get ready at dawn and show off their 'going-to-work' fashion. This is also a great opportunity for rookie singers get more exposure through media.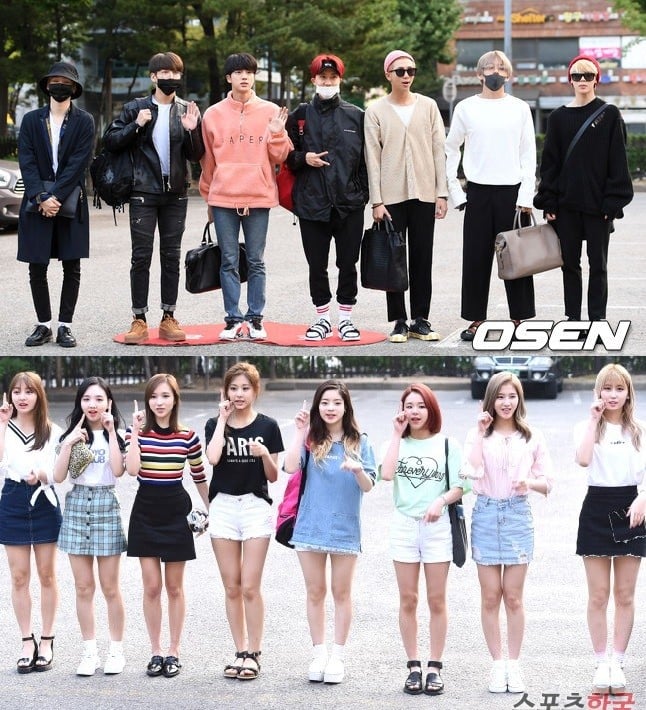 BTS and TWICE are showing off their going-to-work fashion.

The singers who dominate the world, such as BTS and TWICE, are different. There is no need to prepare at dawn. As the wait time is long until 5 p.m. when live broadcasts begin, they prepare clothes, hair, and makeup in between. For this reason, they sometimes cover their face with a mask or a hat. That doesn't mean they don't stand in the photo zone. They do everything they can. The chances of seeing their 'undone' appearances are rare, so that makes them talked about more.

■ Rehearsal Fashion ■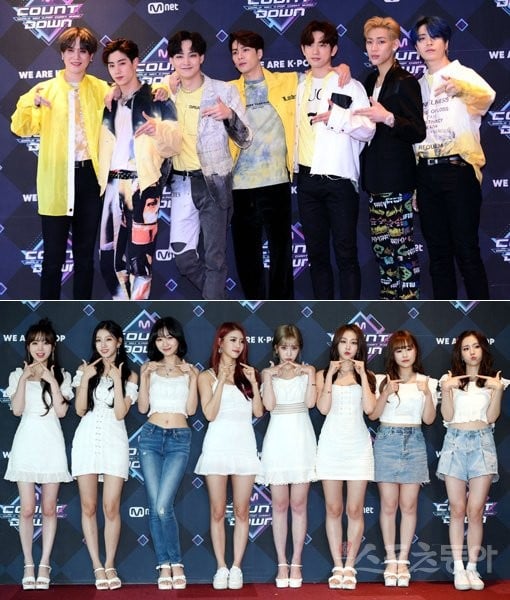 GOT7 and Lovelyz pose during rehearsals for Mnet's M Countdown.

As 'Music Bank' created the 'going to work fashion' photo zone and it drew attention, the rival music program Mnet's 'M Countdown!' created 'rehearsal fashion' photo zone. Photo zones are installed on the first floor of CJ&ENM in Sangam-dong, Seoul, every Thursday afternoon before music show 'M Countdown!' starts.
Stars show off their rehearsal fashion there. In other words, they are ready. From makeup to costumes, they are prepared, and the background is made up of colorful photos, making them look like at a fashion or awards show.