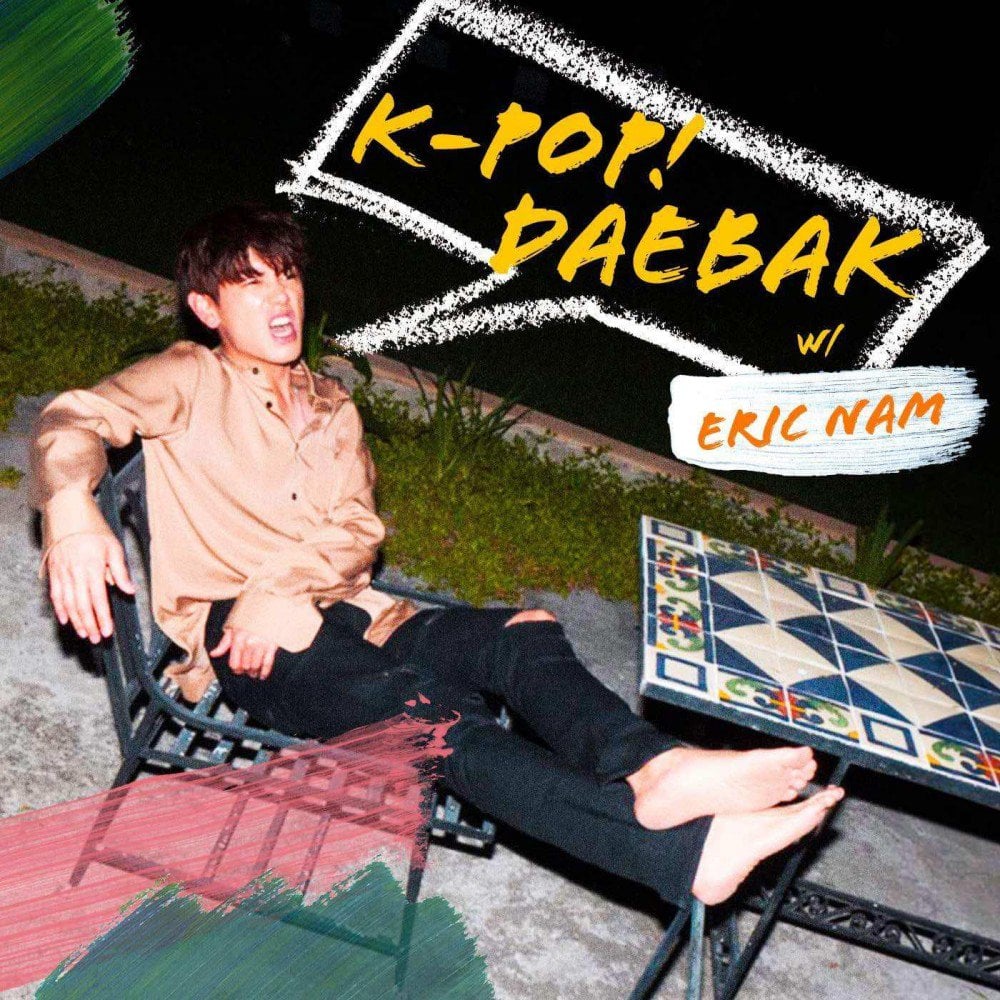 K-Pop renaissance man, Eric Nam, has proven to fans all around the globe that he can do it all. Whether it's variety, MC, or sing, this multi-talented star is back with a podcast of his very own aptly entitled, 'K-Pop Daebak with Eric Nam'. Eric spends the show highlighting new releases to pay attention to and gives interesting anecdotal insight to the songwriting process given his unique experiences as a K-Pop artist.

allkpop had the chance to speak to Eric on 'K-Pop Daebak with Eric Nam' and talked about the show's goals, Eric's favorite new releases, and his upcoming European tour! Keep reading for the interview below:

allkpop: After you tweeted, "Should I start a podcast?" fans showed overwhelming support in you starting the K-Pop Daebak Show endeavor. Can you share a little bit about what drove you to make the leap and creating this segment? What are you aiming to achieve and inform others about on the show?
Eric Nam: I think I wanted a new way to connect with fans around the world, that isn't Instagram or Twitter. I think scrolling past photos and pressing "like" is a very passive and light way of interacting with the people you follow. On the contrary, listening to a podcast requires a little bit more of vested interest and intention on behalf of the listener. If you're listening to a podcast, chances are that you want a deeper connection, more intimacy, and to be able to pick up some cool stories or insights. So, all in all, I think it's a great way for me to connect with my fans and fans of K-Pop in general on a level that transcends current mainstream social media.


allkpop: It seems that there has been a lack of K-Pop related content when it comes to radio shows and podcasts, what inspired you to fill this gap and how do you want fans to perceive the episodes and information?
Eric Nam: For me, I think I have a great balance of international and Korean fans. I think I have connected to different fans in various parts of the world for different reasons. Some people may be following me because of my music, others because of my TV work, personality or my incredibly stunning good lucks and charms. [Laughs] So for me I think the podcast allows me to display a different side of my personality that may not come across in - let's say- my music. I also personally believe that K-Pop content and their creators have been very lucky in that up until very recently, Korean cultural content seems to have been made largely for Korean and maybe Asian distribution and consumption. It just so happened that Korean content travels very well across the world. However, for me, I think that there is incredible value in providing content that is intentionally created for international audiences. Catering to the needs of different markets, cultures and their tastes, I believe, is very important and will only increase in importance if K-Pop is to continue expanding.

allkpop: What's something you want listeners to take away from the show?
Eric Nam: Personally, I think fans can take away whatever they would like from the show. The ideas and opinions expressed on the show are mine, and I'm just trying to introduce Korean music and culture in a different way. I'm also hoping to shine a light onto singers and artists that may be lesser known, but incredible. I think it's easy to become a fan of huge acts with big fancy budgets and tons of production. Discovering and supporting artists who are lesser known and indie may be more difficult, but I'm hoping to blend both mainstream and underground so that listeners can have a bit more of a comprehensive understanding of music in Korea and help the music industry grow in that regard.
allkpop: The show reviews some of the biggest releases in K-Pop of a given week, and though the show just began in early April, it seems that fans have taken a liking to the format and insight you're able to provide. What unique perspectives do you bring to the table as both a seasoned MC/host and a successful recording artist?
Eric Nam: Let's just say that the general public has no idea what goes on off-camera, during the creation of an album, or promotions that we go through as artists. As artists living in it, we think of it just as a given, a normal thing for us to be going through, but when I take a step back and explain something to people who aren't in the industry, they are oftentimes taken aback or just very interested in the stories. Even simple things like "How is a song written? What is a music program like? What is a certain TV show like? What does a music video shoot actually look like?" So I think a lot of listeners tune in for the stories of an insider and perspectives that are very different from a normal fan. Because I live in Korea and my life is content creation in Korea, I run into a lot of musicians, actors, and entertainers. Through those interactions, I have my take on them as a normal human being, off camera, and oftentimes I have stories or common experiences that I can share. Every once in a while there are things that I record on the podcast and go back and take out because it feels too personal. So I think finding that fine balance is at times challenging.
allkpop: That being said, what are your favorite recent releases and why?
Eric Nam: Because I cover a good amount of mainstream releases, ie. BTS, BLACKPINK, TWICE, etc., if you want those thoughts you can check it out on the podcast. However for me, Chancellor's "Angel" ft. Taeyeon, Dalsooobin's "Katchup," and my own "Runaway," are my newest, freshest finds.


1. Well, shameless self-promotion, my newest single "RUNAWAY"! It's actually a smash. So check it out. Co-written with Ari Left aka Lauv, Jackson Foote and Emma Lov Block aka Loote - a duo who are amazing singer-songwriters and also the writers of Demi Lovato x Cheat Codes' No Promises, producer Michael Pollack, producing team Flow Blow - writers of hits like Wanna One's Energetic and Pentagon's Shine, Jay Kim and Myself.
2. "Chancellor" by Angel ft. Taeyeon of GG. Chancellor is one of the most talented and prolific songwriters in K-pop. Aside from songs that he writes for others in the industry, he has his own amazing music and this song is no exception. It's a medium/slow R&B inspired jam. Nothing mind-blowing in terms of production, but just very easy, pleasant, smooth and velvety listening.
3. Dalsooobin - Katchup - A recent find, Soobin is of the group formerly known as DalShabet. She released this solo song a few months ago and it went largely unnoticed in the industry. However, the music video and choreography caught my ears and eyes. It feels more indie and hipster, but equally playful and k-pop.

allkpop: There's been speculation that you're going to bring some special guests on the show- can fans expect some of their favorite idols on the show? Are there any folks that would be dream guests for you?
Eric Nam: There have been speculations and they're in the works. I think, for now, it's important for myself and the show to really develop its own color and character before we comfortably bring people onto the show and have meaningful discussions. Having said that, a lot of my peers in the industry are already aware of the show and have expressed interest in coming on the show. Joining us soon are Tablo and pH-1, and a few other people in the works.
allkpop: Many fans have voiced their opinion that each episode is getting better and better as the show goes on- where do you see the show going over the course of the next few months or even next year? Any plans to expand into a YouTube series or even a radio show?
Eric Nam: I have no idea! I just want to keep this as natural and organic as possible, and really grow with what the fans want.
allkpop: From singing and performing to MCing and hosting, you seem to have many natural talents! What can we expect next from Eric Nam?
Eric Nam: I'll be embarking on an 11 city / 12 show tour in Europe in June, working on some dope projects and need to start preparing an album of some sort for the end of the year. I think that should keep me busy for the next few months. Thanks always for the love and support!
You can listen to Eric's K-pop Daebak podcast on Apple Podcast or Spotify.