Simon Wiesenthal Center
 welcomed
Big Hit Entertainment
's apology. 
"Big Hit Entertainment is aware of the current incident surrounding our artist. The artist was seen wearing a hat that we understand was deeply offensive in a 2014 magazine photoshoot, given to him from a collection of the magazine's stylist. Big Hit Entertainment is deeply conscious of our responsibility, as it is no excuse that we failed to screen the matter and regret that it happened. We will continue to educate ourselves, be more sensitive to such matters, and protect our artist from such incidents and the implications they may carry. We sincerely apologize to anyone who took offense in regards. It is worth noting that the artist has shared a message recently at the UN, which demonstrated their consistent beliefs that loving yourself and love for others are of primary importance in the world now, and that been a global message for the artist. Both Big Hit and the artists hope to continue spreading that message and share love for all humankind."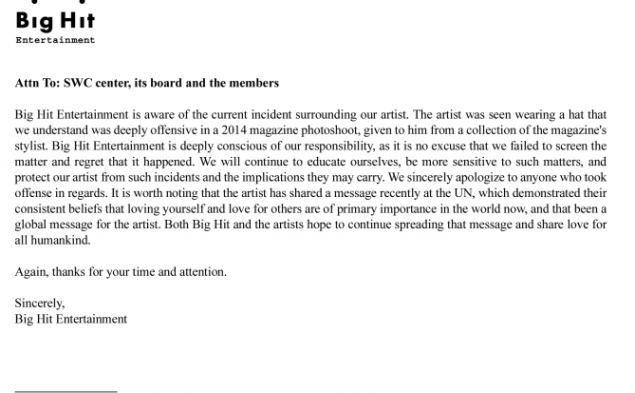 Recently, a past photoshoot of
RM
 wearing a hat with the Nazi symbol, and the group's performance with Nazi-like flags 
became controversial
. The Jewish human rights organization requested an apology from BTS. In response, Big Hit Entertainment addressed the issue, as well as the controversy on Jimin's atomic bomb shirt in an
official statement
.