As expected, episode 10 of tvN's '100 Days My Prince' was FULL of shocking developments and even more, difficult puzzles to riddle out.
First things first. It turns out, Won Deuk (played by EXO's D.O.) was unable to recover his memories from his trip to the capital city of Hanyang, despite meeting Moo Yeon (played by Kim Jae Young) in the forest. Because Moo Yeon was gravely injured, Won Deuk was able to fight him off, and the only hint Moo Yeon gave to Won Deuk's true identity was: "You're a dead person. If you come back alive, many, many people will be killed."
Whoas, dude. That would make anyone with memory loss skeptical about recovering his/her memories, right? And add on to that Won Deuk's growing feelings including love and responsibility as a husband, and it does make sense that rather than choosing to stay in Hanyang to investigate his identity further, Won Deuk returns home with a heavy heart.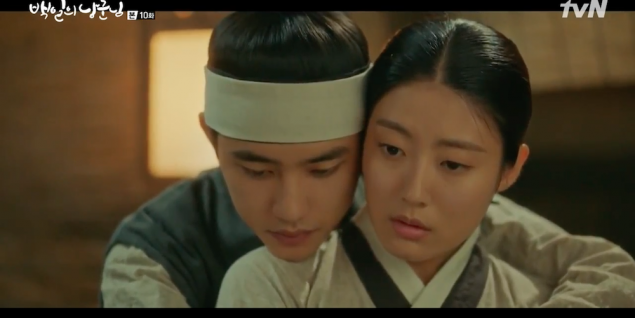 Girl, I hate to break it to you, but that man behind you just left your brother to die in a dark forest in the rain.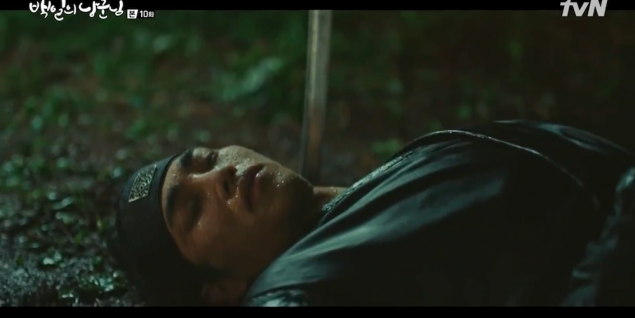 Moo Yeon: "My sister married the wrooooooonngggg man."
Btw, who shot Moo Yeon with an arrow in episode 8 last week? The answer was: one of Moo Yeon's comrades! Sorry not sorry to blame you for the ONE THING that you didn't do, Kim Cha Un. Anyways, the shooting was actually connected to the princess consort, Kim So Hye, but how? Could she possibly know that Moo Yeon and his men did not kill the crown prince? Which means... she knows that the prince is alive?? That complicates things to the MAX. For now, we need to wait and see what the princess consort Kim So Hye is planning with Moo Yeon's men, separate from her father.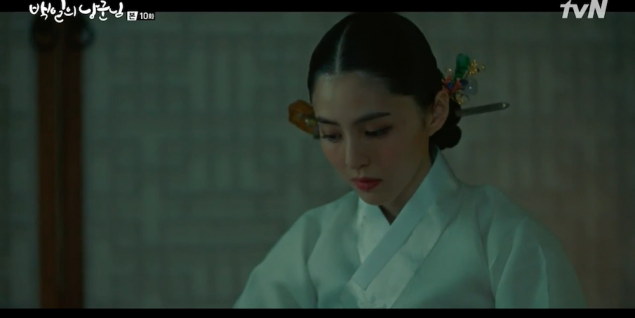 Is it my imagination, or are her features starting to look more and more like her father's...?

Back at the palace, there's a bit of a refreshing moment from an unexpected figure: the Queen. Instead of just sitting there and taking the mockery and threats by Kim Cha Un, the Queen actually decides to take action and tattle on the King, informing her husband that Kim Cha Un threatened to kill both her and her son, the second prince!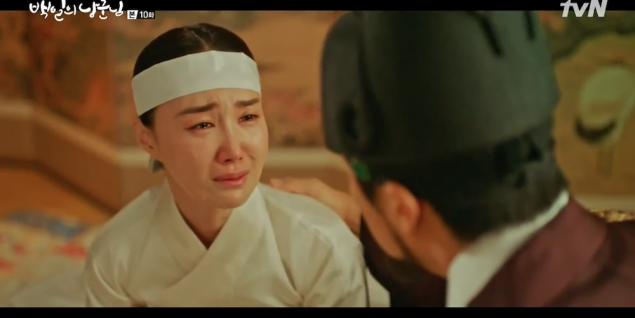 Kim Cha Un threatened me with a white piece of paper!!
Now, as for the Queen's son a.k.a the second prince Seo Won. He's actually not a bad guy at all. He seems to be gentle and caring, family man, much like the King, except maybe slightly wiser and less cowardly. The royal advisors closest to the Queen desperately want Seo Won to take the opportunity and seize the crown prince's place; however, Seo Won does not want to aim for the throne at the expense of betraying his dead half-brother, nor does he want to harm the princess consort. Unlike his mother, Seo Won doesn't seem to have any ill intentions at all, and I think this second prince may end up playing a key role in the King's transformation.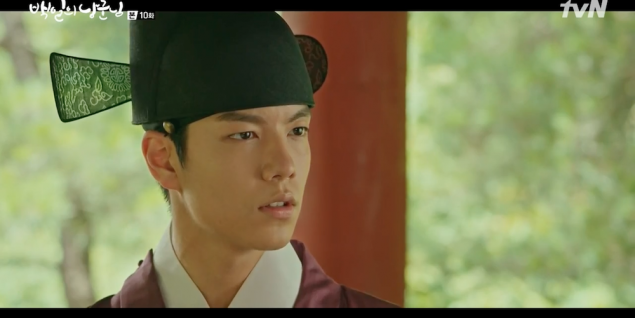 The only sensible one in that whole palace, honestly.
And with that, we arrive at a very critical point of this drama's plot: the King's transformation. Up until now, the King obediently followed Kim Cha Un's orders as a very incompetent, powerless King. Directly hearing from his wife that Kim Cha Un is threatening to tear his family apart, despite earlier promises? It's enough to completely change the King's mind about his relationship with the cunning Kim Cha Un. You can see just how much the King's facial expression has changed from earlier episodes, when he just seemed like he didn't have any clues. Now, the King is wearing an almost evil type of resolved, dangerous expression. With such a scary expression on his face, he orders the other royal advisors to kill Kim Cha Un.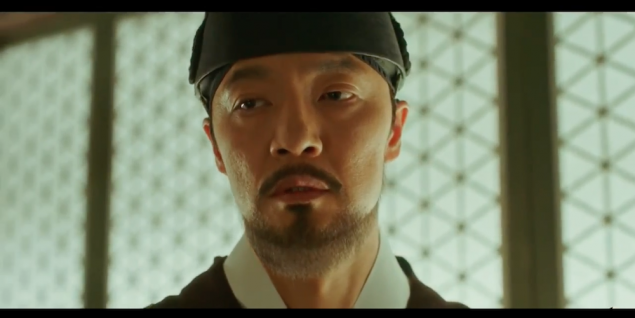 When I'm mad, I get dangerous, b*tches.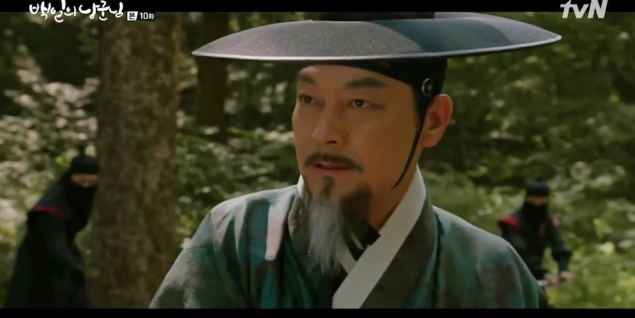 Oh f***. I'm f***ed!
Unexpected figures are taking actions inside the palace to make changes to Kim Cha Un's unquestioned reign, and this was definitely a plot component I was not expecting. In a good way, of course. But seeing so many different figures inside and around the palace fighting their own battles to chase after their own goals, it sort of convinces you into thinking that just maybe, it'll be okay for Hong Shim (played by Nam Ji Hyun) and Won Deuk to go on living the way they are now - a simple peasant life making a living with basic labor and spending quiet days with the villagers.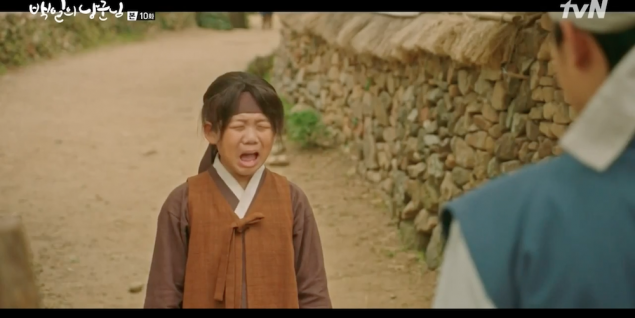 Peasant life is the best! You get to make little kids cry!
It's totally not as easy as it sounds, the whole prospect of Hong Shim and Won Deuk staying in their little village, happily ever after. Not only is Won Deuk suffering from fragmented memories constantly giving him huge headaches, Hong Shim also has her older brother to worry about. Yes, that older brother whose comrades are trying to kill him... Not to mention, the village's new royal governor Jung Jae Yoon isn't just there to help this couple lead a peaceful life. Nope, Jae Yoon's ties to the crown prince and Kim Cha Un will have very big consequences as our plot edges closer and closer to a climax. This seriously isn't the time to be chasing after fluffy dog butts.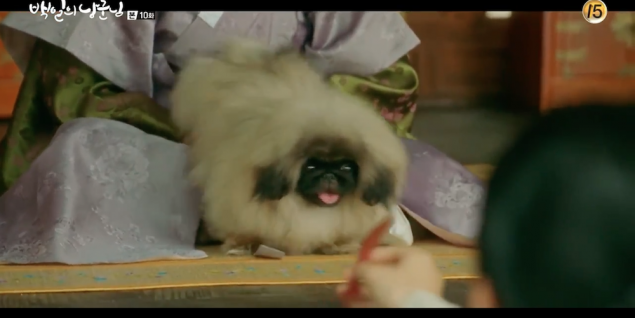 Come get the beef jerkey, you little fur ball!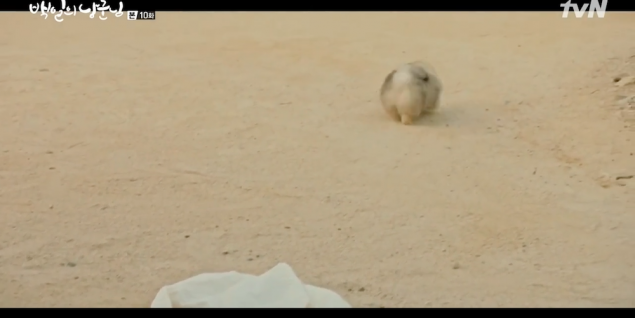 /Furry butt darts away on its teeny tiny legs/

All in all, this false type of reassurance that episode 10 tried to embed in our hearts of a potentially simple, happily ever after for Hong Shim and Won Deuk - it's all just the drama producers' ploy to bring on the heartache later on. We know, that very soon, Won Deuk's identity will be discovered. The rumors floating around the palace prove that the time is drawing near. Which means that Won Deuk must leave Hong Shim, return to his true identity as Lee Yool, and fix all of the wrongs surrounding the King's throne and family. Only then, can Yool even think to do anything about Hong Shim. He's a married man after all, and there are a lot of obstacles to overcome before a country's crown prince can be together with the daughter of a "criminal" father.

To be honest, I have no clue how this drama will work all these things out in the end. Which is really cool, the ability to confuse viewers about a story's directions even after so many episodes. As of episode 10, I'm officially just looking forward to enjoying this story to the max. A solid plot, solid acting from all of the cast members in their big and small roles, and fairly fast pacing to keep viewers interested. All of the factors are meeting up just so nicely for '100 Days My Prince', so what's not to like about a well-rounded drama?

Keep the exciting episodes coming, tvN!
SCORE


Plot......................................8/10
Performance.......................8/10
Pacing..................................9/10
OVERALL............................8.3/10