Melomance, a.k.a. the artist to watch out for. The duo consisting of members Kim Min Seok and Jung Dong Han monstrously took over music charts in the latter half of 2017 with "Gift". The song - originally released in July 2017 - suddenly reappeared on charts, and not only did it achieve #1 but it maintained its top spot for weeks, beating popular idol groups such as Wanna One, BTS, and TWICE. 
Following their magical success with "Gift", Melomance sang multiple OSTs for dramas including tvN's 'Because This Is My First Life' and MBC's '20th Century Boy and Girl'. They were also one of the top artists invited to perform at the '2017 Melon Music Awards'.
The duo with their continuing success and abundant potential is expected to reach higher and further with their new music in 2018. With that being said, allkpop grabbed the chance to hold an exclusive interview with the super rising artist. 
Learn more about Melomance in their exclusive interview with allkpop!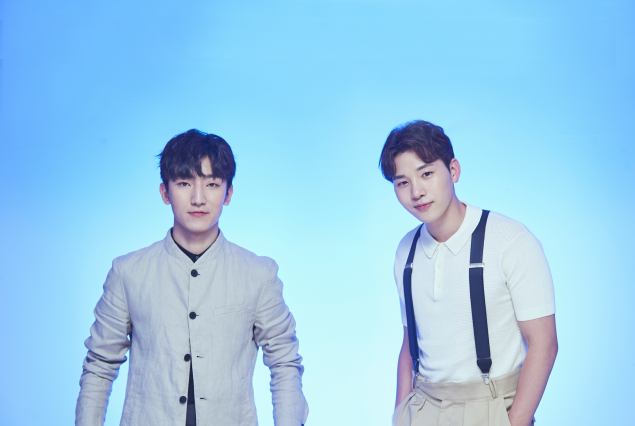 ---
Please introduce Melomance. Who are you guys?
Hello, this is sentimental duo Melomance. The vocal is Kim Min Seok and the piano Jung Dong Han.

How did you guys start music?

Min Seok: I prepared to be a basketball player when I was younger, but I came to quit basketball due to personal reasons and became interested in music. I've also briefly studied vocal music in 8th grade.

Dong Han: Our family all works in music-related fields so I started playing the piano when I was little. Music was always with me and then in high school, I came to think that I wanted to do as a profession.
How do you guys know each other?
DH: Min Seok and I are college friends. Before I enlisted in the military, I lived with Min Seok and several other school friends. I think Min Seok and I had the best synergy when it came to music, and that's how we started.
What was it like to see the song "Gift" suddenly surge in popularity and soar up music charts?
It was unbelievable. Reaching #1 was always our dreams while doing music and when it finally happened, it felt unreal but we were very grateful. 
How did you feel when you guys overcame popular idol groups like BTS, Wanna One, and TWICE, and hit #1 on multiple music charts?
We were even happier because there were so many great artists and music (competing on the charts) at the time. It felt unreal but we were very thankful. The people who loved our music since the very beginning came into our minds and many people also reached out to us (with congratulatory messages). 
How was performing at the '2017 Melon Music Awards'?
We were extremely excited, as well as nervous since we got to meet so many of the artists we love. 
Which performance at the '2017 MMA' was the most memorable?
IU sunbaenim's performance was the most touching. Wanna One's stage was also impressive. 
Which one of your not-yet-so-famous songs do you recommend?
There's a song called "In Your Mind" in our 4th EP 'Moonlight'. It's a song with a message for fans and a song that strongly portrays Melomance's musical ability in doing a ballad with supreme quality. 
Do you have any close celebrity friends?
We have stood on stage together with Paul Kim and Eric Nam hyung. We also connections to Moon Moon and Baek Ah Yeon. 
Which artist do you want to collaborate with?
We've said this before but we want to work with Baek Ah Yeon. We're also a huge fan of Red Velvet so we want to work with them as well.
What are your goals for 2018?
Last year was truly a "gift" to us. This year, we want to make it a gift for you. Please give great love and attention to more of Melomance's music that will be coming in the future.