MAMAMOO
's
Hwa Sa
received a special letter.
On January 12, a post titled 'A letter dedicated to MAMAMOO's Hwa Sa' was shared on online community board. 
A Leukemia patient and her mother decided to write a thank you letter to the idol star.
The handwritten letter revealed that the child was sponsored by Hwa Sa who donated funds to the Korea Childhood Leukemia Foundation.
The letter read, "Hello, this is Hwan Ah's mother. My child has recently been sponsored thanks to your supportive gift," as the patient's mother expressed her gratitude.
"I've always watched your performances on TV but who would have thought I would be writing a thank you letter directly to you."
The patient's mother went on to describe hearing the devastating news of her child's diagnosis with Leukemia, only thinking was a common cold at first.  And mentioned she was fired from her job and experienced great financial hardship.
Unable to handle the overwhelming treatment fees, the family decided to apply for sponsorship through the organization and received support from Hwa Sa.
The letter continued, "We can't help but express how thankful we are in words. Thanks to your assistance, it feels as if our family was met by a single ray of light," signaling hope.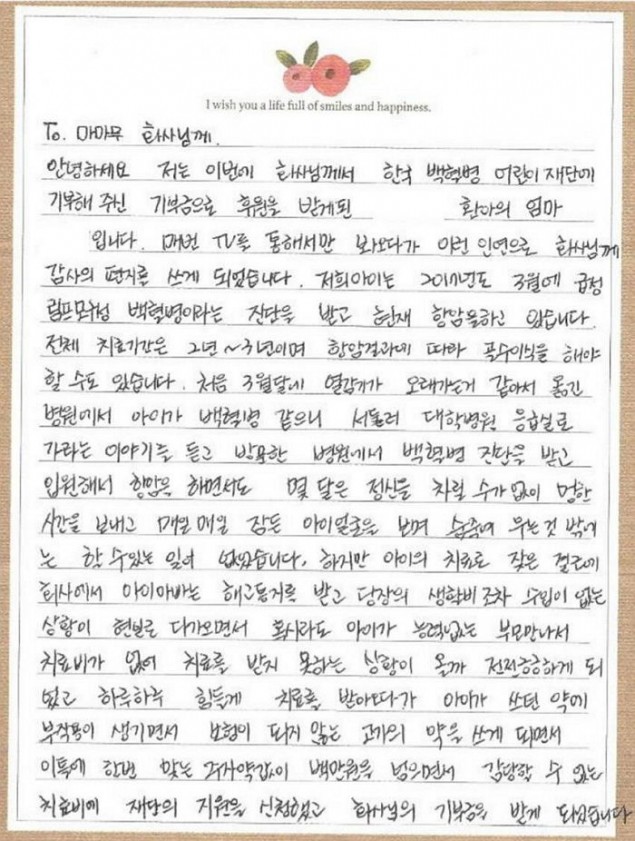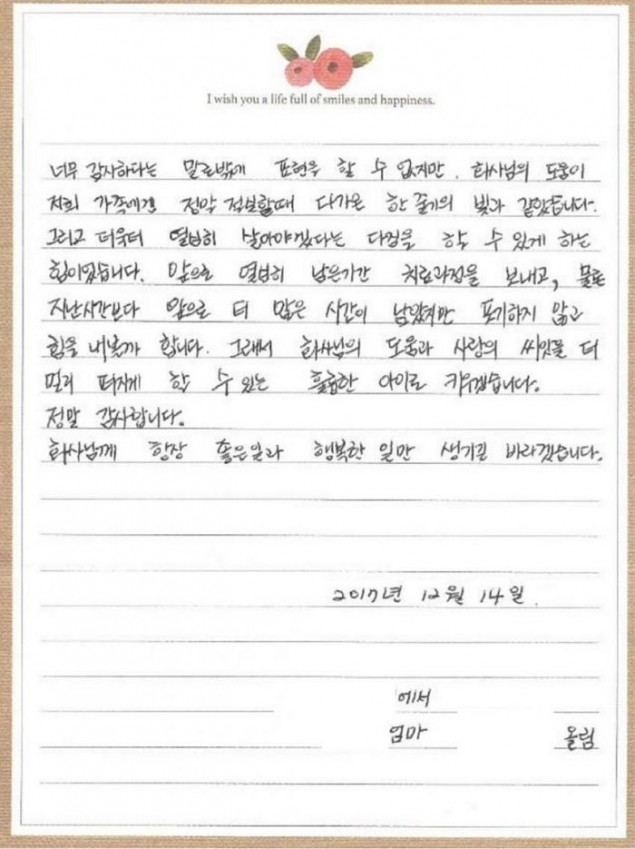 Following this, a letter from 6th grade Hwan Ah was also revealed.
The child wrote with much enthusiasm, "I watched your performance videos on YouTube while I was being treated at the hospital. I feel energized and strengthened by your performances," illustrating her fan-based heart.
"To be honest, I've been feeling down just seeing my parents worried about the hospital payments. But thanks to Hwa Sa unnie's help they seem to be doing a lot better. I am happy."
She then added cutely, "I hope to get well soon and sing 'Decalcomanie' at noraebang/karaoke with my mom."