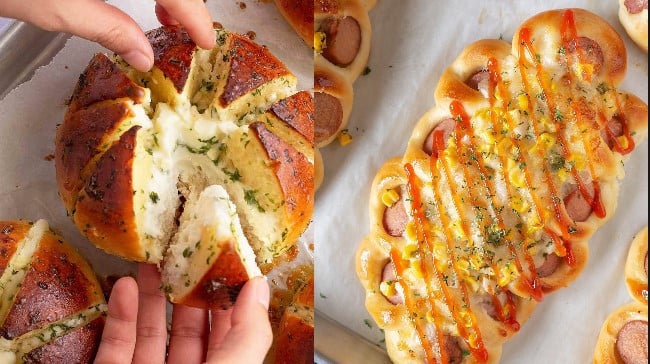 Korean cuisine is renowned for its delicious and diverse range of dishes, including its desserts and snacks. Among the many delicious Korean desserts and snacks available, Korean pastries offer a delightful alternative for satisfying your sweet cravings without going overboard. From classic Korean street food to traditional sweet rice cakes, here are thirteen Korean pastries that you must try!

1. Hotteok: This popular Korean street food is a sweet and sticky pancake filled with a mixture of cinnamon, sugar, and chopped peanuts. The dough is made with wheat flour, glutinous rice flour, and yeast, and the filling is usually made with brown sugar, cinnamon, and chopped nuts. The result is a warm, sweet, and satisfying snack that is perfect for a cold winter day.
2. Hodukwajah: Also known as walnut cookies, these pastries are made with a cake-like dough with red bean paste and an actual piece of walnut inside! They aren't hard like a typical cookie, but they are quite moist and soft! But be careful, you can't just eat one!

3. Kkwabaegi: So this may not look like something so new, but Korea has put a twist to the classic braided doughnuts you see! Korea's version is much more chewy and airy because they use glutinous rice flour within the dough! Deep fry it and then cover it in sugar, and you have one of the most simple yet classic pastries!

4. Korean Garlic Bread: Usually, everyone knows garlic bread to be something savory, but Korea's version has a hint of sweetness to it! Bursting with buttery goodness, who would've known garlic bread could taste yummy with some sweetness?

5. Mammoth Bread: This is for sure a pastry that you want to share with others, a behemoth of a pastry; the mammoth bread is a burst of multiple flavors and textures. With a crispy outer shell, this bread is filled with jam, red bean paste, roasted sweet potatoes, whipped cream, and so much more!

6. Manjoo: Similar in texture to the walnut cookies, manjoo stalls can be found in almost every single underground train station! It's the perfect blend of pastry with custard cream or white bean paste, even better when it's piping hot, especially on a cold winter day!

7. Soboro Bbang: Looking like asteroids, don't let its appearance fool you! This bread is light, airy, and the crunchy peanut-flavored topping is the best part. It's nutty, yet not overpowering and is perfect with a cup of coffee!

8. Sesame Mochi Bread: These are for sure some unique pastries because when you bite into it, all you get is mostly air! With a slight black sesame taste!

9. Yakgwa: Deep fried cookies smothered in honey ginger syrup; these are traditional Korean cookies that have the iconic flower design imprinted upon them! Chewy, yummy, and bite sized that just melts in your mouth!

10. Omelette Bbang: You'd think this pastry is a savory pastry, but rather it's a thick pancake-like bread that is then topped off with whipped cream and strawberries!

11. Croffle: Of course, you can't forget the viral croffle! With a waffle made with croissant dough, you get the best of both worlds! Top it off with a scoop of ice cream, and your sweet tooth will thank you!

12. Chapssaltteok: If you love all things chewy, then you're bound to love these bite-sized glutinous mochi treats! A thin layer of chewy mochi that encases sweet red bean paste; just be careful these are pretty messy pastries to eat!

13. Rice Wine Bbang: Featured in the K-drama "She Was Pretty," rice wine bread is light, airy, and really feels like you're biting into a cloud! Made originally with traditional Korean rice wine, also known as makgeolli, what makes this pastry so unique is that it's not baked but rather steamed!

Have you ever tried any of these Korean pastries?