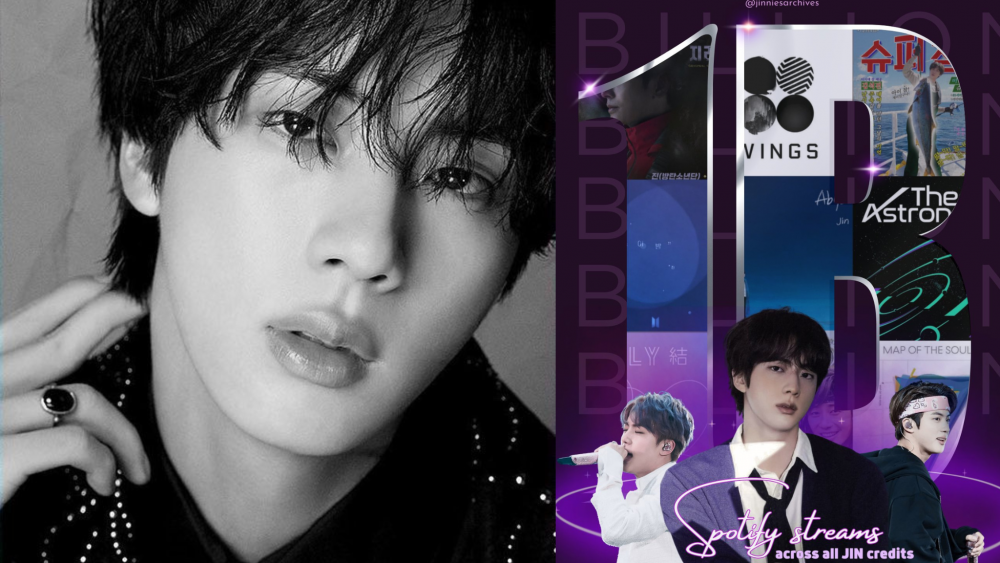 On March 23, Kim Seokjin, a.k.a Jin surpassed 1 billion streams on Spotify across all credits. Jin started writing songs ever since 2014 and officially released a total of 9 songs on the said platform. There is also an unofficial 'Epiphany Demo' written by him which was released as a part of BTS' anthology album.
Among all of the tracks released by Jin, seven of them have been written by the artist himself, unleashing his deepest thoughts, emotions, and feelings. Back in October, his official solo debut, with a single called 'The Astronaut,' reached 5.6M streams on Spotify on its first day. It was the biggest solo debut by a K-pop artist at that time. Right now, 'The Astronaut' is at 141M streams without having any extensive playlisting reach.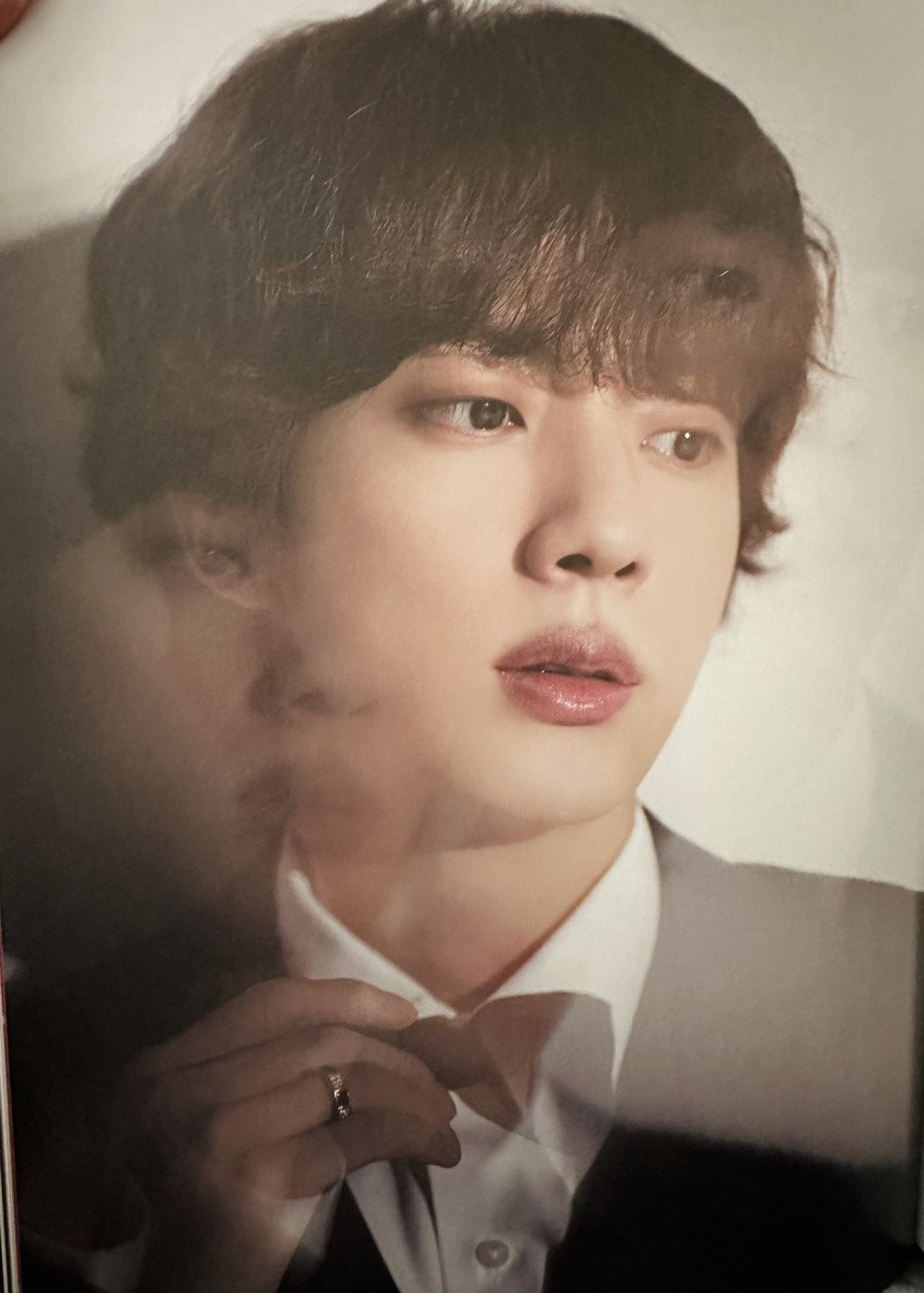 All of Jin's solo songs have more than 100M streams on Spotify, except the unofficial Soundcloud reuploads.

Jin has already confirmed that after being discharged from the military, fans will hear a lot of new music from him. The artist is going to release his very own first album as well. He worked hard every single day before enlisting on December 13.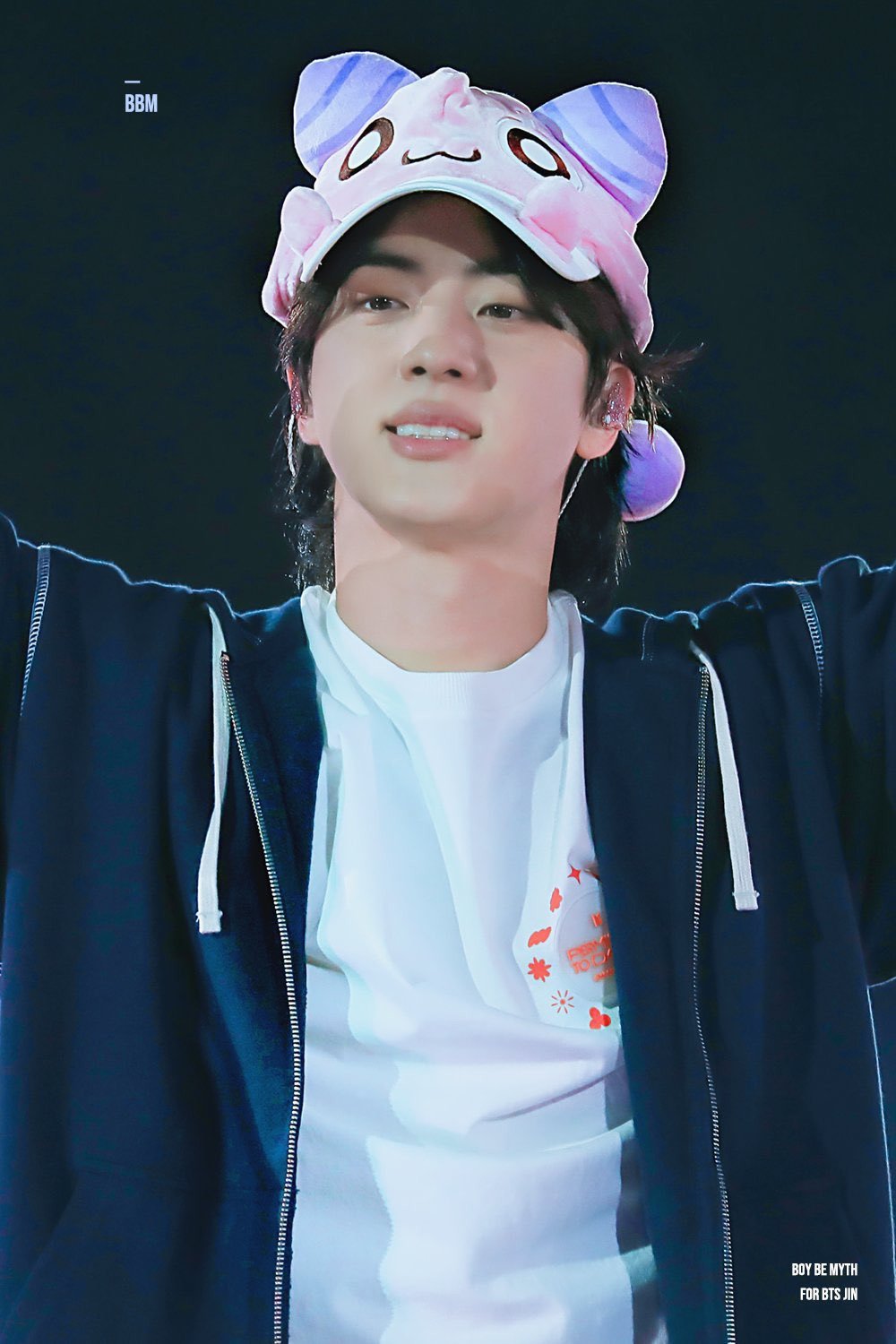 Jin's songs are known to be very moving and powerful. The artist has many achievements under his belt as a composer, getting deserved recognition from critics. Let's go through the iconic discography of Jin!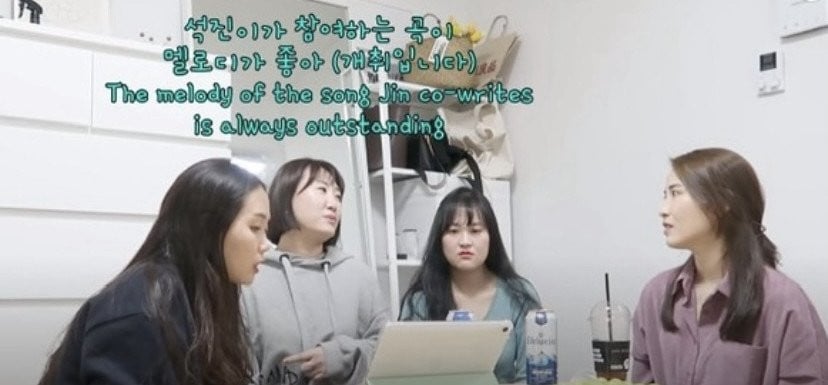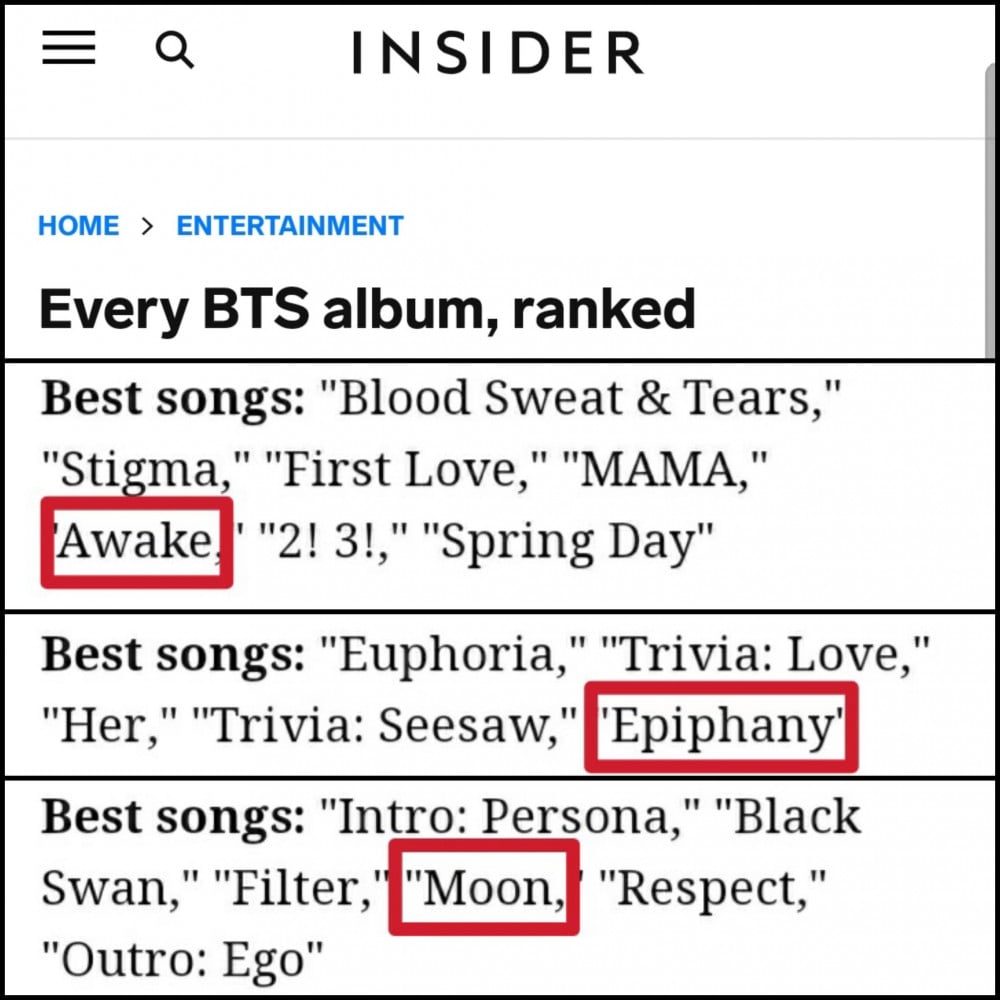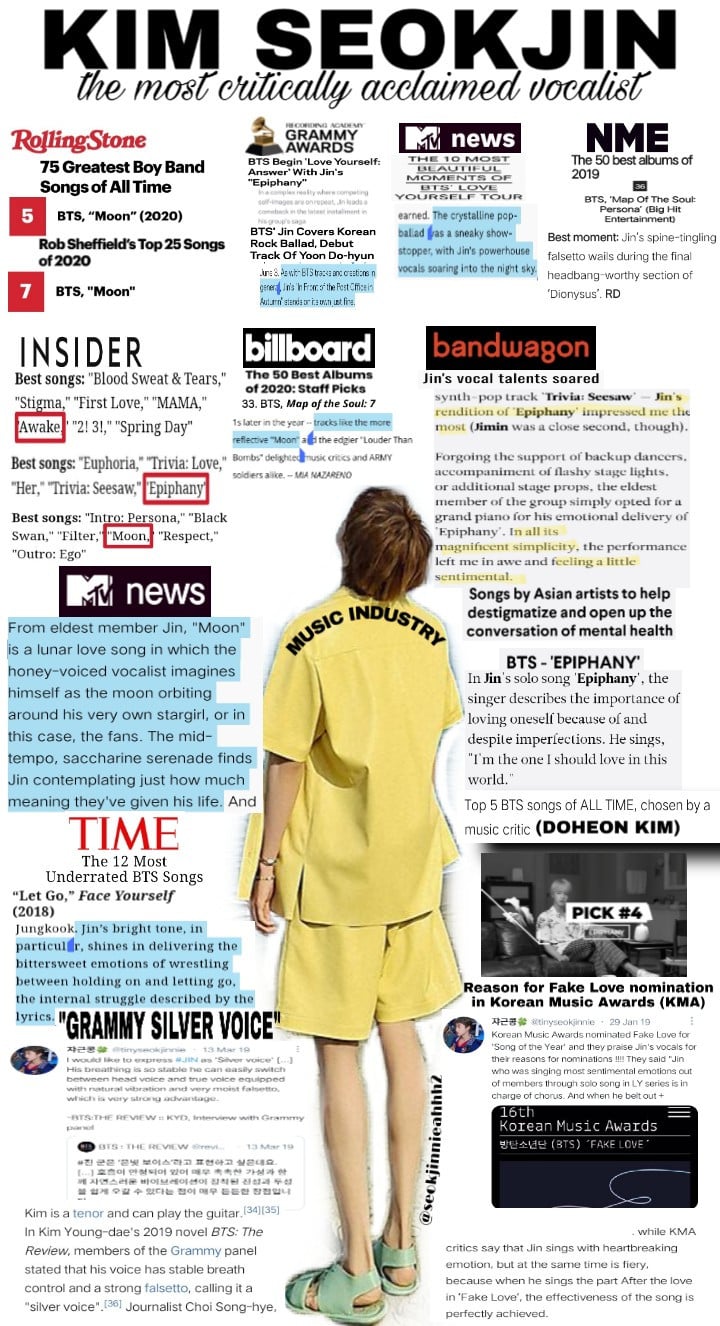 "Awake" is a powerful ballad by Jin, released as part of the group's album "Wings" in 2016. The song's lyrics and melody were written by Jin himself, making it a deeply personal and heartfelt track. The song begins with a haunting piano melody that sets the tone for the emotional journey that Jin takes the listener on throughout the song. Jin's vocals are raw and vulnerable as he sings about feeling lost and uncertain about his future, wondering if he will ever be able to achieve his dreams. The lyrics paint a picture of someone struggling to find their place in the world but refusing to give up in the face of adversity. Throughout the song, Jin's voice rises and falls with a stunning range and power, showcasing his incredible vocal abilities. The chorus is particularly moving, as Jin sings, "But I'm still standing here, screaming out, tonight with a trembling voice," a line that encapsulates the resilience and determination that drives the song. Overall, "Awake" is a deeply personal and emotional track that showcases Jin's incredible talent as both a singer and a songwriter. It's a song that speaks to the struggles of anyone who has ever felt lost or uncertain about their future, but also to the power of perseverance and determination in the face of adversity.
"Epiphany" is a soulful and introspective ballad by BTS member Jin, released as part of the group's album "Love Yourself: Answer" in 2018. The song's lyrics and melody were written by Jin, adding to its emotional depth and personal significance. The song opens with a gentle piano melody, which sets the contemplative and introspective tone of the track. Jin's vocals are warm and tender as he sings about the importance of self-love and acceptance, and the journey towards understanding one's true worth and identity. The chorus is particularly powerful, as Jin sings, "I'm the one I should love in this world, shining me, precious soul of mine." The lyrics speak to the importance of valuing oneself and recognizing one's own worth, a message that is both universal and deeply personal. Jin's vocal performance in "Epiphany" is outstanding, as he seamlessly transitions from soft and introspective verses to powerful and soaring choruses. His emotive delivery adds an extra layer of depth to the already poignant lyrics, making it a song that is sure to resonate with anyone who has ever struggled with self-doubt or feelings of inadequacy. Its message of self-love and acceptance is one that is sure to inspire and uplift listeners, making it a standout track in the BTS discography. He even received multiple standing ovations while performing this song.
"Moon" is a charming and uplifting song, released in 2020. As usual, the song was written and composed by Jin during his flight to New Zealand back in 2019. The song is a dedication to BTS fans, whom Jin affectionately refers to as his "moon." The lyrics speak to the special bond between the group and their fans, as Jin sings about the ways in which their support and love have lifted him up and propelled him forward. The song's melody is bright and cheerful, with a bouncy beat and catchy chorus that make it impossible not to smile. Jin's vocals are warm and touching, drawing the listener in and creating a sense of intimacy and connection. Throughout the song, Jin expresses his gratitude to the fans for their unwavering support, singing lines like, "Without you, my world would be dark / I just wanna be your star." The lyrics are heartfelt and sincere, and it's clear that Jin genuinely cherishes the relationship between the group and their fans. Rolling Stones magazine crowned this track as the 5th best boy-band song ever released in history.
"Tonight" is a melancholic ballad written Jin in the USA, dedicated to his pets that passed away. The song opens with a simple piano melody, which sets the tone for the contemplative and somber track. Jin's vocals are tender and vulnerable as he sings about the struggles of letting go of someone you love, and the pain that comes with that process. The chorus is particularly poignant, as Jin sings, "Tonight, I'll be saying goodbye, letting you go, letting you fly," a line that captures the bittersweet nature of moving on. The lyrics are both heart-wrenching and relatable, speaking to the universal experience of loss and the challenges of moving forward. Jin's vocal performance in "Tonight" is haunting and emotive, as he captures the raw emotion of the lyrics with his powerful voice. The song builds to a powerful climax, with Jin's voice soaring over the instrumental track and bringing the listener along on his emotional journey. Raw vocals is the distinctive feature of Jin's own songs.
"Abyss" is a very important song in Jin's discography. It was written during his hard times. After releasing this song, Jin became one of the few Asian artists to bring up the issue of de-stigmatizing mental health problems. In the letter, attached to the song release, Jin was not afraid to seem vulnerable and weak in front of millions of people, encouraging everyone to seek help if they don't feel that well mentally. This song was also turned into a cute animated video by one of the largest Youtube channels that talks about mental health issues. The song's lyrics express the pain and darkness, and the feelings of hopelessness and despair that can arise. The chorus in particular, with the line "I'm diving into my deepest sea, inside a blue and dark abyss," captures the sense of being overwhelmed and lost in one's own thoughts and emotions. Jin's vocal performance is powerful and emotive, conveying the emotional weight of the lyrics with great intensity. "Abyss" is a deeply honest and introspective song that speaks to the universal experience of struggling with mental health, and the importance of seeking help and support in times of need.
His first solo OST, "Yours" was written by the famous musical director Gaemi. Back in 2021, Jin was invited to sing an OST for one of the most expensive K-dramas ever, Jirisan. He became a part of the 'Golden Lineup' with the most powerful solo singers of South Korea. The artist was selected to sing the main theme OST for his outstanding singing abilities and wide range. The OST became a huge success for Jin, achieving numerous milestones around the world.
"Super Tuna" is a fun song written by Jin in exactly 15 minutes, while he was fishing in the middle of the sea. It is a trot song that became a huge hit in South Korea. To this day, it appears in various TV shows, gets covered by kids in schools and had all of the biggest Korean mascots join the challenge. 'Super Tuna' is a definition of a naturally viral song, it has 80M views on Youtube and was topping the Youtube Music Category for 16 days, beating the record set by PSY a decade ago.
"The Astronaut" is the song Jin co-composed together with Chris Martin and one of the most famous producers in the world, Max Martin and Kygo. He also wrote the lyrics for this track, conveying his emotions and feelings, confessing his love to fans before enlisting. The song and its music video are definitely standing in their own league if we talk about the genre of K-pop. In the very short time, Jin has managed to bring so many creative ideas into life. From creating a separate alien character Wootteo, to directing the music video that was filmed at the Marvel movies set. The music video tells us a very touching and breath-taking story of an alien creature played by Jin, learning how to find happiness and his own place in this infinitely expanding universe. As a born actor, Jin makes you live through this mini-movie, while enjoying the artist's breathtaking vocals. 'The Astronaut' became one of the most successful solo releases ever in K-pop history and the majority of its records are yet to be surpassed.