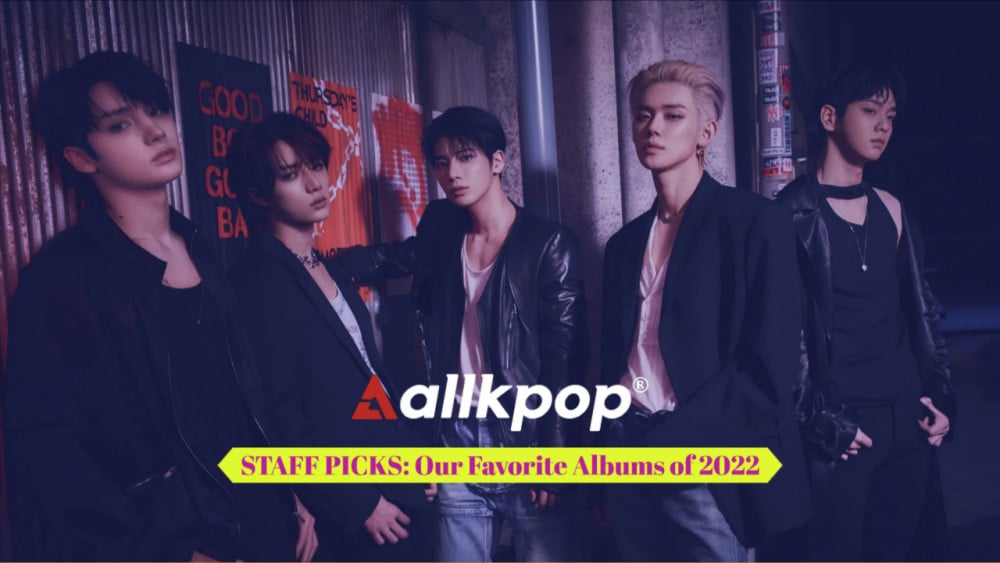 2022 was another year filled with amazing K-Pop releases. Out of the countless new albums that came our way this year, here are the favorites that the allkpop staff loved the most!
MaiaD's pick: TXT - Minisode 2: Thursday's Child
"Minisode 2: Thursday's Child" was the sole 2022 comeback of TOMORROW X TOGETHER before going on their first world tour. Aside from the album breaking records such as surpassing pre-order records, this was the first album of TXT which showcased subunits, with Yeonjun and Huening Kai in the angsty "Lonely Boy" track and Soobin, Beomgyu, and Taehyun in the upbeat "Thursday's Child Has Far to Go." Aside from the powerful title track, "Good Boy Gone Bad," the b-sides certainly delivered in each of their own ways. The storytelling within the album was amazing too, from the lyrical transitions of each track, referencing how their story started with an end- and a birth of a new chapter which is a teaser to what's coming next for them, to the active participation of each member in the production and composition.
Lorr-Ye's Pick: NewJeans - NewJeans
The debut of the rookie girl group, NewJeans, took the global K-Pop community by storm and flipped it on its head. Though their self-titled debut EP is only four songs long, every track has made an incredibly poignant impact on K-Pop listeners, no matter their native country or language. NewJeans is trendy, youthful, relatable, and addictive. There's a reason why K-Pop idols from the 2nd, 3rd, and 4th gen are racing to take part in their TikTok dance challenges and rushing to push out their own covers of the group's iconic choreographies. NewJeans is the group I would have loved to look up to in my own youth, and the successful debut of their self-titled album poses a promising horizon for not only the group but the industry at large.
ean1994's Pick: TXT - Minisode 2: Thursday's Child

TXT never fails to amaze with every comeback, and this album is proof. Love the darker concept and sound, which is completely different from their debut, which only shows just how talented they are individually and collectively!
Rika-go's Pick: TREASURE - The Second Step: Chapter Two
All five new songs on the album are of different genres. The title track is an energetic dance song, and the b-sides are of different genres like Hip-hop, rock, pop, and R&B. This is a whole package.
Yaki-Jones pick: Taeyeon - INVU
While other categories took me a while to decide, I immediately chose INVU by Taeyeon for this year's favorite album. I was first hooked on by the title song "INVU" and then later decided to try streaming the whole album, which made me regret not streaming the entire album from the get-go. All 13 songs are so good that you wouldn't want to skip any of them. I really recommend you stream the whole album, but to try out a few, please listen to "Siren" and "No Love Again" other than the title song. I think you'll like it too.
optimusnins' pick: Stray Kids - MAXIDENT
As usual, this self-producing group would never fail to make addictive hits, and MAXIDENT is no exception. What makes this album even more fun is that it's like a gift box containing 8 assorted tracks, and they are all no-skips. The group surprised the world by releasing an album about love, but it was nowhere near cheesy, and that is how MAXIDENT made them become 3 million sellers. Stray Kids proves that they are continuously exploring new sounds and genres while still managing to keep the group's signature sounds. They are open to trying new things but also know their strengths well and constantly stay humble, which is why they are one of 4th generation monster groups.
Yeom-My's Pick: Girls' Generation - FOREVER 1
This was, hands down, the album of the year. Girls Generation made their first comeback in 5 years, and it's also their fifteenth anniversary. The legendary group, who are the queens of k-pop, made their great return, and they absolutely killed it.
Janie-Reign's Pick: Humming Urban Stereo- 'Gros Calin'
Sometimes, I like to take this opportunity to introduce albums that are lesser known in K-Pop. My personal favorite this year is 'Gros Calin' by Humming Urban Stereo (HUS). This indie band stormed the Hongdae scene in the early 2000s and is probably most known for their song "Hawaiian Couple." But unlike the Y2K fashion that is currently making a comeback, this signature electronic sound in Korea from this era is still limited to only a few bands. 'Gros Calin' is like a taste of honeydew found in the middle of a desert, a subtle romantic ride jam-packed with dance beats and bossa nova rhythms. Long before YouTube lo-fi remixes were a thing, HUS spearheaded the easy-listening scene in K-Pop with transcultural influences like Japanese and Brazilian jazz. The track "SWISS KNIFE" is definitely worth a listen—make sure you tune into the dreamy narration spoken in a foreign language in the bridge section.

Germaine-Jay's Pick: STAYC - YOUNG-LUV.COM
Listening to this album feels like listening to the next generation of K-pop. The tracks on 'YOUNG-LUV.COM' are familiar enough with everything from retro pop rock to old-school R&B, but the production is incredibly fresh. The overall polish and controlled restraint from the STAYC members' vocals and producers also really stand out to me.
Sofia-Sayson's Pick: (G)I-DLE's 'I NEVER DIE'
There were many excellent albums released this year, but I personally think that (G)I-DLE's first full-length album, 'I NEVER DIE,' stands out to me the most because it is simply a no-skip album. With 8 songs, (G)I-DLE has demonstrated a variety of musical styles on one album. The title song, "TOMBOY," is fantastic (I love the "lalala" part, it was so addicting). The whole album turned out great, which I enjoyed. The great punk tunes that (G)I-DLE released and executed throughout the album are amazing. Among the songs, my favorite is "Never Stop Me," which has a 2000s punk vibe to it. I went to their concert to see them perform live, and it was well worth it — their show was fantastic! 'I NEVER DIE' is a strong and bold self-composed album that suits my musical tastes. I'd also like to commend Soyeon on her songwriting abilities, as well as the other members who helped in the creation of tracks, Minnie and Yuqi. Of course, Shuhua and Miyeon as well, for their absolutely wonderful vocal prowess. I don't know what else to say; 'I NEVER DIE,' I believe, is one of the best albums released in 2022. With it, (G)I-DLE once again proved they never die. Rock is a great fit for (G)I-DLE. I'm looking forward to more of the group's comebacks in the future.
Susan-Han's Pick: Moonbin & Sanha - 'REFUGE'
Albums with a correlating theme are my weakness. The theme of this album is overcoming evil and darkness within. "WHO" is about struggling with the evil voice inside you, "Boo" is a little bit more fantastical and up for interpretation, but with an air of lightheartedness, like a Disney-style ghost movie. "Distance" is about that dark emptiness in our most solitary moments, and "Ghost Town" is about sadness, sacrifice, and also relief. Now, I just don't understand why "DIA" was included in this album. It doesn't fit at all. It kind of sounds like a song that they forgot to put in the last album. So for me, the album is complete and beautiful when you take away "DIA". And I also really love that this album seems to reflect the character John that Cha Eun Woo is set to play in the drama 'Island'. Love that ASTRO-connection.
Sophie-Ha's pick: GOT7 - 'GOT7'
This is the first album GOT7 returned as a whole group after all the members decided to part with JYP Entertainment in January 2021. This was the album that the members kept their promise to fans to return as a group. The album was filled with tracks produced by the members and was an album that showed the various true musical colors of GOT7.
Jia-Lin's Pick: Epik High - Epik High Is Here 下 (Part 2)
This album is a whole rollercoaster of emotions from feel-good with "Super Rare," to emotional "Gray so Gray," to chill "Rain Song," to hype "Face ID." There is not a single song you would want to miss from this album, and listening to it from the start to the end is just an amazing journey and experience. As a sequel to 'Epik High Is Here 上 (Part 1)' released earlier in 2021, which had a darker theme that seems to revolve around the happenings in the past two years, 'Epik High Is Here 下 (Part 2)' is definitely a happier counterpart that is an ode to showing gratitude for what we have.
A-Nish's Pick: BTS – PROOF
Even when it had only three new songs, not counting the hidden tracks, the album was simply perfect. It paid homage to BTS' history and journey till here. Each song was picked by all the members carefully and placed in a way that tells their story. 'PROOF' ending with "For Youth" and its lyrics, 'I'll be with you… for the rest of my life…' was the most beautiful way to promise ARMY and a wonderful start to a new chapter.
Dani-Dee's pick: BIBI – 'Lowlife Princess: Noir'
BIBI is the epitome of a rising artist, as it seems that every year, the R&B songstress puts out hit after hit, drawing in new fans thanks to her unique sound, artistic prowess, and diligent promotion both domestically and abroad. Needless to say – a full-length BIBI album was something the music world needed for ages, and boy, did she deliver. Not only does the album prove that BIBI is a versatile performer, being able to adapt to a range of genres, but the music videos created for the album ("Blade," "BIBI Vengeance," "Animal Farm," "Motospeed 24," "Sweet Sorrow of Mother," and "JOTTO") are all highly cinematic and well-produced, adding to the overall quality of the release. Her duet with Sam Kim, "Loveholic's hangover," is a particular K-R&B fan treat.
jieun-im's Pick: RM - 'Indigo'
RM's 'Indigo' definitely has to be my favorite. From the legendary artists he chose to collaborate with to the lyrical artwork that he presented in his album, it truly served as the final shift in focus of his identity as a K-pop star to his identity as a musician and lyricist. Moving on from the personal stories of life struggles he frequently told in the BTS albums, RM seemed to really tell a reflection story of his journey as an artist, the meaning behind his work, and showcase his inspirations to his listeners.
Paul's Pick: Paloalto - 'Dirt'
I have been an avid admirer of Paloalto and his record label, Hi-Lite Records, for many years, so I was deeply saddened to hear that Hi-Lite was shutting down. The good thing, though, is that Paloalto is still dropping heat and 'Dirt' is pure poetry. If you're a fan of clever Korean rhymes and bars for days, then 'Dirt' is worth checking out.
KG's Pick: Junaflo x G2 - 'Smiles And Tribulations'
This was technically released in 2021, but since I discovered the album in 2022 and loved it so much, I bent the rules to add it here. No watered-down 'Show Me The Money' here; this is pure Gyopo hip-hop. Both have mad skills, and the beats are so chill. This is hip-hop at its best.