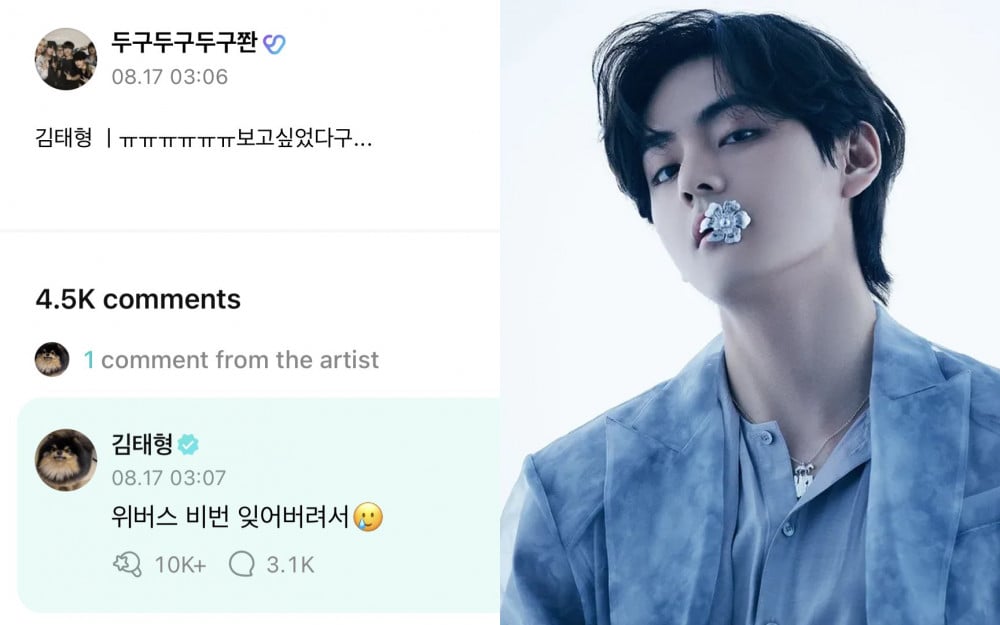 The BTS members have been known to interact with fans and keep them updated through various social media platforms such as Twitter and HYBE's fan communication app, Weverse.

In particular, V was one of the members who was the most active on Weverse, as he would consistently upload photos, create posts, and reply to fans to stay connected to them.
Lately, V has been very quiet on Weverse getting fans wondering what he's been up to. Many fans just speculated that V was taking the time to rest and recharge by taking some time to himself after BTS announced that they will be taking a hiatus from group activities and focus more on solo activities so that the members can recharge. So, fans just thought V was also taking the time to rest.
Then on August 17, V showed up to Weverse for the first time in a while and revealed the hilarious reason why he was not on the app.
On this day, V posted a photo on Weverse saying "update," and fans quickly expressed how much they missed him. One fan wrote a post saying, "Kim Tae Hyung, I missed you..." and V responded saying, "Because I forgot my Weverse password 😢."
Taehyung continued to communicate with fans again and also made them laugh by expressing how confused he was with the Weverse update and also just giving them an update while responding to fans' comments.