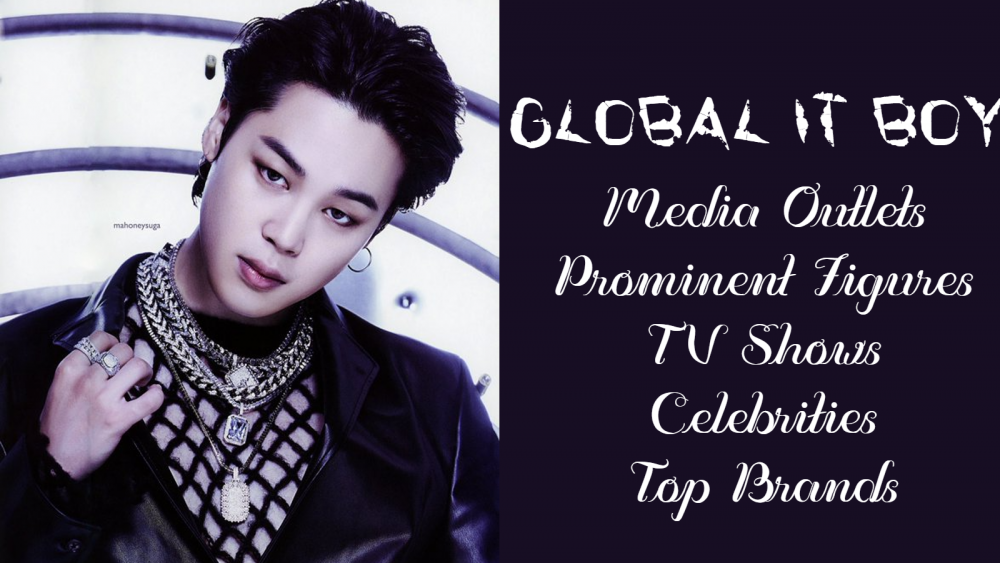 Jimin has cemented his name into history and received the title of being an IT Boy, having earned the title from his unparalleled popularity both in his home country and globally.
He is the king of brand reputation in South Korea, having ranked 1st in individual brand reputation for male idols for 35 consecutive months as of November 2021 and a total of 41 months as of May 2022, the only idol to ever achieve this feat. The brand reputation index is a measure of an idol's marketability in the South Korean market based on the public's perception of the idol, and it influences activities such as brand endorsement deals for the idol, among many other factors.
On the global scale, Jimin has become known as 'the face of K-pop' and 'Korea's frontman' owing to the fact that many people who may not know K-pop or even his group BTS will still know him. In addition, numerous media outlets will always use his images, quotes, or footage whenever reporting on any BTS activities, positioning him as the face of the group. Data collected a few months ago showed that he was the most searched BTS member on google worldwide in the 'news' and 'celebrity and entertainment' categories over the past year and the past five years as of when the information was published [read here].
It is evident that his status in popularity is unmatched and only keeps growing, and this has continued to be demonstrated through the numerous occurrences that have been reported over the past few days, including the mention or feature of him and/or his music in different situations and by different entities.
On June 20, his solo song 'Filter' which is the most successful solo from the group's MOTS:7 album being that it is the only one that has sold over 500k units in the US, the most-streamed solo from the album on Spotify, the most-streamed Korean audio on YouTube and the most-streamed solo song by an idol group on Melon, proved its unbeatable popularity yet again when a highly influential account on Instagram used its sound in one of its posts. The post by CheatSheets had nothing to do with music or entertainment in general but rather the use of Excel spreadsheets, and it shows just how widespread Jimin's impact is.
In a different instance, Jimin's name popped up in a crossword puzzle in a Seattle Times newspaper, as reported on June 20. His name was used as a clue to one of the answers to the puzzle. It is seen that he was again being positioned as the face of BTS to the world, the one who would most definitely be known based on the clue and the answer!
Jimin's brand power has also been a topic of discussion, as reported on June 19 when Mnet's TMI News highlighted his global influence and brand power in a feature on '11 Best Stars' Legendary Sold Out Menu.'
The news feature mentioned how his Louis Vuitton t-shirt instantly went out of stock in 40 countries after he was seen wearing it. Of note is that this, along with numerous other instances of an out-of-stock crisis of Louis Vuitton products occurring after Jimin has been seen wearing the items, eventually led to BTS becoming the luxury brand's global ambassadors [read here].
The TMI News feature also reported about his self-designed merch (hoodie and earrings) selling out the fastest among all the members, even causing the Weverse shop servers to crash due to the high traffic to the platform; immediately, the items went up for sale [as reported here and here]. It goes to show why he is the king of brand reputation and the sold-out king.

As a stand-out vocalist, he never fails to attract attention either. His unique vocal color and high vocal range make him the star attraction in the group's songs, and often times his part is highlighted whenever there are news reports on BTS' music.
This time around, when BBC Radio 1 was reporting on BTS' recent comeback in the segment 'New Music Friday,' Jimin's lines and visuals from the 'Yet To Come' music video were featured in the promotional video. Usually, a promotional video will feature the most attractive points of the content being promoted, and the fact that both his vocals and visuals were featured for the comeback promotions is a testament to his super-star quality.
Jimin's name is highly prominent in the promotion of South Korean culture to the rest of the world. Dubbed 'Korea's frontman' by K-media, he is always at the frontline and/or responsible for the spike in popularity of Korean products and culture abroad.
On June 8, Money Today featured Jimin in a piece on La Vie est Belle golf course review, which was the venue of the exhibition for the specially designed hanbok that he wore during BTS' 'IDOL' performance on 'The Tonight Show' with Jimmy Fallon, and the exhibition drew lots of visitors [read here]. Jimin is the ultimate representative of Korean culture, and anything associated with him will always draw massive attention.
When it comes to music, Jimin has proven his capability and potential as an individual act. Recently, he released 'With You,' his first-ever official project outside of the group. It is a duet with his close friend Ha Sungwoon, and the scale of the song's impact on chart performance upon its release was astronomical, even though it was not promoted at all. There were numerous records set on different major music platforms like Spotify, Apple Music, Melon, iTunes, Oricon, and Shazam, among others, with the public and media showing lots of love for the track. Till now, media outlets domestically and internationally, as well as television shows, are still reporting on the song and featuring it as a soundtrack on various shows.
Teen Vogue recently published an article reviewing 'Our Blues' drama to which Jimin sang the OST 'With You.' In the article, 'With You' was singled out as the author praised the drama for its poignancy and perfect repeated use of the 'notable' and 'evocative' OST.

Notably, 'With You' premiered in the drama's 6th episode, and since then, it was played in every episode till the final 20th episode. It shows that 'With You' suited all the different scenes in the different episodes despite having different storylines, and it was a perfect selection for the drama.
On June 5, tvN's show 'Unexpected Journey' featured 'With You' in its final episode as it showed Oscar winner Youn Yuh-Jung's activities in the US.
It had also been previously featured on an SBS variety show, serving to bring out even more emotions in an already emotional scene of the confession of love and gratitude between two partners, to make it even more beautiful.
Other variety shows where the OST has been featured as a soundtrack include Tving's new reality show 'Seoul Check In,' where a popular K-pop star Lee Hyo-ri was spotted to be humming to the song, and KBS2's talk show 'Bountiful Year' as background music, to mention a few.

In other news, Jimin is also well known and loved for his kind-hearted nature. Anyone who knows him always praises him for the goodness of his heart.
Recently, Kang Seonja, the restaurant owner of the place where BTS would have their meals pre-debut, mentioned Jimin praising him for his kindness, care, and affection towards her. Seonja has previously mentioned Jimin, saying he had the most cuteness, and she also took a picture with Chibi Jimin when she once visited a BTS pop-up store. Moreover, she was also featured when Jimin-biased actor Kim Kapsoo came to visit!
Most people have Jimin as their favorite member, and it is not hard to see why. Apart from being a phenomenal artist, he also has the best and most beautiful personality.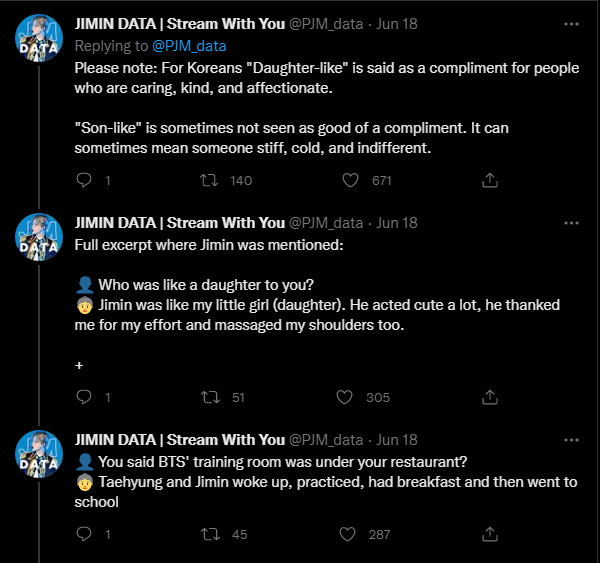 This public's affection for Jimin was further seen during a baseball game in South Korea. In a game between NC Dinos and Hanhwa Eagles, a fan was captured holding a sketchbook with the writings "Jimin for BTS and Nam Jimin for Hanwa." The signage drew attention that even the game's commentators mentioned it. Jimin's name tends to come up everywhere because that is how widespread his supporters are.
Another case where the public's affection for Jimin from people of all walks of life was seen is when the supermodel Gizele yet again showed how much of a Jimin-fangirl she is. Looking at her Instagram account, she had liked all of Jimin's posts, and she shared one of Jimin's latest posts on her Instagram stories.

Gizele has mentioned Jimin many times in the past, including in an Instagram story wearing this gorgeous Jimin t-shirt! She gained massive attention during BTS' concert in LA when she was seen absolutely fangirling over him in her Tiktok videos as she prepared to go to the concerts [read here]
Being the king of brand reputation, brands are always glad when he wears their items as it always leads to a surge in orders for the said items.
Recently as BTS attended pre-recording sessions on different music shows in different broadcasting houses, different brands posted images of him wearing their products on their social media pages.
One such brand was the rising Korean jewelry brand 'JustLoveR' whereby Jimin was seen wearing the brand's earrings to KBS Music Bank's pre-recording. It is not the first time that Jimin wears the brand's jewelry, and each time he has worn it, he caused a pile-up of orders for the jewelry.
An example is during this year's Grammys ceremony, where he wore earrings from 'JustLoveR,' and as expected, fans rushed to get the earrings. One of the fans happened to be a popular Thai actress Baitoei Zuvapit, who then posted the earrings on her social media. The actress also showed her love for Jimin and his influence on her as She posted a picture of 'Magnate' cafe where she visited, and also pictures of her eating tteokbokki in Busan. It is worth noting that the global interest in tteokbokki increased due to a viral image of Jimin eating the spicy rice cake at a street food stand! All this was yet another demonstration of Jimin's brand power and influence.
Another Seoul-based jewelry brand 'S_S.IL' also posted pictures of Jimin wearing the brand's earrings, as seen in BTS' most recent music video. Every brand feels proud when one of the most influential super-stars to ever exist, wears their items.
Jimin's name is mentioned in all kinds of contexts by different entities, be it celebrities, media outlets, variety shows, prominent persons, and so on.