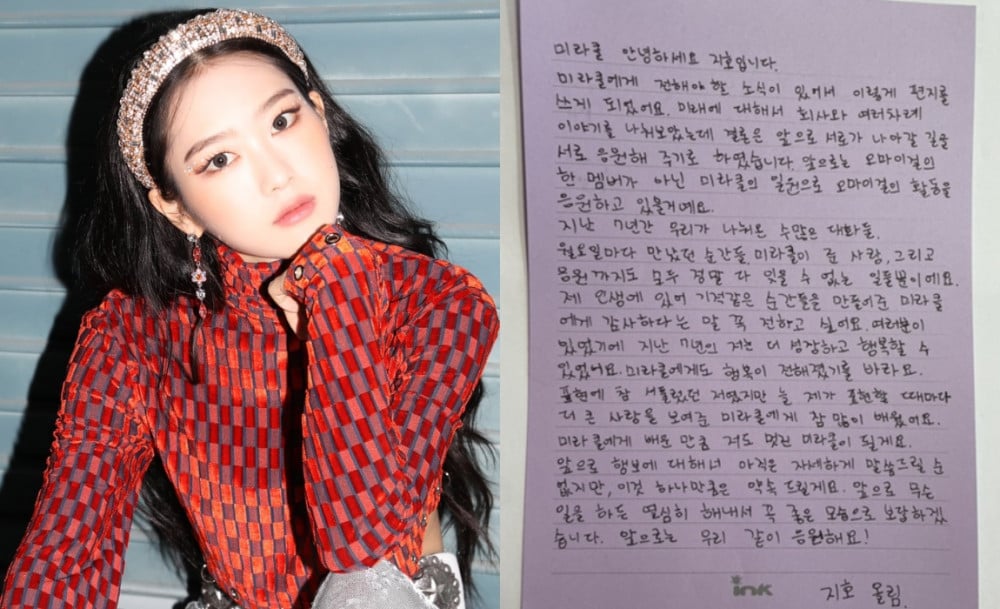 Jiho has released a handwritten letter to her fans.

On May 9 KST, the idol uploaded the letter to Oh My Girl's official fancafe, confirming the news that she is leaving the group as well as WM Entertainment.
The letter reads as follows:
"MIRACLE [Oh My Girl's fandom], hello. This is Jiho.
I talked with the company about the future a number of times, but we decided to support each other on the road ahead in the end. In the future, I'll be supporting Oh My Girl's activities as a member of MIRACLE, not as a member of Oh My Girl.

The countless conversations we've had over the past seven years, the moments we met every Monday, and the love and support MIRACLE gave us are all truly unforgettable. I really want to say thank you to MIRACLE for creating such miraculous moments in my life. Because of you, I was able to grow and be happier over the past seven years. I hope that happiness spreads to MIRACLE as well.

I was really bad at expressing myself, but I learned a lot from MIRACLE, who always showed greater love every time I expressed it. With as much as I learned from MIRACLE, I will become a wonderful MIRACLE too.

I can't tell you in detail about my future steps, but I promise you this one thing. No matter what I do in the future, I'll work hard and repay you with a good image. Let's cheer on one another in the future as well!"

Meanwhile, WM Entertainment has also confirmed the news of Jiho's departure, having released a statement shortly before Jiho's letter was released. The statement reads, "After in-depth discussions, we are respecting Jiho's choice to move forward toward a new dream, and she has ended her contract with the company. We will sincerely support Jiho's activities in the future."