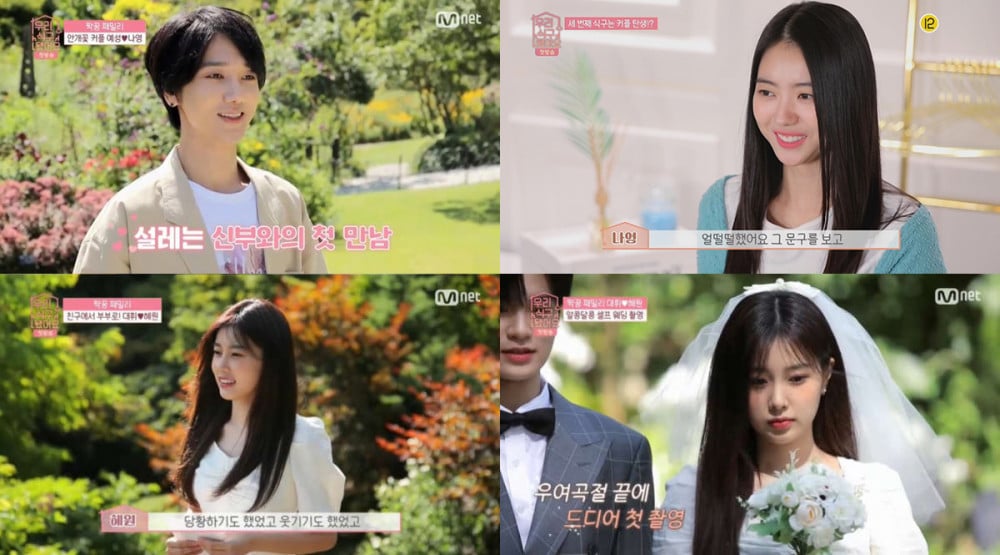 On the December 6 premiere of Discovery Channel Korea and Mnet's new reality series 'My K-Star Family', viewers were introduced to two brand new on-screen idol couples for the first time!
On this episode, Super Junior member Yesung and former IOI member Lim Na Young found out that they would be getting married as an on-screen couple. To kick off their newlywed life, Yesung prepared a romantic proposal for Lim Na Young, gifting her with lovely baby's breath.
Another idol couple also commemorated their on-screen marriage with a simple ceremony on this day, AB6IX's Lee Dae Hwi and former IZ*ONE member Kang Hye Won! When Kang Hye Won arrived at the wedding, she hoped that she would be marrying someone she could feel comfortable around. Soon, she found out that a good friend of hers was her marriage partner, and said, "Well, I'm glad that it's you."
Afterward, the two on-screen idol couples arrived at the 'My K-Star Family' home, discovering that they would be living together with not only another couple, but also various other family members!
Also on this episode, Wonder Girls member Yubin adopted(?) three new younger brothers - WayV's Xiaojun, Hendery, and Yangyang. Meanwhile, 'My K-Star Family' airs simultaneously on Discovery Channel Korea and on Mnet every Monday nights at 9:30 PM KST!