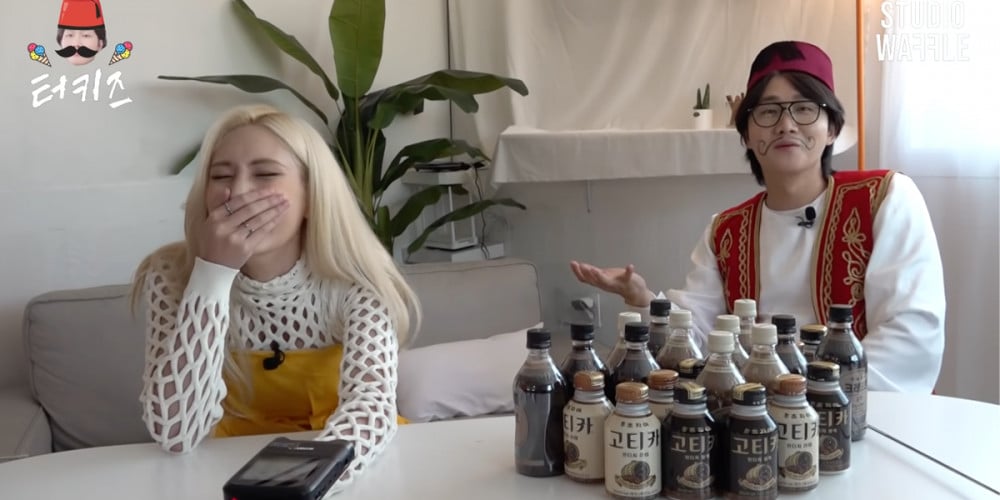 Back on November 5, singer Jeon So Mi appeared as a guest on the YouTube series 'Tur-Kids', hosted by comedian Lee Yong Jin.
On this day, Jeon So Mi sat down for a lively, casual interview with host Lee Yong Jin's whose character on the program cosplays the famous Turkish ice cream vendors.
Briefly after introducing her comeback album 'XOXO', Jeon So Mi was thrown off guard by a question she has never received during an interview in the past 3 years. Lee Yong Jin began, "So, you were at JYP, and then you left."
Hearing this, Jeon So Mi burst into laughter, falling onto the table! She remarked, "This is the first time I've ever been asked that." When Lee Yong Jin asked, "Is it not allowed?", Jeon So Mi responded, "No, you can, but most people try to be very careful and so nobody has asked me before. Go ahead and ask me. I like it."
Calming things down a little bit, Lee Yong Jin continued his question. "So you carefully left JYP. Afterward, there were rumors going around that you were leaving malicious comments about JYP everywhere... But this must be false, right? I am just asking because I'm curious. Why did you leave the company?"
Jeon So Mi simply answered, "After I finished promoting with IOI, I didn't have any work for a long time. That's just how I ended up going to a sub-label at YG."
Following up, Lee Yong Jin commented, "Do you regret it?" Jeon So Mi smiled and replied, "Never." The singer explained, "I am 100% content with my current company. I have no complaints. The reason I debuted as a solo artist is because I was the only artist at the company. The only other artist is Zion.T."
Catch a full recap of Jeon So Mi as a guest on 'Tur-Kids', below!