EXO's Park Chanyeol is ready to appear in the military musical "The Meissa's song" alongside Infinite's L (Kim Myung Soo) and B.A.P's Daehyun.

"The Meissa's song" is set in two countries with completely different cultures. Those countries include the fictional country, Kamur, where a civil war has been raged for a long time, and Korea.
Chanyeol will play the lead role of "Raman," a soldier who grew up in Kamur, then goes to Korea to search for the dispatched soldier Meissa who instilled his dreams and hopes during Raman's challenging times.
Meissa is a star which means a shining existence. It emphasizes not to lose hope in despair.
"Raman" will participate in a K-pop audition as well when visiting Korea. He has grown up experiencing various aspects of Korean culture through the dispatched Gaon troop units of the United Nations (UN) peacekeeping forces, and he speaks Korean fluently. Raman will showcase various concepts when he participates in a K-pop audition.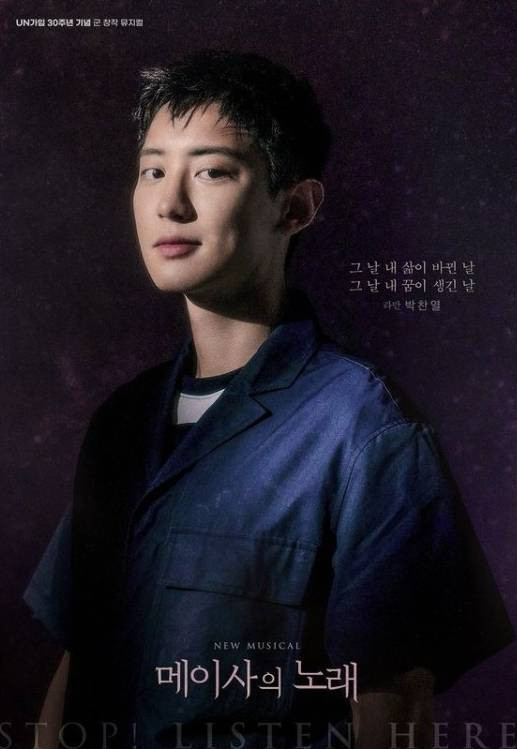 Alongside Chanyeol, Infinite's Kim Myung Soo and B.A.P Daehyun will play a role Yeon Joon Seon who goes to Kamur after volunteering to be a dispatched soldier following a friend's suggestion. Yeon Joon Seon has to face a significant change through his times in Kamur. He used to live without any special dreams and goals, only conformed to his parents.
While Moon Yong Suk will play a role named Yoon Seon Ho, who works for the United Nations to fulfill his dreams of helping people and contributing to world peace.
In addition, famous musical actors Brad Little and Michael Lee are also included in the cast as the commanding officer at the headquarters for the UN peacekeeping forces. There are a total of 41 actors from South Korean soldiers, and ensembles will be on stage to show their excellent singing and acting skills in the musical.
"The Meissa's song" will be streamed online from October 15 to 17.