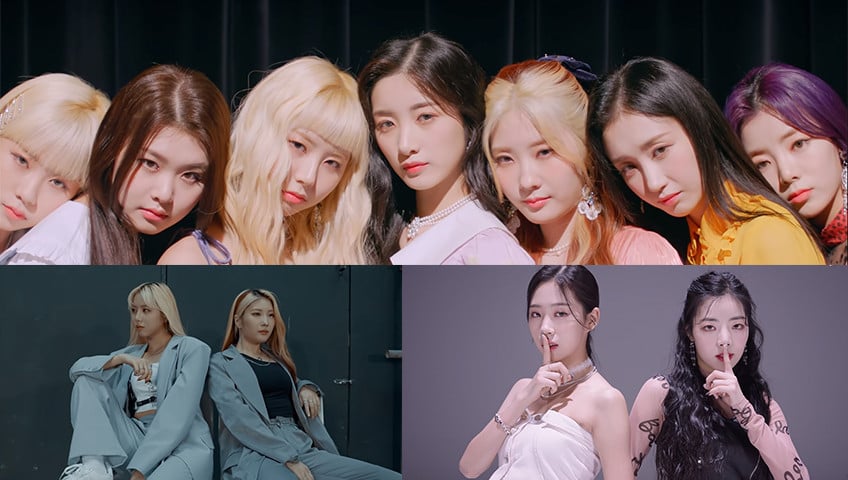 Fourth-gen idol group PURPLE K!SS may be known for being self-producing queens and having amazing live vocals - as expected from an RBW Entertainment group - but their stages have shown that they are equally as formidable on the dance floor.
From K-pop boy group songs to international female artists' works, check out these performance videos that prove that this rookie collective can pull off any concept or choreography given to them.
Mad at Disney (Salem Ilese) x The Eve (EXO)
This seven-member group puts their own color into the viral Tiktok song Mad at Disney and tops it off with a sleek performance of EXO's The Eve. The contrasting vibe of the two songs makes it even more interesting, and (spoiler alert) I doubt anyone will be able to recover right away after watching Dosie's fierce solo.


Break up with your girlfriend, I'm bored (Ariana Grande)

Powerhouse duo Ireh and Chaein play around an Ariana Grande original and simply own it. Being the vocal goddesses that they are, this is also not just a dance performance, but a song cover as well. If this is what two members of Purple Kiss can do, just imagine the depth of talent we'll be able to see from the ranks of these gals.


How You Like That (Blackpink)

Even before their debut, they have already teased us with their skills through lots of content uploaded on their Youtube channel (thank you, RBW), one of which is a cover of Blackpink's How You Like That. Complete with modern hanbok attire, Purple Kiss sharply delivered with a seven-member choreography, even if it's originally just for four.


Black Mirror (ONEUS)

The girls' smooth and impeccable moves in this Black Mirror interpretation are just completely satisfying to watch. Yet again, they have proven that precision isn't just in their singing, but in their groove too.


gogobebe (Mamamoo)

The pressure must've been tough for Purple Kiss as Mamamoo's juniors, but who else can give justice to their sunbae's hit songs but them? This pre-debut practice by Na Go Eun, Dosie, Park Jieun, and Yuki has become one of the most viewed videos on their channel. Solar, Wheein, Hwasa, and Moonbyul must be proud!


Medley: Hwaa (G)I-DLE, Egotistic (Mamamoo), Baby Don't Stop (NCT U), Inception (Ateez), More (K/DA), The Stealer (The Boyz), Pretty Savage (Blackpink)

To close off this list, here's a dance medley cover of some of the biggest groups of K-pop. Just a warning, though: this will definitely leave you wanting more. Enjoy!