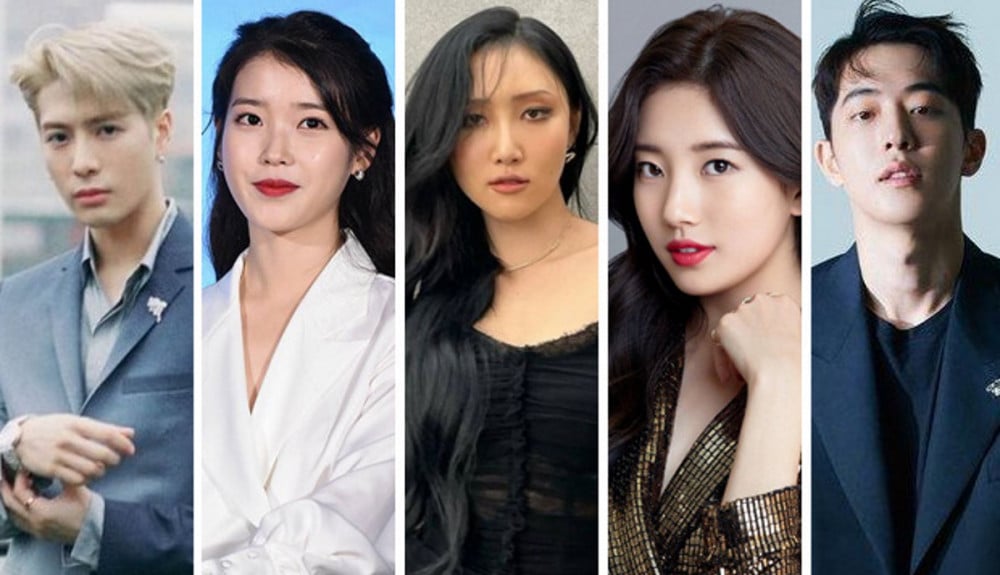 'Forbes 30 Under 30 Asia 2021' has revealed this year's list and the 5 Korean stars who made it.

The magazine's '30 Under 30' list recognizes individuals under the age of 30 who've made significant strides and impacts in their fields from everything to entertainment, sports, science, entrepreneurship, activism, and more. The 5 Korean celebrities who made the Asia list this year include MAMAMOO's Hwa Sa, Suzy, IU, Nam Joo Hyuk, and GOT7's Jackson, who is of Chinese descent but promotes in South Korea.

'Forbes' stated as follows for each of the stars:

1. Hwa Sa - "Better known by her stage name Hwasa, Ahn is a member of K-pop girl group MAMAMOO, which was nominated for Artist of the Year at the 2020 Mnet Asian Music Awards. Ahn made her solo debut in 2019 with the single 'Twit'. The song garnered over 80 million views on YouTube and earned her the Best Solo Artist Award at the 2019 Golden Disc Awards. In June 2020, she released her debut EP, 'María', which opened at No. 7 on the Billboard World Albums chart and No. 1 on the U.S. iTunes Albums Chart -- a first for a Korean female solo artist."

2. Suzy - "Bae Su-ji, better known as Suzy, is one of the most popular actresses in South Korea. Bae was dubbed Korea's first love after her film debut in 2012. She has since starred in the box-office hit 'Ashfall' in 2019 and popular TV shows 'Vagabond' in 2019 and 'Start-Up' in 2020. Bae has a large social media following with more than 15 million Instagram followers, making her the second-most popular Korean actress on the platform. Bae first made her debut as a member of the K-pop girl group Miss A in 2010, which won the Best New Female Artist award at the Mnet Asian Music Awards the same year."

3. IU - "IU, whose real name is Ji-eun Lee, is one of the most successful solo singers of her generation. In January 2021, Lee won Song of the Year for 'Blueming' at the prestigious Golden Disc Awards. Released in November, 'Blueming' garnered more than 90 million views on YouTube. In May 2019, Lee's single 'Eight', featuring Suga of K-pop super group BTS (also a 30 Under 30 Asia honoree, class of 2018), topped Billboard's World Digital Song Sales chart. Lee, who is the most-followed soloist in Korea on Instagram, is also an accomplished actress, starring in TV hits like 'Hotel Del Luna' in 2019 and 'My Mister' in 2018."

4. Nam Joo Hyuk - "The South Korean actor starred in the popular TV series 'Start-Up', alongside fellow 30 Under 30 honoree Su-ji Bae, which was released in October 2020. He also co-starred in the Korean drama 'The School Nurse Files', which aired on Netflix in September. Nam made his big screen debut in 2018 with the Korean historical film 'The Great Battle' and was critically acclaimed for his performance in the movie, winning Best New Actor at Korea's prestigious Blue Dragon Film Awards and the Korean Association of Film Critics Awards."

5. Jackson - "Wang started out in Korean boy band GOT7 before pursuing a career in China. His 2019 album Mirrors was named most popular album of the year by NetEase Cloud Music. Now a China brand ambassador for Fendi, Wang also has his own fashion label, Team Wang Design."

Check out the full 'Forbes 30 Under 30 Asia 2021' list here.