On July 14, it was reported that rumors regarding former Pristin members joining RaNia are spreading rapidly. The rumor had gained concern from Pristin's fans and netizens. However, majority of the public had agreed that they do not support the idea of Pristin members to be redebuting with RaNia.
Concerned fans who were outraged by the rumor had since started a petition in order to stop this action. In the fans' petition, two major reasons were stated, which are, RaNia seems to be an unstable group for Pristin members to build their idol career, as well as pointing out the agency of RaNia, DR Music had mismanaged RaNia members in the past.
The petition also called out for attention towards the state of current members of RaNia, Jieun and Hyeme, as well as another rumored new member, former Stellar's Youngheun, in hope for them to be released from the company too.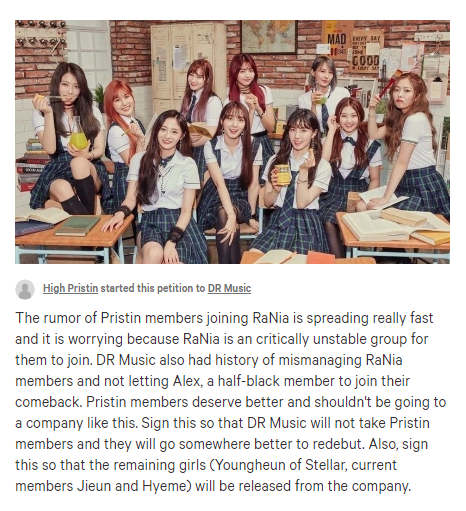 The petition starter also gave an update on the process on achieving the petition's objective.
Regarding the rumor, netizens had given a mixed reaction while majority of them insisted of being opposed to the members addition.
Source : Allkpop on Twitter
1. [+144] Lol from bad to worse.

2. [+140] Just let Rania end, good grief.

3. [+124] Oh please no. The members of Pristin are way to talented to for that sh***y agency.

4. [+87] I love rania and pristin, but rania's company is also kinda a mess.
5. [+45] Noo that's so random let them create a new group...

6. [+34] I hope not. Rania's agency is a bigger mess than Pledis.

7. [+28] They could rename the group to "RANDOM".

8. [+13] Umm as much as I love Rania they are pretty much done. And their company is horrible. I call b******t on this one.

9. [+13] If Kyla ain't part of it then we don't want it.

10. [+13] this is...the worst rumor.
Tell us what do you think about this petition in the comment section below. Stay tuned for more updates regarding the rumor.