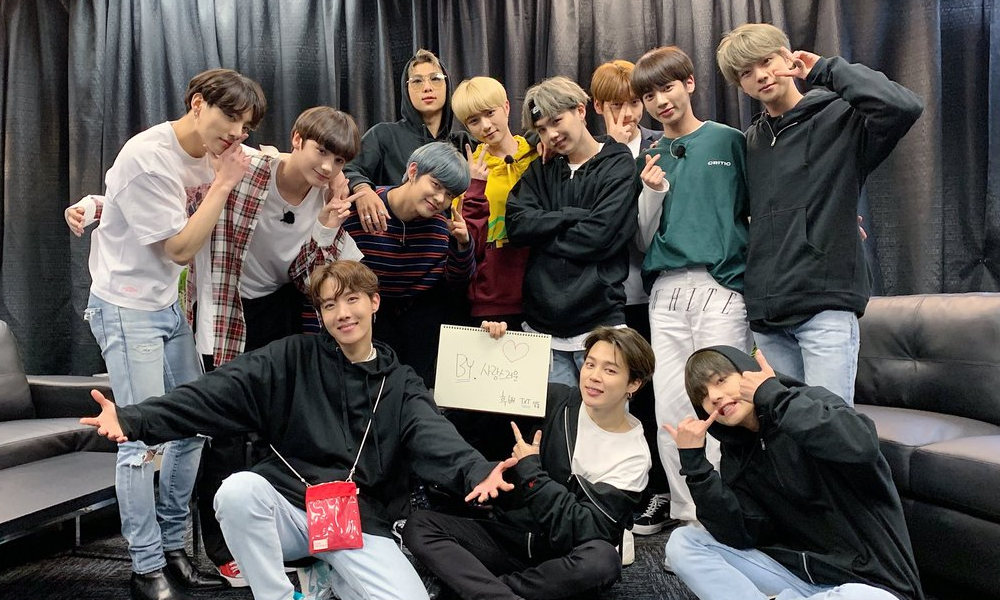 Big Hit Entertainment groups TXT and BTS are continuing to show strong support for one another!
On May 12, TXT took to their official Twitter account to share an image of them backstage with BTS at the Chicago stop of BTS's North American tour, captioning the image with: "Sunbaes! We really enjoyed watching your performance today. You were so awesome!"

In the image, the two groups can be seen intermixed within one another, showing their close bond with arms around each other as they pose for the camera. BTS also shared the same image to their own social media.
Earlier that day, TXT member Beomgyu also shared a short video of him in the audience during the concert, writing: "It was an honor to be able to watch our sunbaes' performance like this! Our sunbaes are really the best!"

Meanwhile, BTS began their 'Love Yourself: Speak Yourself' tour at Pasadena, Calif.'s Rose Bowl on May 4-5. After Chicago, they will be heading to New Jersey before making their way to San Paolo, London, Paris, and more.

Check out TXT's tweets below!