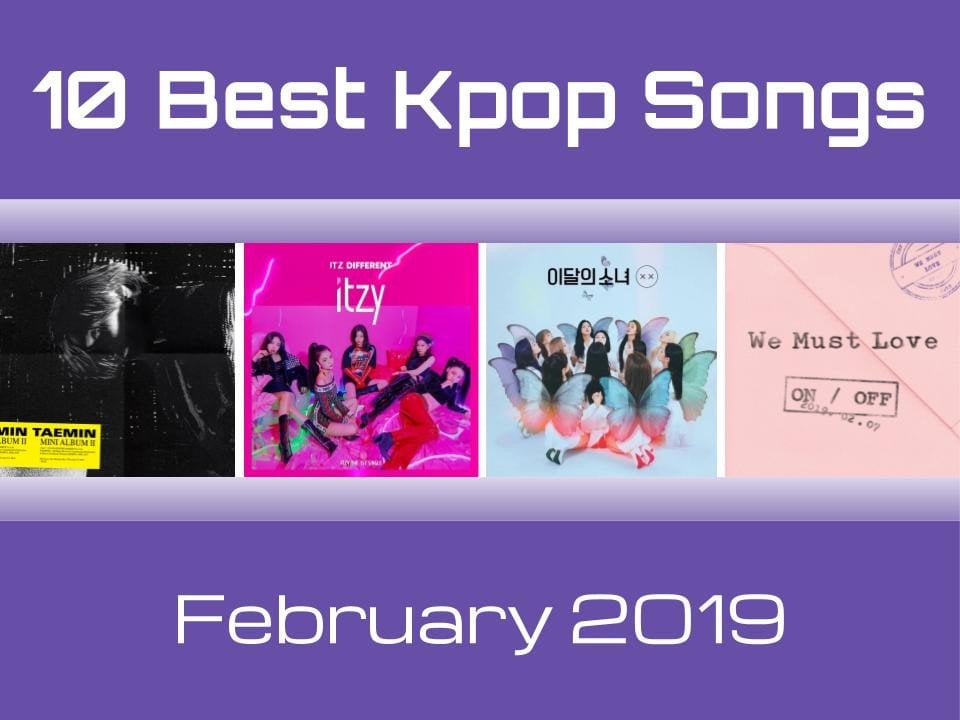 So far, 2019 has proved to be a very interesting, transitional year for Kpop. Mostly gone are the generic, inescapable trends of 2017-2018, including that dreaded tropical house and the sometimes-brilliant, but otherwise bland, sing-song hip-hop that careened songs like "Love Scenario" and "Really Really" to the top of the charts. One trend that still remains, deep-house, has managed to make itself more likeable over the first months of the new year, interpolating itself into songs in more unique, imaginative ways than before.
The highlights of the past two months have been weirder and more daring than anything that was popular in 2018. This is a very promising prospect, since I personally enjoy Kpop the most when it subverts all expectations to craft its own unique soundscape that's easy to obsess over and get lost in.
February got off to a somewhat slow start, but accelerated to a raucous climax in its midsection. Cult groups such as Dreamcatcher, Monsta X, and LOONA impressed with high-energy releases as streamlined as they were danceable. Rookie groups (G)I-DLE and ONF continued their winning streak with solid releases that further expanded their sound. Attention-getting debuts also graced the Kpop scene in February, with JYP girl-group ITZY and Mamamoo's Hwasa proving themselves to be top-tier talent right out of the gate. Veteran artists such as SHINee's Taemin and T-Ara's Hyomin provided true-to-form releases that didn't disappoint. The last part of the month was distinguished by heartfelt, guitar-led ballads, the more affecting of which were crafted by Wanna One alumni Yoon Jisung and Davichi vocalist Kang Minkyung.
While February didn't bring any song that truly blew me away, it coasted along just fine with consistently good releases from veterans and rookies alike, dropping many gems waiting to be uncovered along the way. Below is the list of my top ten Kpop songs from February of 2019.
Honorable Mentions: Infinite "Clock," EDEN & Song Ju Hee (Hello Venus) "ROSE," Yoon Ji Sung "In the Rain," Hyomin "Allure," Kang Minkyung "End of 20's," (G)I-DLE "Señorita"

10. DREAMCATCHER - "PIRI"
Dreamcatcher proved once again why they've achieved cult status within the Kpop world with this electro-rock stunner. An urgent warning laced with gorgeous melodies, "PIRI" is a perfect example of why Dreamcatcher's sound is so potent: they channel both the hurricane and its eye, rescuing you from the storm only to throw you back into the waves moments later. Vivid daydreams and horrifying nightmares coexist violently, their aural magic swirling together so perfectly that it's hard to distinguish one from the other.
9. 9MUSES - "Remember"
Disbandments are never purely happy affairs, so it's no surprise that news of 9Muses' dissolution saddened the group's dedicated fans. Frequently labeled as "the most underrated girl group" or "the most popular unpopular girl group" throughout their career, it always felt like they were on the cusp of breaking through to the top tier of groups. They never accomplished this feat, but instead have proven that it wasn't necessary in the first place. Along with this gorgeous pop/R&B ballad, a parting gift for their fans, they've had quite the discography over their nearly nine-year career. "Gun," "Hurt Locker," "Remember" (2017), "Wild," and many other tracks cement their legacy and ensure that their music will stand the test of time. They won't be forgotten.

8. Ravi feat. Chung Ha - "live"

It's mind-boggling to me that I was unaware of this song's release up until the last days of February. It's a collaboration between two high-profile artists, VIXX's Ravi and popular solo act Chung Ha, but I hardly saw any promotion of it online. I'm very grateful that I did manage to stumble across it though, as it managed to be one of my favorites from this month from the very first time I heard it. Ravi's deft, low-voiced rapping in the verses contrasts perfectly with Chung Ha's airy vocal runs in the chorus. The song's most impressive moments are when their two distinct voices can be heard at the same time during intermittent duets, where their opposite timbres sound delightful working as one. It's this vocal magic that elevates the song from being just another guitar-led duet, complete with light percussive touches and pleasant piano melodies.
7. MONSTA X - "Rodeo"
Monsta X provided a characteristically thumping February comeback, this time upping the ante with one of the year's best albums so far. Lead single "Alligator" is a great song in it's own right, but it's album track "Rodeo" that really steals the show. Pounding bass, blaring synths, perfectly dictated rapping, and other very Monsta X-like elements propel the track to absolute banger status. Complete this expert combination with a very intriguing wild-west vibe and a ferocious, taunting chorus guaranteed to make your body thump along with it, and you get one of Monsta X's most thrilling songs yet.
6. LOONA - "Butterfly," "Curiosity," "Where You at"
LOONA is a very unique girl group, and they tend to absolutely soar when paired with songs as special and conceptually-rich as they are. Their latest album, XX, provides the wings for them to do so. All of the tracks are solid, but I'm impossibly drawn to three of them in particular. Lead single "Butterfly," along with its beautifully diverse music video, is the perfect example of the aforementioned transcendence. Its fusion of atmospheric production and complex rhythms with light melodic touches sends it soaring to the stratosphere. "Curiosity" revels in all its eclectic future-bass charm, complete with a chorus full of melodic twists and turns. The last song on the album, "Where You at," is perhaps the most familiar-sounding of the three, but its propulsive chorus is an instant winner. LOONA isn't just a girl group, they're a whole-ass experience, and these three gorgeous tracks from their latest album have finally convinced me to fully go along for the ride.
5. Hwa Sa - "TWIT"
2018 proved to be a transitional year for MAMAMOO. Only occasionally tapping into their trademark retro sound, the girl group explored new sonic territory last year to good, if not profound, results. Those hoping for this sound in youngest member Hwa Sa's solo debut might've been disappointed at first, but were most likely easily won over by "TWIT"'s breezy charm and dance-ready energy. This quirky banger floats along on its chirpy melody and its eye-catching lyrics about a boyfriend who behaves like a fool to his girlfriend because he loves her so much. Both the song and the lyrics take an unexpectedly emotional turn in the final act, and this added dramatic heft is expertly performed by Hwa Sa. Altogether, it really doesn't sound like a debut, it sounds more like a mid-career stylistic rebirth à la Apink's latest singles.
4. Taemin - "WANT"
Taemin is one of Kpop's finest performers, and also the genre's most dependable purveyor of slinky, seductive electro-pop. "WANT" continues this winning streak of making fans spontaneously combust with every comeback due to overstimulation caused by impossibly smooth dance moves, sensual vocals, and an instantly-addictive song. Taemin doubles down on this potency for his latest comeback, repeating one main hook throughout the song in various forms and places until you become a slave to its slithering melody.
3. ITZY - "DALLA DALLA"
Expectations were impossibly high for JYP's first girl group since the massively popular TWICE, and with "DALLA DALLA," I think it's safe to say that ITZY looked at the bar set for them and said, "no, were gonna do this a different way. We're different." The absolutely ferocious debut song uses the fusion-groove sub-genre, which incorporates many different styles and rhythms to create something streamlined that stands out from the rest. "DALLA DALLA" represents the very best of what the style has to offer, careening between styles and tempos in a raucous, colorful vision of a pop song. On first listen, it was absolutely unpredictable, and I marveled at its many breakdowns and style changes. ITZY hasn't just come roaring out of the gate, they've already vaulted themselves up to the top-tier of girl groups with their unmatched style and fierce charisma.
2. (G)I-DLE - "Put it Straight"
(G)I-DLE had an impressive rookie year in 2018, with "Latata" and "HANN" both being among the standout girl groups tracks of the year. They returned in 2019 with the mini album I Made, a diverse five-song collection that further expands their soundscape. Lead single "Señorita" could've been massive had it had a proper climax instead of a bridge that builds to nothing. Perhaps even with this necessary addition, though, it still wouldn't be better than this magnificent album track. "Put It Straight" captivates with its stark beauty and melancholy melodies. Its emotional delivery is extremely convincing, complete with lyrics illustrating the great conflicts of love, which showcase an awful lot of maturity for such a young group. Leader Soyeon once again proves her production prowess with this gorgeous ballad in which she took part in the music, lyrics, and composition.

1. ONF - "We Must Love"

There is perhaps no boy group that is as criminally-underrated as ONF. Being the male counterparts to Oh My Girl under WM Entertainment, also the home of the majorly popular B1A4, they have a lot to live up to. Comeback after comeback, they prove that they're more than competent enough to forge a path of their own. This year they've stunned yet again with the strikingly-beautiful "We Must Love," from their equally accomplished mini album of the same name. The verses paint a mysterious picture of a strange feeling of connection they have to a person. The song then rhythmically and lyrically escalates to the chorus, an explosion of feeling once they finally realize that the earlier sensation was love and that they must be with each other. The chorus feels like a revelation, and the way that the lyrics influence the rhythms and melodies of the song is utterly dazzling. ONF consistently impress, and only three mini albums in, they have one of the more established discographies amongst boy groups. I can't wait to see what they do next.
Thanks for reading my list! I hope you enjoyed it :)
Please comment your opinions on my list and form you own lists, I'd love to read them.