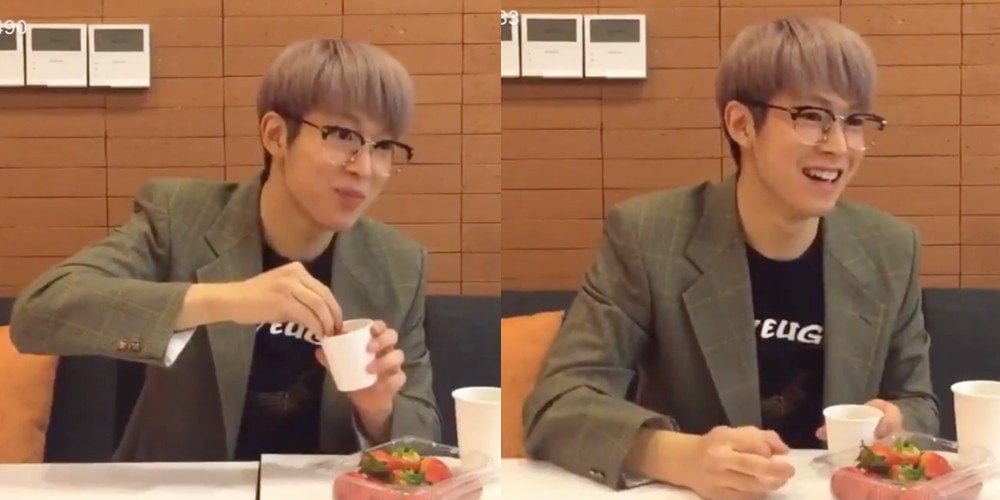 According to fans on an online community, SF9 member Dawon made an accidental blunder during a recent live broadcast, noticeably panicking afterward.
Dawon, known for his regular mukbang 'V Live' broadcasts where he communicates with fans in a very casual and comfortable environment, happened to be holding exactly another of his mukbang broadcasts. He then seemed to have received a phone call from fellow member Rowoon.
While the two conversed, Rowoon asked Dawon if Dawon has memorized his phone number. In an attempt to prove to Rowoon right away that he had, Dawon ended up saying Rowoon's full phone number out loud, with the 'V Live' broadcast still rolling in realtime.
Rowoon then remarked, "But is it okay for you to say my number?"
It donned on Dawon that he was on live broadcast, and showing evident panic with his expression and hand movements, Dawon said, "Wow... Yah, you need to change your phone number. Yah, hang up, hang up, your number..." Despite the alarming situation, Rowoon sounded calm on the other end, wrapping up the call quickly with, "All in all, I'm enjoying your 'V Live'~".
Netizens commented in worry, "Heol... poor guy with that phone number", "He clearly made an honest mistake but the member who has to change his number now must be pissed", "Ah...why did you do that..", "He really said it impulsively on the spot, he looked real frozen afterward", "You should be more conscious that you're on a live broadcast!!", "If you change your number another person might receive that number again; that number needs to be destroyed period", "Aigoo TT. He got way too comfortable and make a huge mistake", and more.