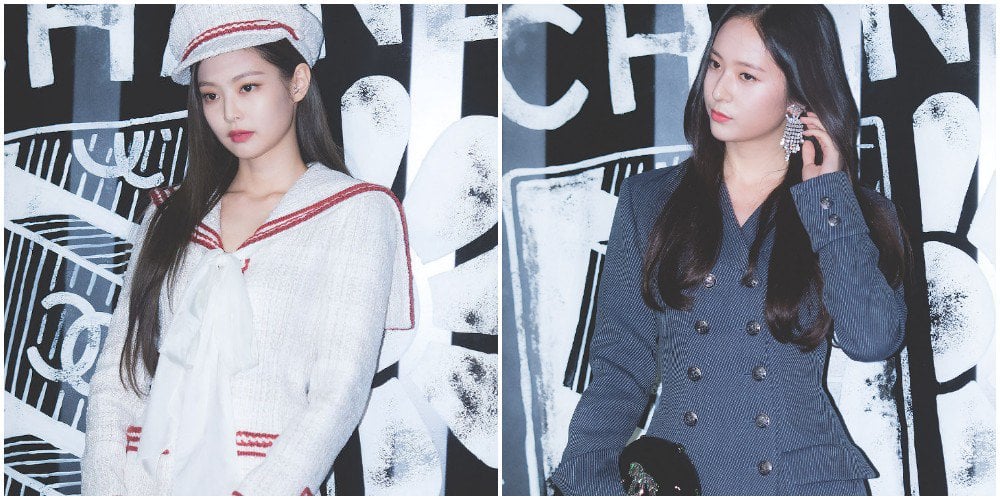 Netizens are noticing some similarities between Kai's current girlfriend Jennie and his ex-girlfriend Krystal.
First, their ideal types overlap. In an episode of 'Knowing Brothers,' Jennie revealed she considers 'physique' the most important when seeing a guy.
In an episode of 'Jessica & Krystal,' Krystal also named 'fit figure' as the top quality she considers in a guy.
Netizens also noticed both Jennie and Krystal gave detailed descriptions about the acts that make their heart pound. In an episode of 'Village Survival, The Eight,' Jennie was asked to name top 5 acts of the opposite sex that make her heart pound. Her answers were:
1. When he remembers and does what she said in the past

2. When he listens attentively
3. When he offers his jacket in the cold
4. When he blocks the sunlight for her with his hands on a sunny day
5. When he walks slowly and matches her pace when she's wearing heels
The episode of 'Village Survival, The Eight' with Jennie was filmed in October. Netizens believe Jennie was in a relationship with Kai then, and the descriptions are probably of Kai.
On a Chinese broadcast on March 29, 2016, Krystal also made a similar list on the qualities/acts of the opposite sex that moves women's heart. Her answers were:
1. A guy who you can depend on in times of hardship or frustration
2. Whispering love confession in your ears
3. Giving a big hug
4. Giving a pat on the head
On March 31, 2016, Dispatch revealed Kai and Krystal are dating. Netizens assume Krystal's detailed list is related to Kai.
In addition, both Krystal and Jennie have similar 'image' in the K-pop industry. They hold 'fashionista' titles with a cold, fierce look.
Netizens commented, "Kai sounds like a sweet boyfriend," "Why is my heart pounding," "The qualities/acts overlap," "Fashionable and cold. Kai's ideal type is very clear now."