Back on November 8, TV Asahi's 'Music Station', abruptly "postponed" BTS's scheduled appearance on the popular music program, forcing Big Hit Entertainment to cancel BTS's flight to Japan on the same day and disappointing a huge crowd of fans who gathered at the airport to see the boys.
Korean fans believe that TV Asahi's decision to "postpone" BTS's appearance was a strictly political move, as currently, Korea and Japan are facing political friction. Fans pointed out that Jimin's political shirt - the reason their appearance on 'Music Station' was postponed - was worn almost 2 years ago by the idol. Meanwhile, last month, South Korea's court ruled that Japan must compensate Korean victims of forced wartime labor from World War Two for the unfair labor.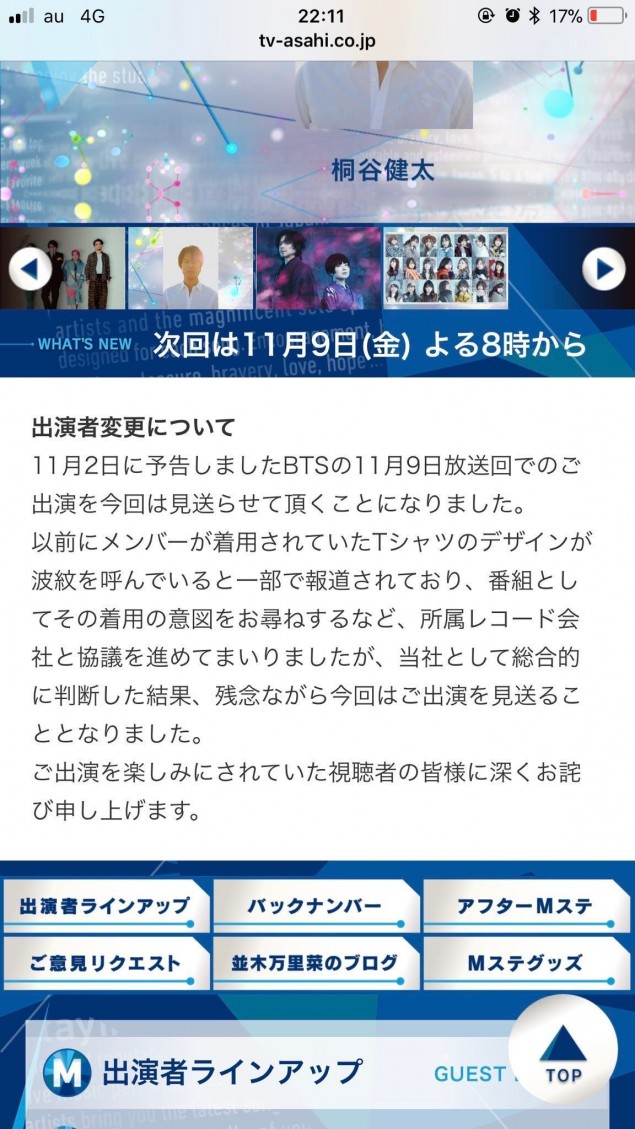 On the other hand, some Korean netizens still strongly feel that it is
"inappropriate"
for project group
IZ*ONE
- made up of 9 Korean members and 3
AKB48
franchise members - to appear on
KBS
, which is a public, national broadcasting station. Despite IZ*ONE's successful debut stage on KBS's '
Music Bank
' last week, some netizens are still petitioning the girl group's promotions on the station; the government petition demanding a ban on IZ*ONE from appearing on public broadcast station programs currently has approximately 30,000 signatures.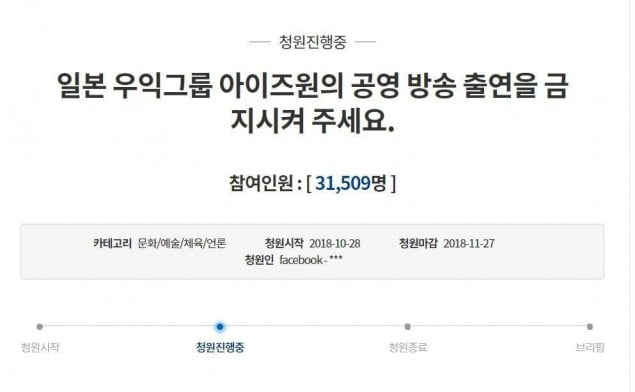 Now, after BTS's incident with 'Music Station', these netizens are more aggravated than ever regarding IZ*ONE's ongoing, active promotions in Korea.
These netizens vented their frustration on online communities by posting that "IZ*ONE get to go on KBS tomorrow, while BTS get cancelled abruptly one day before their appearance on 'Music Station'", "BTS can't even go on a Japanese music show, but IZ*ONE just won #1 on a Korean music show", and more.
Agreeing comments included, "I suddenly don't want to see IZ*ONE's faces", "Can't stand Mnet and CJ right now, just look at what they're doing", "That's messed up", "Mnet has got to feel at least some guilt right now", "Sorry IZ*ONE, I didn't really dislike you guys or anything before but now this is making me angry", "Can they just please ban IZ*ONE from KBS", etc.
However, not all netizens are supporting the above claims, as some argued, "BTS's issue has nothing to do with IZ*ONE, don't try to make up these kinds of connections", "Keep BTS and IZ*ONE separate", "It's true that BTS getting cancelled sucks but it's not like it's IZ*ONE's fault", and such.
Meanwhile, IZ*ONE took home their first win since debut with "La Vie en Rose" on the November 8 broadcast of 'M! Countdown'.