Is
BTS
 being overworked? 
Near the end of August, t
he K-pop boy group
made their comeback with the new album 'Love Yourself: Answer'. A day after the release, BTS kicked off their world tour in Seoul. They then traveled to the United States and Canada for shows in Los Angeles, Oakland, Fort Worth, Hamilton, Newark, Chicago, and New York. In midst of the tour, the boys appeared on 'The Late Night Show with Jimmy Fallon', and even gave an inspirational speech at 'General Assembly of the United Nations'. They also added a stop at Citi Field for their world tour - becoming the first K-pop act ever to hold a U.S stadium concert. 
All of these remarkable events took place in just a month. 
It's great to see the K-pop group flourish globally, but many fans are becoming concerned about BTS' hectic schedule.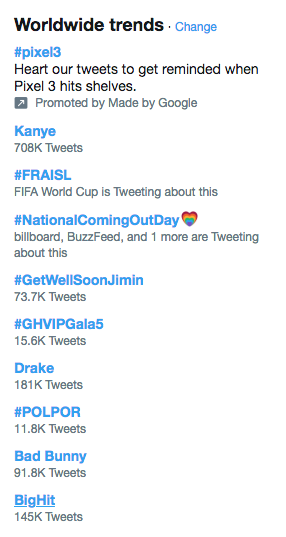 The BigHit tweets are mostly ARMYs showing concerns for the members of BTS. Some are strongly demanding a break for the idol stars who have been working nonstop. Some others are even criticizing the agency for overworking the boys. 
hard to swallow pill, if bighit need to cancel tour dates to ensure that bts are all in good health then we're going to support their decision WITHOUT complaining

— ? (@hormonaljimin) October 11, 2018
jungkook and jimin are hurts so I'm starting a kickstarter to put BigHit down
[disco music]
the benefits of killing it is that the members would get hurt way less

— bwastard furniture (@tatabwa_) October 11, 2018
full offence bighit should've put gaps in the tour dates so bts could have time to rest and take care of themselves because if you look at their schedule its stacked up obviously they are gonna get sick and injured if they don't have time off to insure their well being

— ?? (@seokstober) October 11, 2018
You can tell they bunched up their schedule in London because they have things happening non stop. Bighit really needs to consider a break for them. It's A LOT. Not to mention the amount of time they spent in the U.S too. They need time to rest.

— (@JHSMEETSEVlL) October 11, 2018
not to be that stan but i hope that with the release of these two statements bighit comes to the realization that bts needs to REST bc they have been working non stop and we all know they won't say anything about it because they want to do their best for us but not in this way

— (@taegape_) October 11, 2018
i vote we spam tf out of bighit and demand that the rest of promotions between concerts be cancelled this is really unacceptable there is no reason for them to be overexerting themselves to the point of injury

— (@peachmilk97) October 11, 2018
BTS is currently in the United Kingdom for their shows in London. Next, they will be traveling to the Netherlands, Germany, France, Japan, Taiwan, Singapore, Hong Kong, and Thailand until April 2019  for the 'Love Yourself' world tour. On the
official Big Hit Entertainment website,
it states,
"more dates to come",
meaning the tour could be extended. 
Meanwhile, BTS
 confirmed their attendance
at the '
2018 MBC Plus x Genie Music Awards
' taking place in Korea in November. They're also most likely attending the various year-end award shows in December. 
The K-pop stars have truly become the "biggest boy band in the world", but are they being overworked? Let us know your thoughts in the comments.