ARMYs once again joined forces to trend
SEOKJIN DAY
 worldwide on Twitter!
Currently listed at number 6, fans showed appreciation for BTS member Jin and his remarkable talents; sharing fun trivia and recalling memorable moments of the 'worldwide handsome' idol star on stage, and more.  
Following #NAMJOON DAY, it seems fans will continue to dedicate tweets to each BTS member throughout the coming days.
Happy Groundhog Day or rather, Happy SEOKJIN DAY!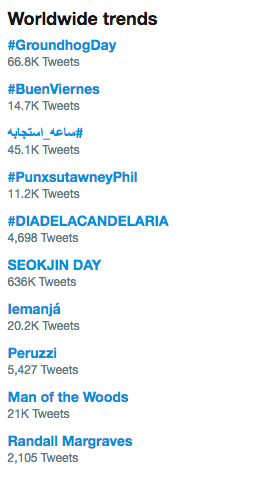 SEOKJIN DAY trivia:

He loves, loves, LOVES!!! SUPER MARIO! Even though it appears he's obsessed with League of Legends now he's a big fan of Super Mario, even having a Mario shrine in his parent's house. pic.twitter.com/Pu5lvAUeyj

— SEOKJIN DAY (@seokjincentric) February 2, 2018
[ @BTS_twt ]

SEOKJIN DAY has surpassed 500,000+ tweets & it's still trending #6 WORLDWIDE!#BTSARMY #BestFanArmy #iHeartAwards

— BTS VotingTeam (@btsvotingteam) February 2, 2018
never forget that iconic moment when jin rapped to cypher pt3 killer and it sounded like "sh!t bullsh!t" lmaooo everyone lost it

SEOKJIN DAY @BTS_twt #iHeartAwards #BTSARMY #BestFanArmy pic.twitter.com/Bq4QXBwSmR

— ga in bio ♡ (@sunlitae) February 2, 2018