YOUNHA – RESCUE
---
Track List:

1. RescuE
2. Hello (Feat. pH-1)
3. Parade
4. Like Nothing Happened
5. Airplane Mode
6. Foresight Dream
7. FEEL (Feat. Chancellor)
8. Drive
9. Go
10. No Answer
11. Propose




It's been 4 years since we've heard a proper Korean release from the uber talented Younha. Over that time, we got a handful of singles, mostly collaborations. But that didn't stop her from releasing her 5th album 'RescuE.' Teaming up with talents like production duo GroovyRoom, pH-1, and Chancellor, she's turned out a brand new 11-track LP. 


"RescuE" is the title track, but it's not the track she's promoting with. It starts out slow but soon turns into a low-key dance track. Her voice is ethereal on this one and just makes for a very pretty song. 
"Hello" was released ahead of the album to whet your appetite. And from what I've heard so far it fits right in. It's a fairly quiet pop tune, with an uplifting chorus. pH-1's part is very organic and doesn't disrupt the flow of the tune at all. "Parade" is the song she's promoting with, and this one is bright and upbeat. It's a decent bop, and has a nice tempo, though it never commits to being a full-on club banger. 
"Like Nothing Happened" is where the singer-songwriter is on full display. It's a warm ballad, and her pipes handle the emotional highs and lows of the tune well. It's the Younha that we all know and love. "Airplane Mode" is a jaunty acoustic tune, done to guitar and piano. It's a nice R&B-inspired song, sweet and simple. "Foresight Dream" is a slower R&B piece and feels a lot like something you'd hear in a coffee shop -- slow, sweet, and featuring that lovely voice.




"FEEL" amps up the tempo again, and brings in the mega talent Chancellor as a featured vocalist. He does an excellent job, his sharp tones is a nice contrast to her soft ones. This one is a great jam. The next one is "Drive," and this one you can almost see traveling down a road as she sings -- at least that's the image in my head. Plus it's got some nice instrumentation. It's very soothing, and something I'd want on a road trip or even a late night cruise around town. 
"Go" has that staccato melody that I heart so much. With her vocals over this, it almost sounds like dream pop. This song has a bit of an ethereal feeling and works very well. She brings the ballad back in the melancholy "No Answer." It definitely has the tones of regret running through it, and she conveys those emotions skillfully. "Propose" is the end song, and here she's in full folk-rock mode, with a cheerful guitar, snaps, and an overall pleasant, uplifting tune.

It's probably obvious to you how I feel about this. While she doesn't have much of a range, her voice is still quite expressive, and the music has some subtlety that belies some of the simpler aspects. The album feels intimate thanks to the acoustic arrangements; all the better for her to share the half-decade of stories she wants to tell. Her high, sweet voice conveys a cornucopia of emotions to go along with her tales. This is a very meaty album -- it's got a lot to sink your teeth into and even more to recommend it.  


MV REVIEW
The MV for "
Parade
" almost seems like a metaphor for her life and career.* The scene opens where she can't sleep because of a set of globes on the wall that shoot lightning, and when she tries to eat the food is covered in plastic. She goes through the motions, from interviews to singing and posing. Some of the imagery makes little sense. But she eventually bursts free of her old life in bursts of color and lights and fireworks. At that point, she's able to eat, and smile, and dance.
As for the MV, it's definitely dynamic. You have a lot to look at, particularly as we watch the travails of the singer. She has some distinct facial expressions which let you know exactly what's going on. And there are some definite acting chops in that gal, I'd say.
It's all played for fun, and the visuals are as important as anything. Watching the floating picture frames, the balloons that crowd her, and her different difficulties are enjoyable. Even when she's being put upon in the video, you still are buoyed by the upbeat tune the MV is paired with.
Some of the scenes are delightfully cute, and it looks like she's having fun. I hope she had as much of a blast making it as I had watching it.  
* I'm not going into that here.
Score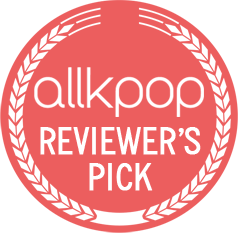 MV Relevance
...........8
MV Production
..........9
MV Concept
..............9
MV SCORE: 8.7
Album Production
.....10
Album Concept
.........10
Tracklisting
...............9
ALBUM SCORE: 9.7


OVERALL................9.2