Big Bang
members delivered goodbyes at their last concert before military enlistment. 
The January 12th episode of tvN's 'Livin' the Double Life' showed scenes from Big Bang's 'Last Dance' concert in Seoul. The event was the group's final performance before the members' impending military enlistment. 
Near the end of the show, each member took the time to deliver a goodbye message to their fans. Maknae Seungri first started, "This tour, which seemed like it will never end, has come to a close today. I can't believe that we have to say goodbye after several more songs."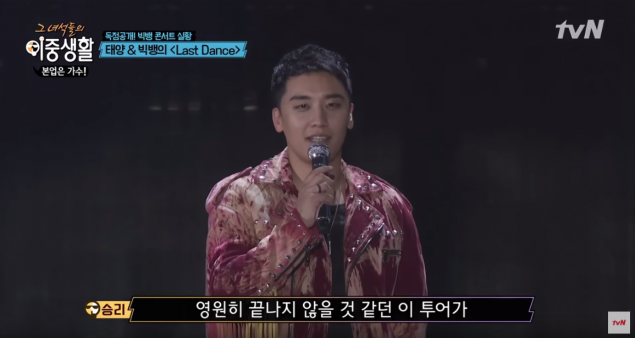 Next, Daesung said, "This has become our last performance before military enlistment. I'm not sad. I just want to tell you guys thank you for gifting us all the great times and memories."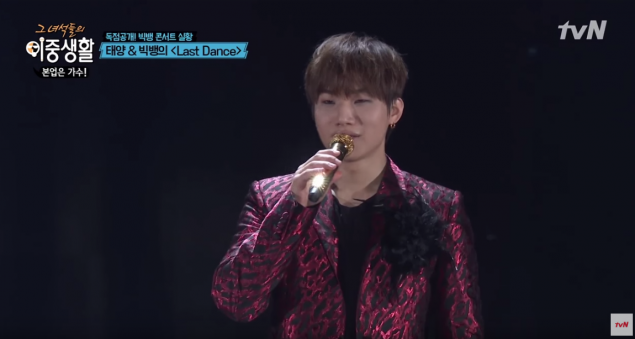 Leader G-Dragon continued next, "Honestly, my mind is just blank right now. I'm not sure what to say exactly.... I don't have anything special to say.. I'm happy. It was happiness and all I can say is that I'm grateful." G-Dragon then choked up with tears.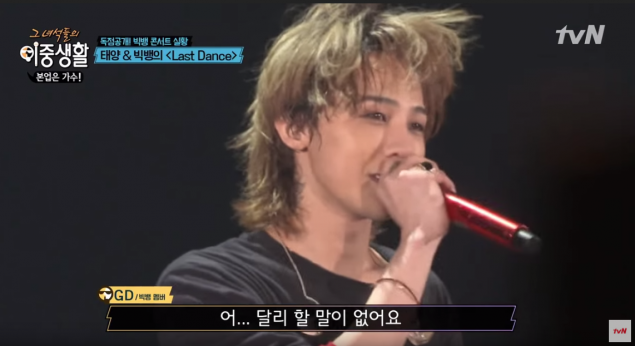 Lastly, Taeyang said, "As you know, after this performance, we will not be able to meet you guys for a short or a long time depending on how you perceive it. The reality is sad but, in a way, we will meet again later with improved, new sides, and a lot of indescribable thoughts are running through my mind. The times we spent together will always be a big encouragement to us during our military duty. Thank you so much and I love you."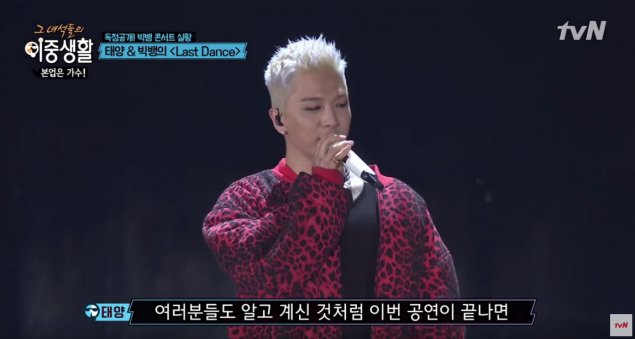 Big Bang then performed "Last Dance" as their final song. You can watch their performance in the clip below.