Cube Entertainment
warned legal action toward netizens leaving malicious comments.
The label tweeted:

"Hello, this is Cube Entertainment.


Firstly, we want to thank all the fans who show our label's artists so much love.
Recently, cases of the spread of false information that slander our label artists have been increasing both online and offline, as well as on mobile. We have currently gathered data and have received information to protect our artists, and have reviewed legal action.

It is a clear crime to write malicious comments, create rumors, sexually harass artists, and to violate their portrait rights. Because of this, the artists, their family, friends, the label, and even the fans who love the artists are suffering mentally.


Because of this, Cube Entertainment is asking sincerely to stop spreading false information about our label artists, sexually harassing them, leaving malicious comments, and violating their portrait rights.

If the above situations continue, our label will be taking legal action without any settlements.

The label will also continue to actively monitor and gather data. If you find any situations of the above, please send the data to protect@cubeent.co.kr.
We are thankful for all the interest and love toward the Cube Entertainment label artists, and ask for your continued warm support.

Thank you."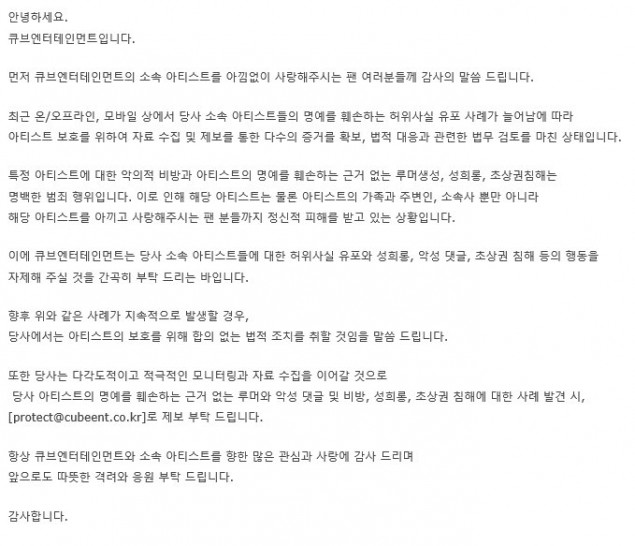 Do you think this will help with the malicious comments?