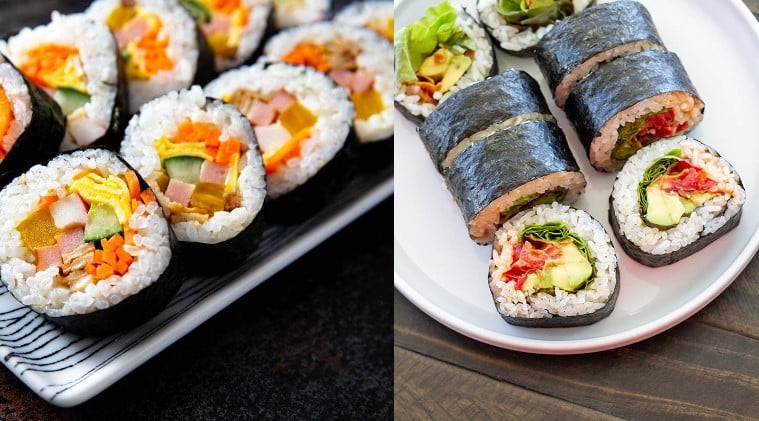 Another very beloved dish in South Korea is kimbap. Known for being filling yet convenient, it is also one of the cheapest dishes that anyone can eat! But if you're tired of the same old kimbap, then you're in for a twist with these different types of kimbap on the market!

1. Carrot Kimbap: If you're trying to find a way to get more veggies into your daily meals, then this kimbap is for you! The star ingredient of this roll? Carrots! Carrots are slightly stir-fried in a hot pan which gives them a nice sweet flavor, and the best part? You get all the crunch!

2. Samgyupsal Kimbap: If you love eating grilled pork belly, then this samgyupsal kimbap is definitely for you! A thick slice of grilled pork belly with ssamjang, perilla leaves, lettuce, and roasted garlic, all rolled up with some rice and seaweed, what wouldn't you love about this kimbap?

3. Caesar Chicken Salad Kimbap: If you're looking for something a bit more refreshing, then this caesar chicken salad kimbap is the one for you! Crisp pieces of lettuce smothered in caesar salad dressings with chunks of roasted chicken in it, this one is for sure to fill your craving!

4. Fried Kimbap: You know kimbap is delicious when Yoo Jae Suk claims it to be one of the best kimbap around! Taking traditional kimbap and then deep frying it gives the roll an outstanding outer crisp shell but a steaming and delicious inside!

5. Fried Tofu Kimbap: Gaining the curiosity of many viewers, Jung Yoo Mi had everyone wondering what kind of kimbap she was making on the recent airing of "Jinnie's Kitchen," and she actually stuffed kimbap with some fried tofu skin!

If you love kimbap but want to try something a bit different, then try out these other types of kimbap!