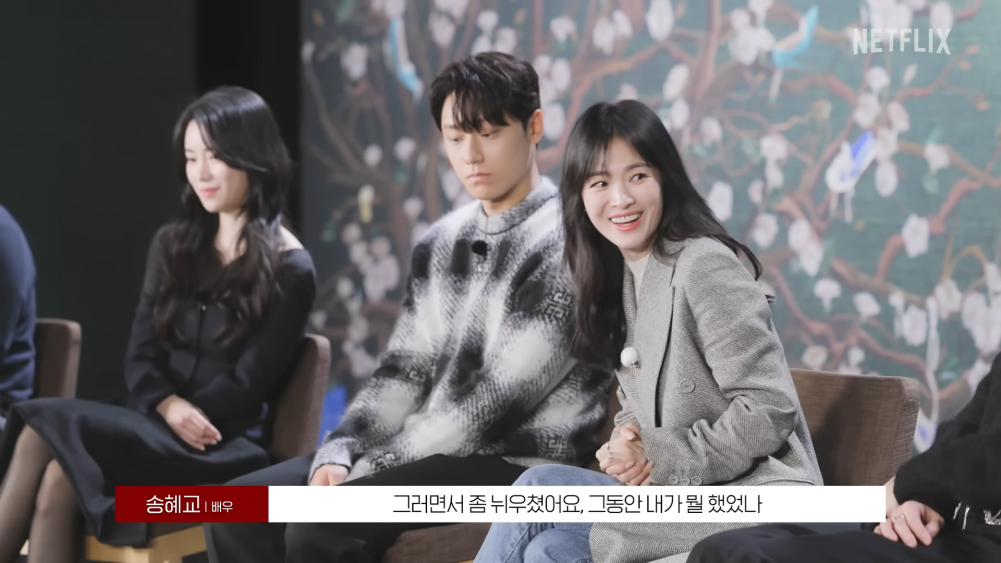 Song Hye Kyo responded to the latest praise about her acting transformation and improvement in the Netflix drama 'The Glory.'
Netflix Korea released the 'Commentary & Reaction' video for the hit series 'The Glory' on its official YouTube channel, where the cast and writer Kim Eun Sook shared their thoughts on the drama.
On this day, director Ahn Gil Ho, writer Kim Eun Sook, and cast members Song Hye Kyo, Lim Ji Yeon, Lee Do Hyun, and Yeom Hye Ran gathered together and shared some of the behind-the-scenes stories while filming 'The Glory.'

Writer Kim Eun Sook revealed why she decided to write the screenplay in the first person narrative with Moon Dong Eun (played by Song Hye Kyo) writing the letters to the persecutor Park Yeon Jin (played by Lim Ji Yeon). She explained, "I wanted to really express how the scars in her heart weren't healed. Also, it's a record of the 17 years of preparing for revenge so I chose to tell the story in a letter format."
Song Hye Kyo also spoke about the praise received for her acting through this drama. Song Hye Kyo first explained, "When I read the script about the scene when Moon Dong Eun first appears in front of Park Yeon Jin and the perpetrators again, I didn't know the level (of how crazy) I should act because the script just said 'like a crazy b***h.' So, I acted with the degree I had in mind, but the director asked me to 'act more like a crazy b***h.' That's when the intensity kept increasing."
When asked how she felt when she received praise for her acting transformation, Song Hye Kyo responded, "I felt a little bad. I wondered what I had been doing until now. I realized I hadn't been showing the viewers this side of me until now, and that I should work harder."
Writer Kim Eun Sook also praised Song Hye Kyo's efforts she put in while filming. She brought up the scene when Moon Dae Eun shows Ju Yeo Jeong her scars. Kim Eun Sook shared, "So when we offered the role to Hye Kyo, I told her that I really needed that scene but it might be uncomfortable for her. So I asked her 'would that be okay?' And she responded, 'Unnie give me two months.' So I thought she would work out but she told me 'No, I have to lose more weight."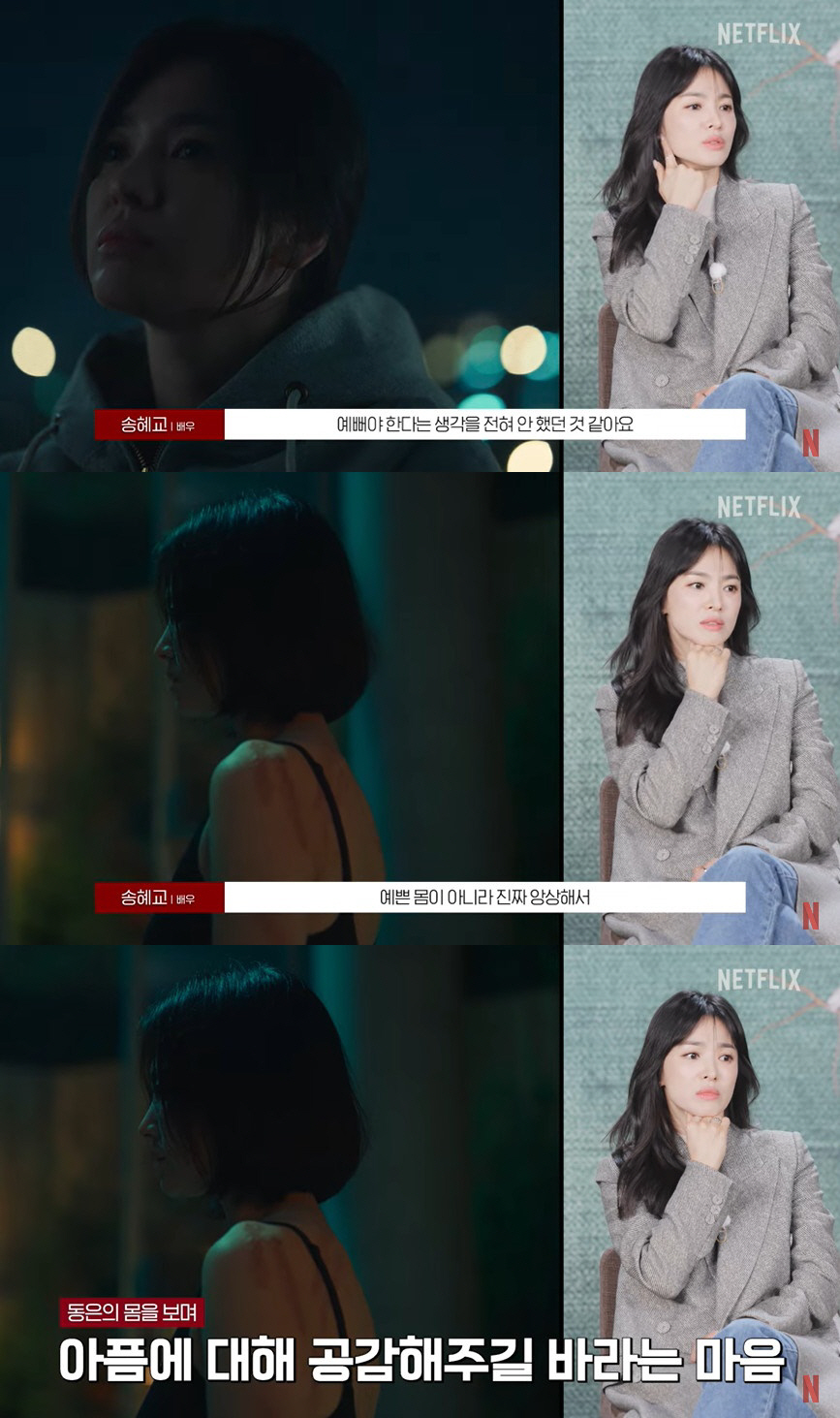 The writer continued to share, "She wanted to look emaciated and small instead of looking pretty in that scene. And she really did it." Kim Eun Sook shared that Song Hye Kyo lost weight by eating konjac rice and added, "I was so grateful for her efforts and also felt bad. So it really made me tear up when I saw the completed scene."
Song Hye Kyo added, "I thought I shouldn't look pretty in that scene. Firstly, after I got the role of Dong Eun, I didn't think of looking pretty at all. She's a character that didn't have the time or energy to take care of her appearance like that. At some point, I thought she wasn't caring about herself too much even as a person but I thought that's how Dong Eun would be. So I really didn't care of these things in this drama."