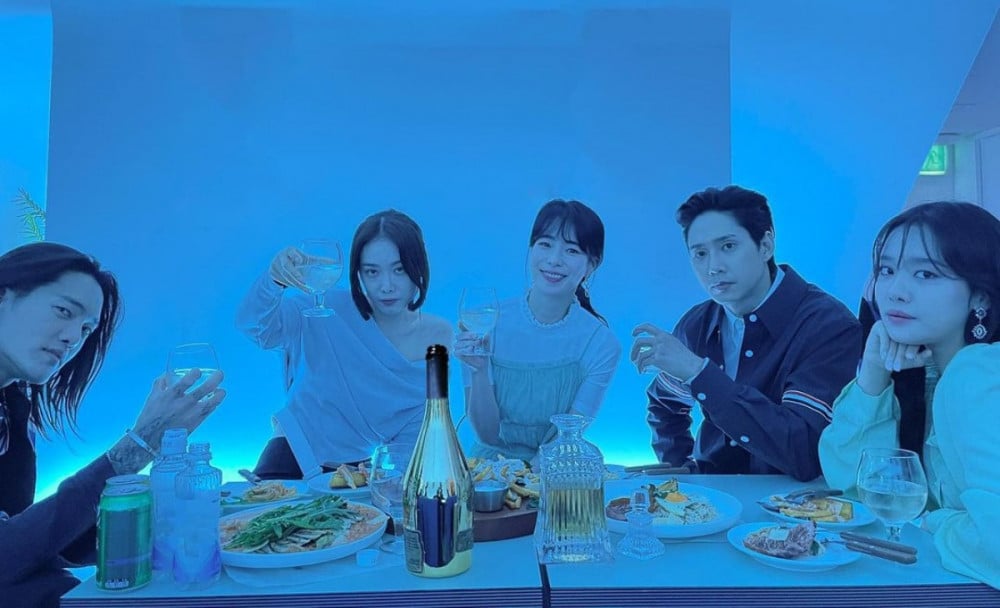 Netizens discussed how they felt "scared" after seeing a friendly photo of the 'bullies' in the Netflix original series 'The Glory'.
On January 6 KST, actress Lim Ji Yeon revealed a group photo of her and her co-stars from the Netflix original series 'The Glory'. In the photos, Park Sung Hoon, Kim Hieora, Cha Joo Young, Kim Gun Woo, and Lim Ji Yeon were seen enjoying a night out together, garnering attention for their close friendship off-screen. While one would otherwise look at the friendly photos with pleasant feelings, many netizens couldn't help but to feel "scared" as the co-stars play the role of a vicious "iljin" (Korean term for "bully" or a harrasser at school) group that ruins the life of Moon Dong Eun (played by Song Hye Kyo).
Check out the photos below:


Netizens commented:
"These terrible people...(Overly immersive in the drama)."
"So scary...scary."
"They look freaking scary...TTTT."
"I don't want to get immersed this deeply, but I keep (getting immersed)...LOL. They're so good at acting. Loll."
"They're all so good at acting so I love them all."
"If I pass by that alley, do I have to crawl through with my knees?? TTT."
"Wow...it feels so weird to see Lim Ji Yeon looking nice. LOLL. She's smiling the same way, but it's somehow different."
"It's so scary seeing them smile."
"As soon as I saw the photo, I lowered my eyes."
"So scary."