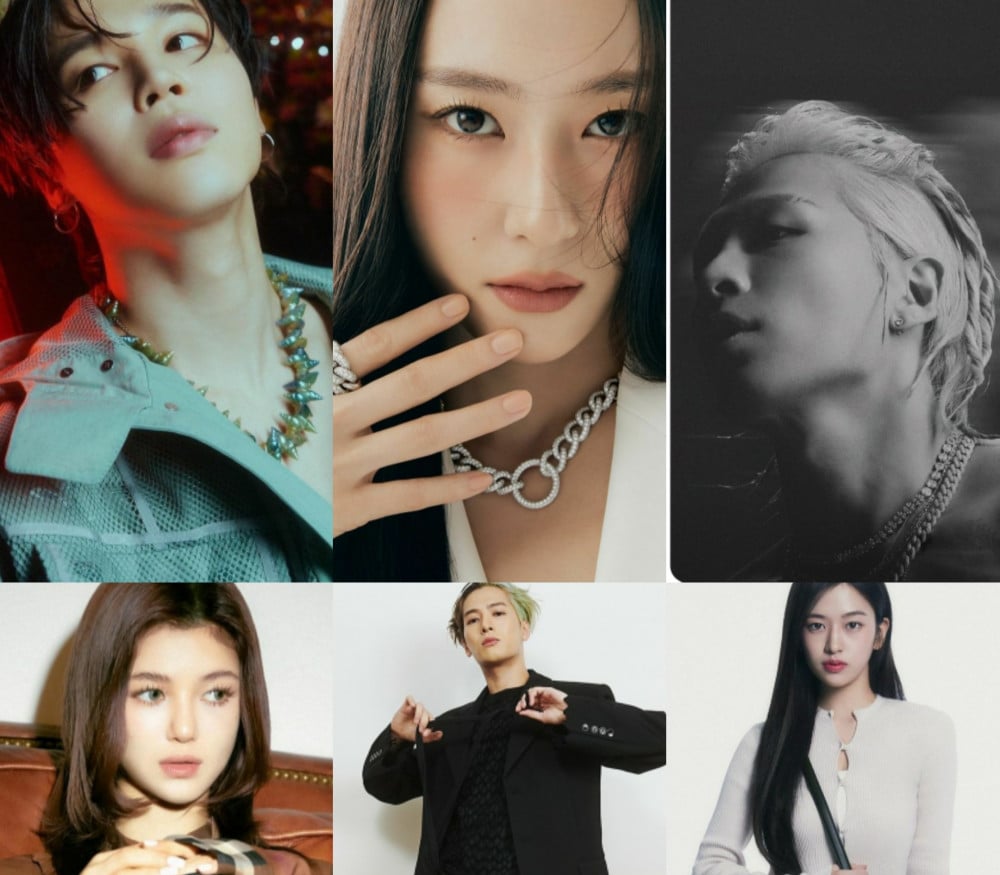 Luxurious fashion and K-pop stars have become inseparable as the popularity of K-pop continues to rise. As the popularity of K-pop continues to soar, luxury fashion and K-pop stars have become linked. Since BIGBANG's G-Dragon became the first K-pop artist to be chosen as Chanel's Global Ambassador in 2016, many K-pop musicians have gone on to become the faces of numerous luxury brands, making them trendsetters. The fashion and style these idols adopt quickly become trends, and the merchandise they use quickly sells out. With their global influence, it is not surprising that many luxury brands have chosen Korean musicians to represent their brands.
These eight K-pop stars were recently appointed as ambassadors of high-profile luxurious brands. Check them out below.
HYEIN – LOUIS VUITTON

Lee Hyein is NewJeans' maknae. She was named Louis Vuitton's new Global Ambassador. Hyein has been working as a model and actor since she was a little girl, even before she was an idol. She is the youngest member of the group, but she is also the tallest. Hyein is the ideal Louis Vuitton brand ambassador because of her model-like appearance and natural style. She's only fourteen years old. Hyein is the youngest brand ambassador in Louis Vuitton's history.
DANIELLE - BURBERRY
Danielle is another member of the K-pop girl group NewJeans. She became the third member of the group to serve as a brand ambassador. The appointment of Danielle as the newest Global Ambassador of Burberry was made public on January 6. A series of pictures of her wearing Burberry clothing were posted on the girl group's social media accounts along with the announcement. In the photographs, she is seen holding "The Frances Bag" by the brand.
KRYSTAL JUNG - POMELLATO
Krystal Jung is a part of the South Korean girl group f(x), who is now better renowned for her work as an actress. Krystal has been named Pomellato's first-ever Korean Ambassador, the Milan-based jewelry brand Pomellato announced on January 12. Pomellato made women's causes the focus of its communication. Pomellato has worked with numerous female figures from a variety of backgrounds over the years. The most recent person to enter the list is Krystal Jung.
PARK JIMIN - DIOR
Park Jimin, the vocalist and dancer of BTS is Dior's newest Global Ambassador. Dior announced the news on January 16 by posting a series of images of Jimin in their most recent summer 2023 collection on Instagram. Despite his recent appointment as an ambassador, Jimin has experience working with Dior, as the brand's designer Kim Jones already created a custom stage outfit for BTS in 2019. Recently, he attended the Dior Men's winter 2023/2024 show at Paris Fashion Week.
SUGA - VALENTINO
Another BTS member, Suga, has also been chosen as a brand ambassador, following Jimin. Suga is the new face of Valentino. On January 17, Valentino revealed that Suga has joined its group of brand ambassadors, known as "Di.Vas," as the newest member. Pierpaolo Piccioli, who is the label's creative director, described Suga as a "multi-faceted artist" and said that he perfectly embodies everything that the DI.Vas's testimonials stand for: diversity, inclusivity, creativity, and passion.
TAEYANG - GIVENCHY
BIGBANG, a K-pop pioneer, is frequently credited with being the first at many things. BIGBANG's Taeyang is still living it up 16 years after their debut, having been named the first Korean male artist to be appointed as a Givenchy Global Ambassador. On January 17, the French premium fashion label Givenchy made an official announcement regarding the appointment of Taeyang as the 2023 Global Ambassador. On January 18, he was present at Givenchy's Men's Fashion Week show in Paris.
AN YUJIN - FENDI
An Yujin, the leader of IVE, is the new face of the prestigious fashion brand Fendi. She has been named Fendi's newest South Korean brand ambassador. Yujin announced her collaboration with Fendi in a post on her Instagram account on January 17. She made her Fendi campaign debut by modeling the brand's Spring/Summer 2023 collection and Peekaboo ISeeU bags.
JACKSON WANG – LOUIS VUITTON
Jackson Wang, a soloist and member of GOT7 has been chosen as the newest House Ambassador for the prominent French fashion house Louis Vuitton. On their Twitter account, Louis Vuitton announced the news on January 21. The statement read, "The Maison is pleased to announce that the world-renowned singer will be joining as new House Ambassador." Jackson also attended Louis Vuitton's Menswear Fall 2023 show, which was held in Paris on January 19.
These eight K-pop artists are the ones who have recently been named as brand ambassadors for major premium brands. Guess who will be the next idol to serve as an ambassador.