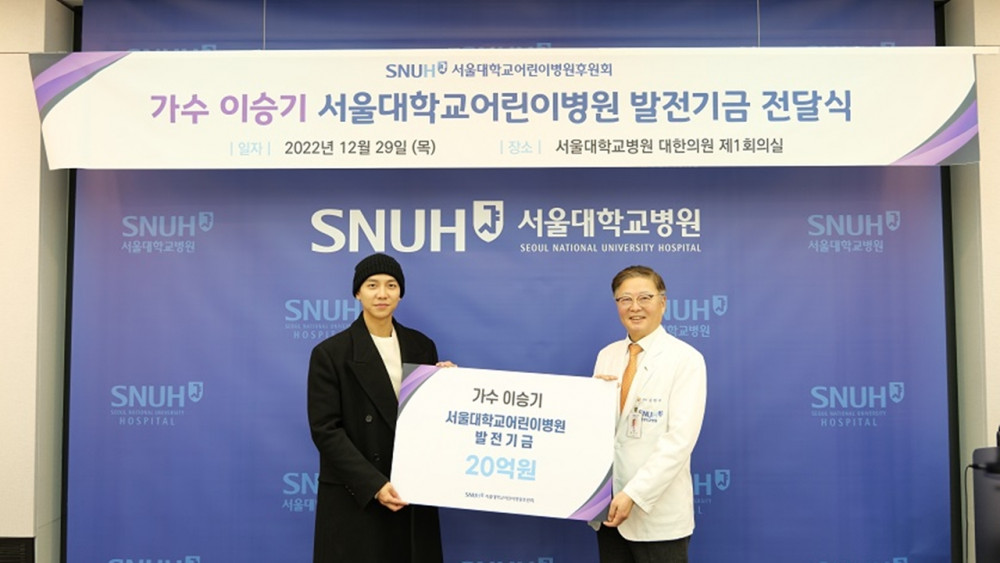 Singer and actor Lee Seung Gi have just donated 2 billion KRW (approx. US$1.6m) to Seoul National University Children's Hospital to improve their medical environment.
Lee Seung Gi who visited Seoul National University Children's Hospital and toured the site earlier on, have decided to support the medical environment improvement fund, sympathizing with the structural problems of children's hospitals, which cause deficits as they treat children.
Seoul National University Children's Hospital will use the donation to subsidise hospital room charge and improve old facilities so that children in hospital can be treated in a pleasant environment. In addition, some of the wards that have been improved to honor the will of the sponsor will be considered to be named "Lee Seung Gi's ward."
"Low birth rate is a national issue, and children's healthy growth and happiness can create a bright future in Korea," Lee Seung Gi said. "As a one-time support alone is limited, we hope this sponsorship will serve as an opportunity to build an environment for children and draw social attention, and we will continue to support them."
Kim Yeon Soo, head of Seoul National University Hospital, said, "I am grateful for Lee Seung Gi's decision in consideration of the difficulties in the field, and it has been a great help as a medical staff," adding, "All faculty members at Seoul National University Hospital will work together to help not only treat children but also improve their overall growth."
Meanwhile, back in 2019, Lee Seung Gi sponsored medical expenses for paediatric patients and auxiliary devices for medical rehabilitation. He has continuously making social contribution activities for children such as donating for the safety of children from low-income families who are vulnerable to COVID-19. The plan is to continue to make steady donations next year.
In particular, this donation was made out of 5 billion KRW (approx. US$4.15m) that Lee Seung Gi received late in the name of unpaid settlement from his former agency Hook Entertainment. Lee Seung Gi promised to give the rest of the money, excluding litigation expenses, back to the society.