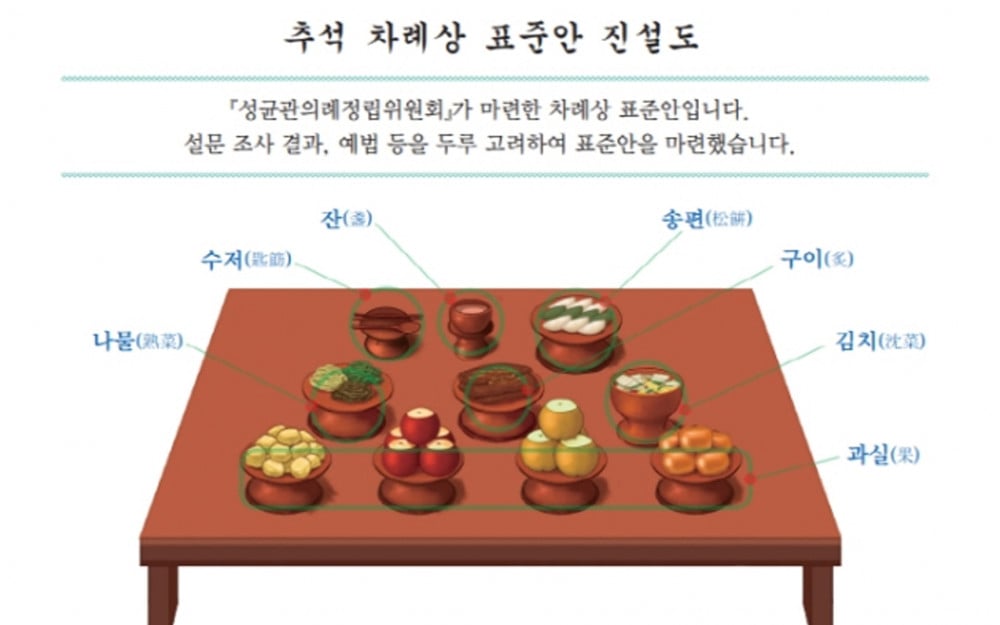 The Chuseok holiday is a major mid-autumn harvest festival holiday in South Korea that is celebrated for three days. This is one of the biggest holidays celebrated in South Korea, where Koreans return to their hometown to spend time with family and also visit their ancestral graves while dedicating a special dinner table to their ancestors.
Many families spend an entire day preparing these traditional tables. However, with the generations changing, many people in younger generations are reluctant to prepare so much food for these ancestral rites.
Then Sungkyunkwan announced the 'Standardization of Memorial Service Table' on September 5. According to the new standard, foods that require a lot of cook time and with the rising cost of food, some of the traditional foods are no longer included, such as Korean Jeon.
The Sungkyunkwan Ritual Establishment Committee said, "We hope that the newly announced standard will be a starting point for resolving the economic burden as well as conflicts between family members." The committee added, "Now, there is no need to go through the trouble of making Jeon and the table setting is an agreement of the families."
Additionally, according to the new standard, there is no need to observe the "Hong Dong Baek Seo," which is the tradition in which red fruits are placed in the east, and white fruits are placed in the west. The committee explained, "In the literature introducing the old etiquette, the phrase 'Hong Dong Baek Seo' does not actually exist. Therefore, we do not need to follow this tradition."
Also, the committee explained that families can visit the ancestral grave whenever they have time before or after the ritual, depending on the circumstances.
In the new standardized memorial service table, there are only nine foods that should be included - rice cakes called Songpyeon, vegetables, grilled fish, Kimchi, fruits, and alcohol. Families are also allowed to increase the number of foods to include Jeon and other dishes if they wish.
The reason Sungkyunkwan announced the new standard is that there are many conflicts between the older generation and the younger generation in the families.
The committee also announced the results of a survey conducted on 1,000 adults over the age of 20 nationwide in July in regard to the memorial dinner standard. According to this, 40.7% of the respondents cited that ancestral rituals need to be simplified. Only 13.6% of respondents said they did not attend the ancestral rituals. Most of the respondents chose 100,000 KRW/73 USD (37.1%) and 200,000 KRW/145 USD (27.9%) as the appropriate costs for the ancestral ritual. About half (49.8%) of the respondents answered that a total of 5 to 10 dishes were appropriate for the table.