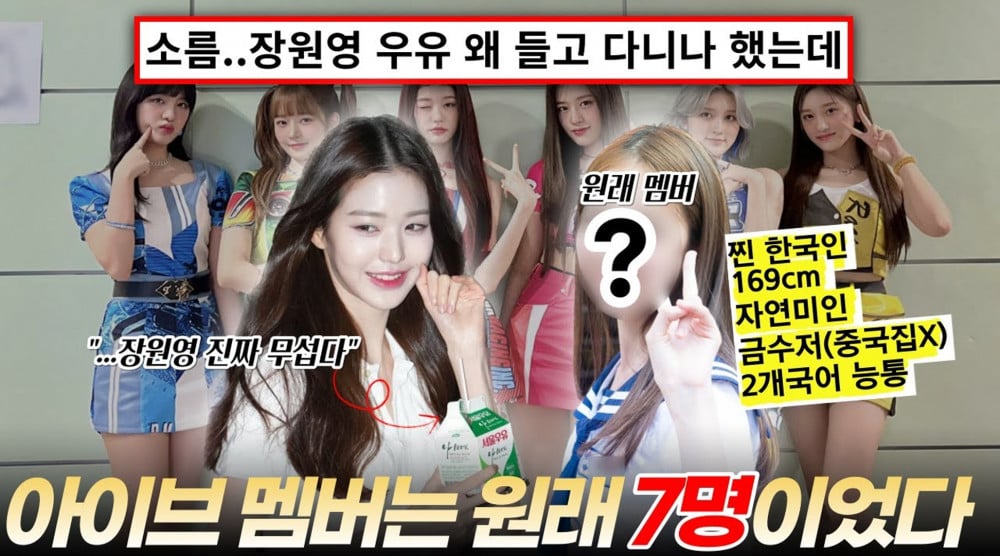 Sojang has uploaded yet another controversial video. This time, the gossip YouTube channel claimed that the girl group IVE was supposed to be a seven-member girl group, but one member was "kicked out" because of Jang Won Young.
The controversial YouTuber began explaining that the group's debut song "Eleven" was originally called "Prism," which is supposed to have seven colors. Additionally, there's a part of the song that counts up to the number 7. On top of that, IVE's members each have a color from the rainbow that represents them, but the color yellow is missing.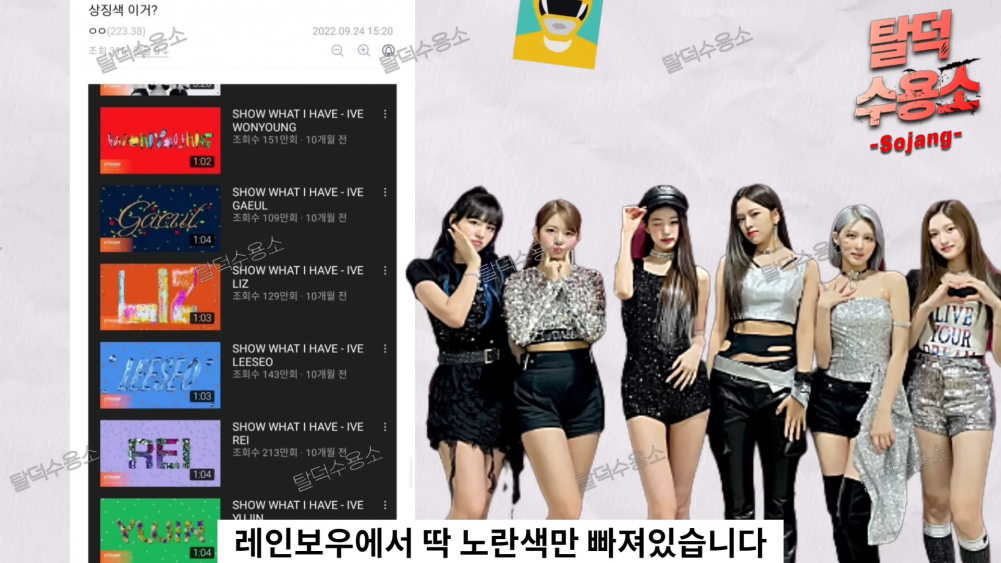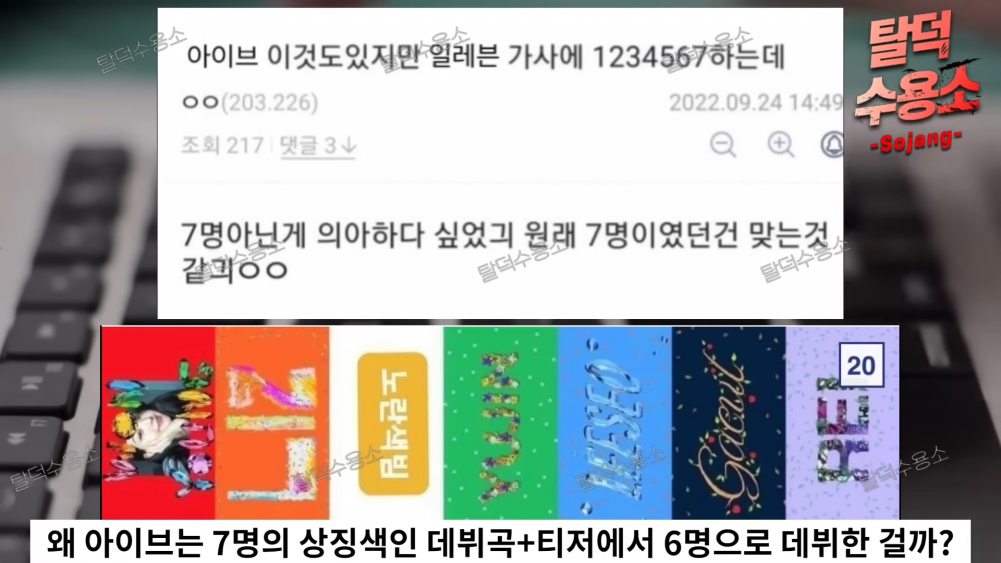 Sojang continued to explain that this was all because of member Wonyoung that IVE debuted with six members instead of seven.
The story began unfolding when a netizen revealed an incident that involved Jang Won Young. Apparently, Jang Won Young had been carrying around Maeil Soy Milk for three months in order to land herself an advertisement deal. Jang Won Young even claimed she drinks soy milk daily and was seen holding the soymilk carton so that the logo for Maeil Soy Milk would show.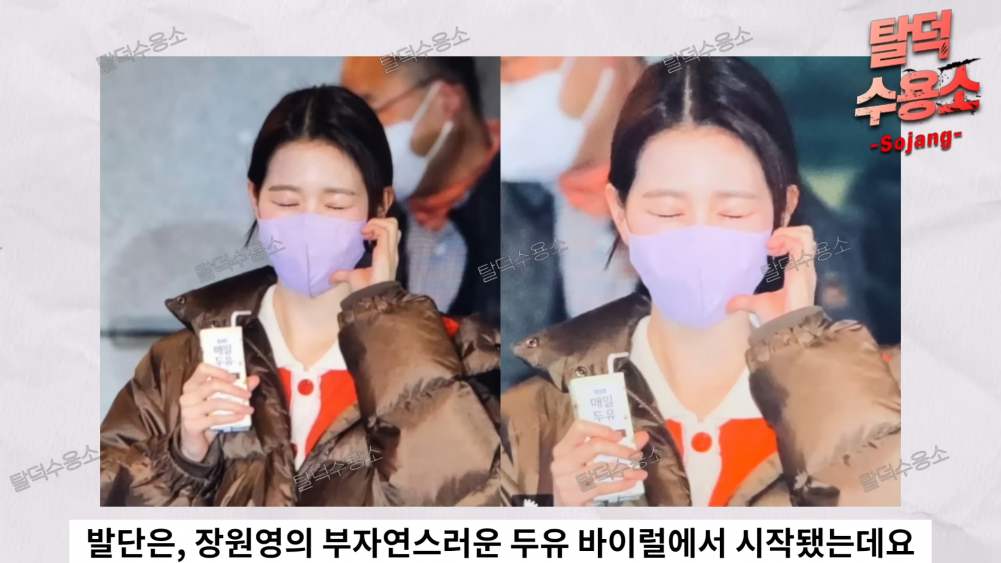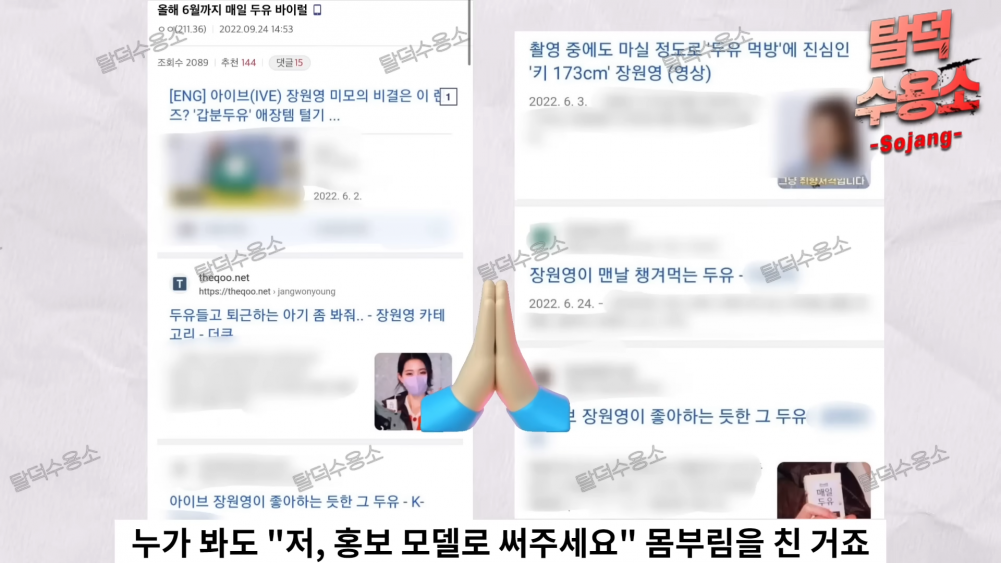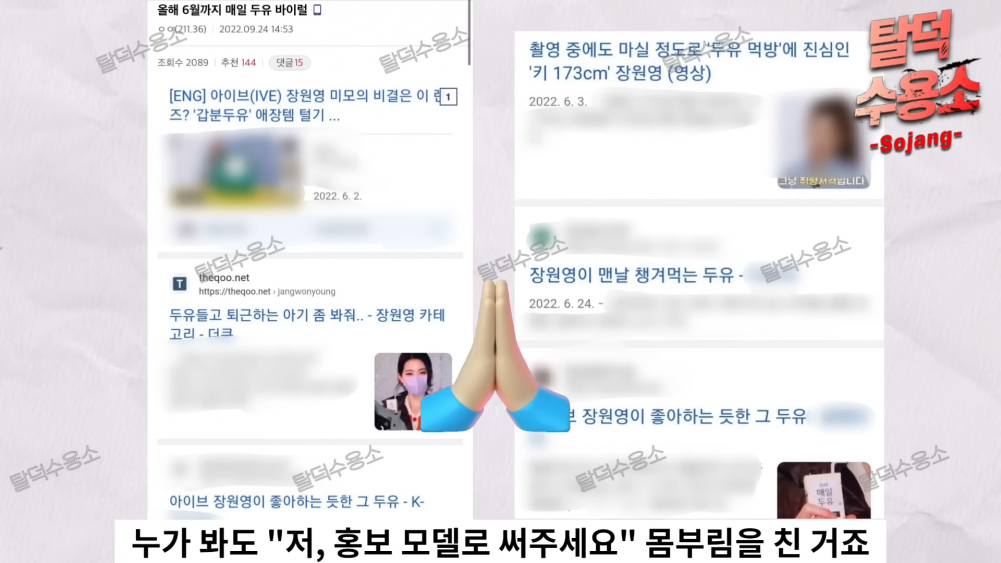 Jang Won Young's fans were confident that Jang Won Young would get an advertisement deal with the company. However, there was no news of an advertisement deal even after three months, so Jang Won Young decided to carry around Seoul Milk. Many are claiming that this is Jang Won Young's way of getting commercial deals and her way of wanting to become a model for the milk company.
Recently, one netizen revealed that the reason Maeil Soy Milk did not contact Jang Won Young was because of Park Joo Bi, who was supposed to be the seventh member of IVE. According to claims, Park Joo Bi is the granddaughter of the founder of Maeil Soy Milk and was kicked out of IVE due to Jang Won Young's jealousy.
Sojang claimed that Jang Won Young, who is used to being in the center position during IZ*ONE's promotion, did not want to promote together with Park Joo Bi because Park Joo Bi was a highly-likely candidate to take the center position of IVE.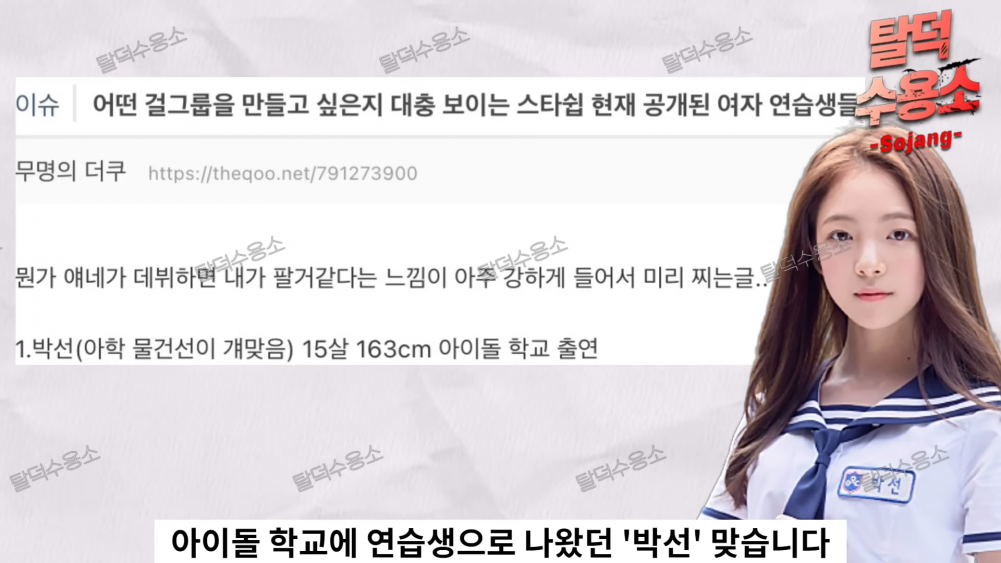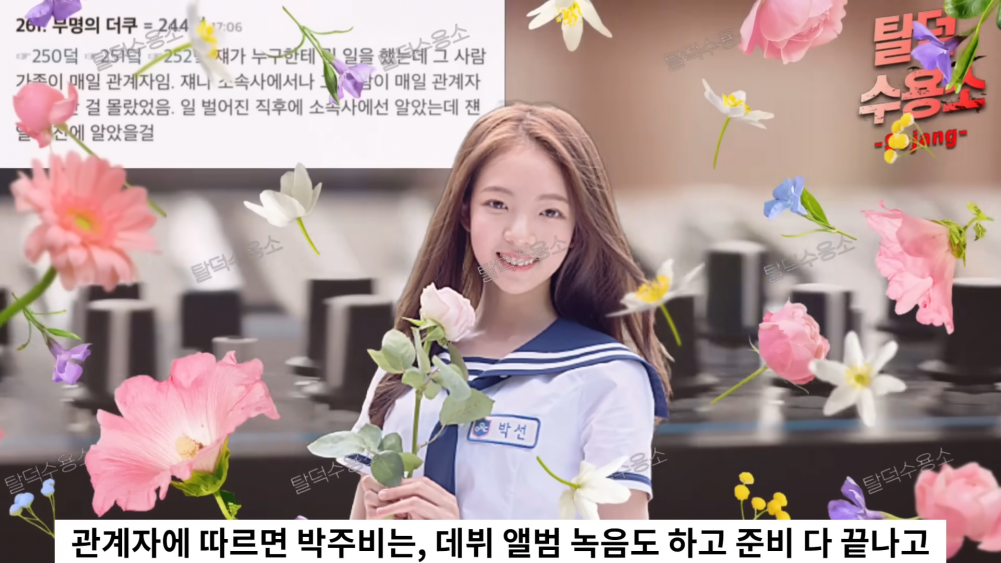 Park Joo Bi was a trainee who went by the name Park Seon and garnered much attention when she appeared on 'Idol School.' She stood out in all aspects, such as singing, dancing, and even her visuals. Therefore, Park Joo Bi would have been the center of the group.
According to an entertainment official, Park Joo Bi had actually finished recording the debut song with IVE and was supposed to debut with the group. However, Jang Won Young stubbornly stated she did not want to be in the same group as Park Joo Bi. That is why Starship Entertainment instead moved Park Joo Bi to become an actress in their company.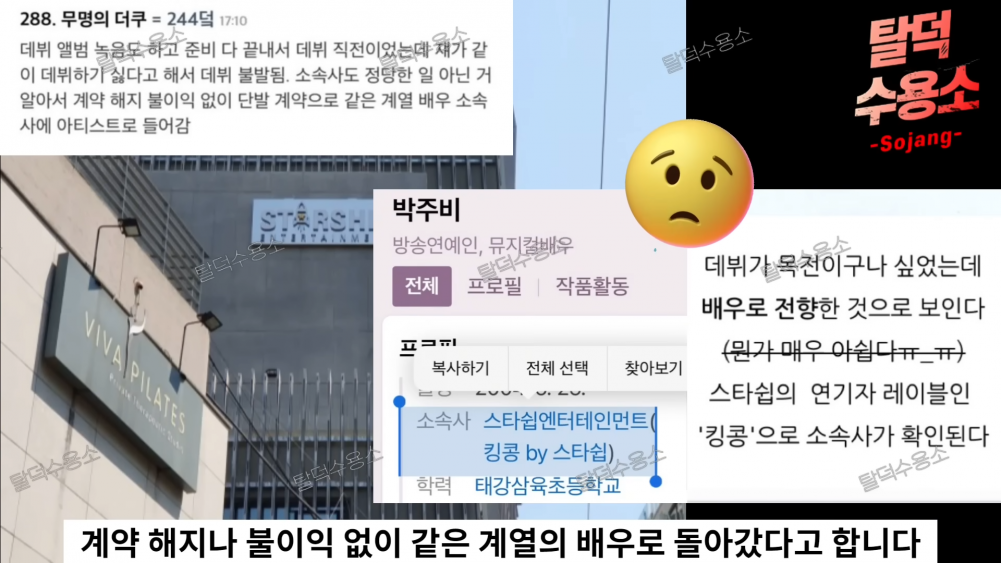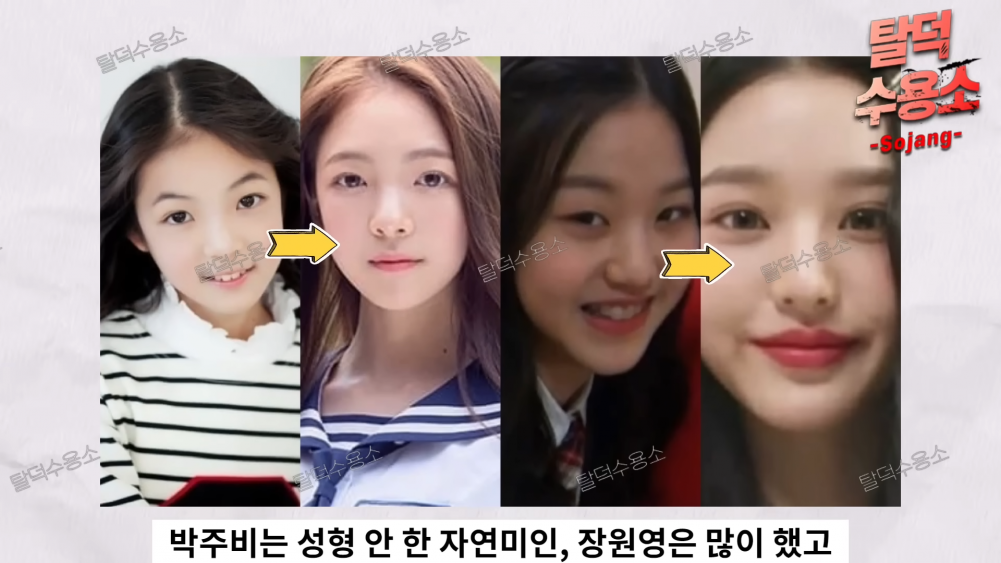 Sojang claimed that Jang Won Young was envious of Park Joo Bi because Park Joo Bi was a natural beauty and had a far better background/prospects than she did. Therefore, if Park Joo Bi had debuted with IVE, she would have definitely become the center member.
The YouTuber claimed that this was all revealed when a netizen who claimed to be Park Joo Bi's friend exposed the story in an online community. When Jang Won Young's fans were sure that Jang Won Young would get the advertisement deal with Meil Soy Milk, a netizen commented that it would never happen because of what Jang Won Young did.
Sojang continued to share the story of this incident in another video where the YouTuber claimed that Park Joo Bi's friends and schoolmates testified about Jang Won Young's actions towards Park Joo Bi.
In the second video, Sojang showed screenshots of what a person who claimed to be Park Joo Bi's mother wrote on various online communities. The alleged mother proved her identity by showing previously unseen photos of both Park Joo Bi and Jang Won Young, and she stated that the contents revealed in Sojang's video were accurate.
The person claiming to be Park Joo Bi's mother stated that Park Joo Bi did not become an actress but has returned to being an ordinary student, and she will soon reveal the full truth behind what happened with IVE's debut.