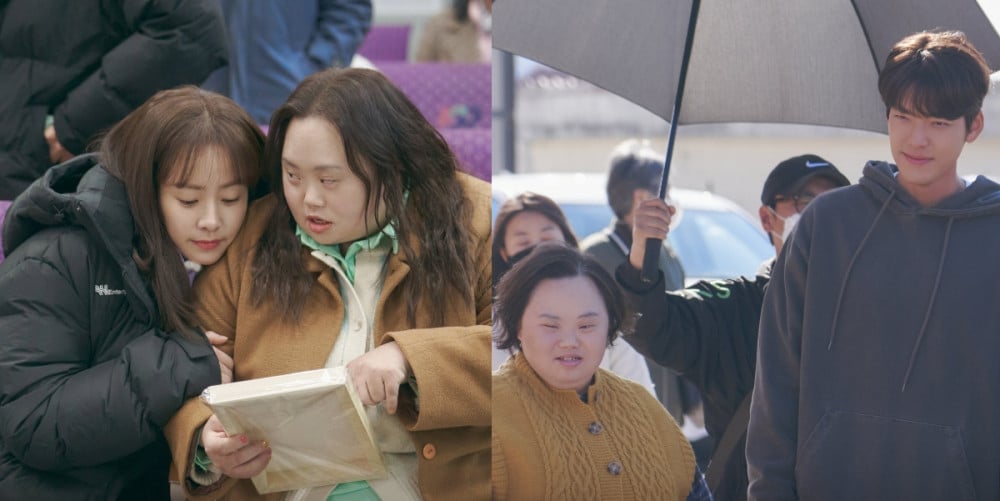 Han Ji Min and Kim Woo Bin were seen having warm interactions with their co-star Jung Eun Hye on the filming set of tvN's 'Our Blues'.
On May 26 KST, tvN's drama 'Our Blues' revealed some behind-the-scene photos of Han Ji Min, Kim Woo Bin, and Jung Eun Hye, after the recently aired 14th episode of the drama received a viewership rating of 13.6%, touching the hearts of many.
At the center of this high viewership rating was the episode's focus on the story of Lee Young Ok (played by Han Ji Min), Park Jung Joon (played by Kim Woo Bin), and the appearance of Lee Young Ok's twin sister, Lee Young Hee (played by Jung Eun Hye). Many viewers were surprised by the sudden appearance of Lee Young Hee, the twin sister of Lee Young Ok who has Down syndrome.
In particular, the fact that the role of Lee Young Hee was played by actress Jung Eun Hye, who actually has Down syndrome, drew of attention. Jung Eun Hye is a caricature artist, and it was revealed that screen writer Noh Hee Kyung communicated with Jung Eun Hye for one year before the filming of the drama began. After seeing how Jung Eun Hye loves people and draws pictures, Noh Hee Kyung merged Jung Eun Hye into the character of Lee Young Hee. Further, before filming took place, Han Ji Min and Kim Woo Bin had a separate meeting with Jung Eun Hye, spending time and getting closer with her prior to filming. During the actual filming, both Han Ji Min and Kim Woo Bin were seen warmly interacting with Jung Eun Hye, creating a pleasant atmosphere.