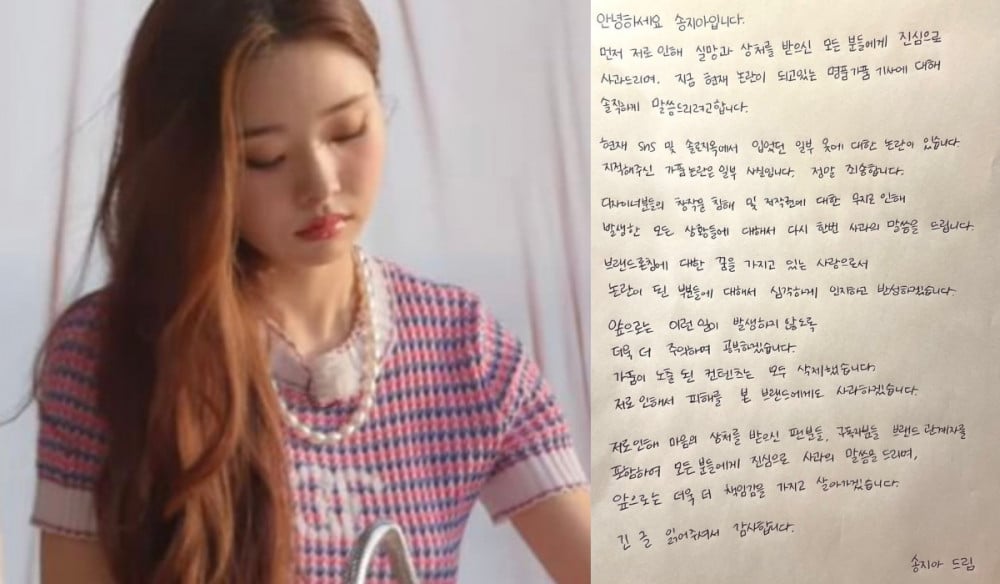 YouTuber Free Zia (Song Ji Ah), who became internationally popular after appearing as a contestant on the Netflix Original program 'Single's Inferno,' has released a public apology after netizens discovered she wore fake designer clothes on the show.

On January 17 KST, she uploaded a handwritten apology letter on her Instagram account, writing, "Hello, this is Song Ji Ah. First, I sincerely apologize to everyone who has been disappointed and hurt because of me. I am going to honestly explain about the fake designer items articles that are currently becoming a controversy."
"Some of the comments currently being made about the fake designer products I wore on social media and on 'Single's Inferno' are true. I'm really sorry," she continued."I apologize once again for any situation caused by the infringement of the designers' creations and ignorance of copyright."

"As a person with a dream of launching a brand, I will seriously recognize the controversy and reflect deeply," she vowed, adding that she would be more careful so it would not happen again. "All content with exposed fakes has been deleted. I also apologize to the brands who were harmed because of me."
"I sincerely apologize to everyone, including the fans, subscribers, and brand representatives who have been hurt because of me. I will live more responsibly in the future," she concluded. "Thank you for reading this long note."


Her full Instagram post can be seen below.