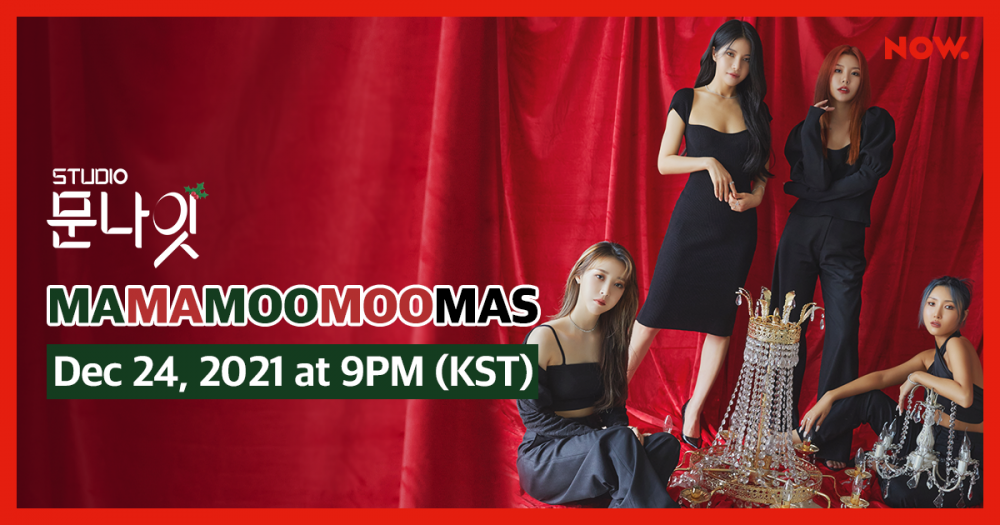 2021's been another hectic year dealing with the pandemic and changes in our daily routine. Good thing the holidays are right around the corner! Treat yourself this season by celebrating with a special performance from MAMAMOO! Naver NOW has already had HWASA grace its coveted stages, but now it's time for everyone in MAMAMOO to take the stage. Entitled, MAMAMOOMOOMAS, this holiday extravaganza is sure to warm you up on a cold winter's night. Enjoy their gorgeous visuals and charming charisma from your cozy home and celebrate the season with the group's signature power vocals.
MAMAMOO will make an appearance on Naver NOW for MAMAMOOMOOMAS on Christmas Eve, December 24, 2021, at 9 PM KST. The beauties are sure to dress to impress as it is the holidays! Surprises await like games, chats, and even fan interactions at MAMAMOOMOOMAS, so MOOMOOs you can get excited. Best of all, MAMAMOOMOOMAS is free for all to enjoy.
Gather your friends and family this Christmas Eve to cozy up around the yule log and watch MAMAMOOMOOMAS together. There's a lot in store for December 24, 2021, and who knows? Maybe Santa will make an appearance himself.
You can access and view NOW for free today to chat with other MOOMOOs in anticipation of MAMAMOO's special performance: MAMAMOOMOOMAS. Be sure to mark your calendars and tune in. Happy Holidays!

[Disclosure: This article is sponsored by NAVER NOW.]