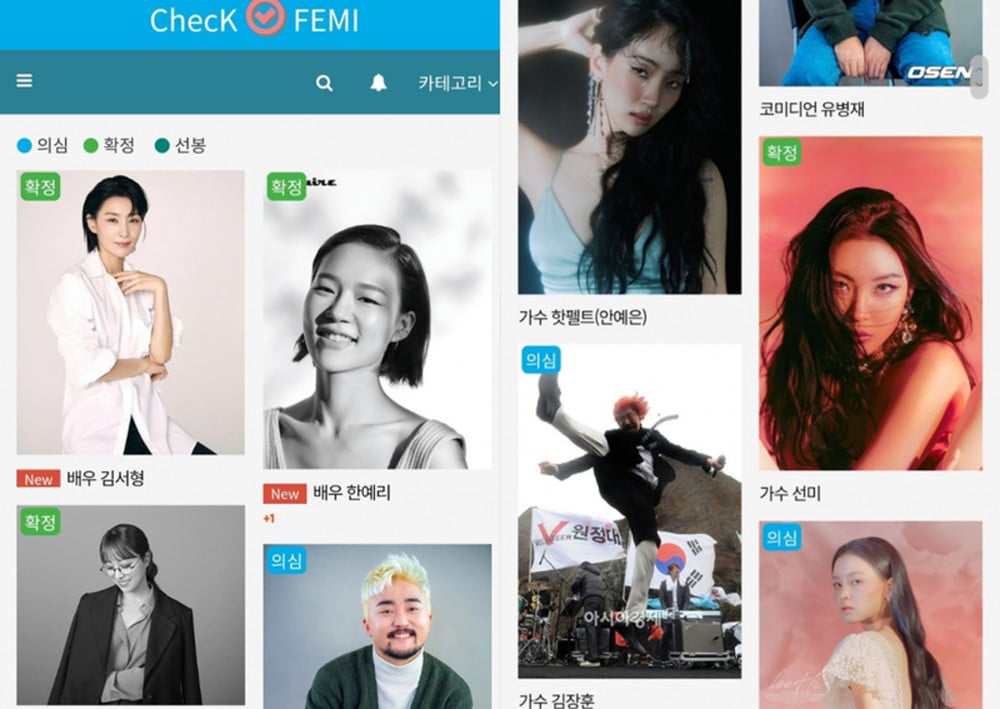 There was a controversy recently in Korean online communities as a website that arbitrarily brands famous celebrities, politicians, and other famous individuals as being feminists. Many are criticizing that this is highly inappropriate as it unilaterally marks and verifies the ideas of certain individuals.

The website called 'ChecK FEMI' classifies all famous individuals such as actors, comedians, singers, and idols, even writers, YouTubers, and politicians on whether they were feminists. Certain celebrities were given labels such as 'suspected,' 'confirmed,' or 'spearheading,' depending on the remarks they had said in the past, comments on social media, and so on.

According to the site, BTS's RM, NU'EST's Ren, Red Velvet's Joy, actress Kim Seo Hyun, newscaster Lim Hyun Joo and more were classified as 'confirmed' feminists. The site explained, "There was a tweet that included the book 'Man Box,' which is known as a feminist book, that was discovered, and he once recommended, 'Kim Ji Young, Born 1982,' which is like a bible for feminists. Also, BTS fans are mostly women. Only he will know if feminism is his principle or he's doing it for business purposes" in regards to BTS' RM.


South Korean President Moon Jae In and the late Seoul mayor Park Won Soon were listed as individuals spearheading feminists along with actor Kwon Hye Hyo, YouTuber Baelina, writer Kwak Jung and more.

There were a few people who commented, "Thank you for allowing us to pick them out," "I'm so disappointed that this person is also a feminist," and "I will avoid these people."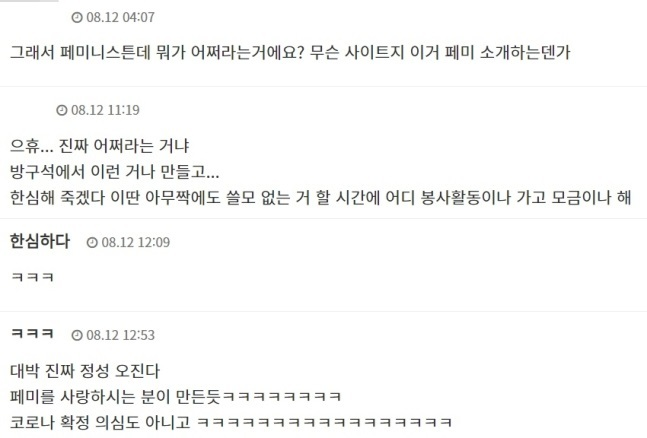 However, there were numerous netizens who criticized and questioned the purpose of the site. They commented, "What use is it if they arbitrarily distinguish feminists themselves when the people themselves didn't even confirm?," "All the people on this list have good healthy ideologies so I can trust in the projects and work they participate in," "I can't believe someone created a site to classify feminists. What the heck is 'suspected' 'confirmed' and 'spearheading'? This is ridiculous!"

Meanwhile, the administrator that manages the site wrote, "The site does not classify people who are extreme feminists part of the 'Megalia' community or feminists who strive for women's rights in Korea. The individuals on this site have been distinguished by their activities so the level of each individual's criticisms vary."

However, the site currently has been shut down with all the contents deleted.