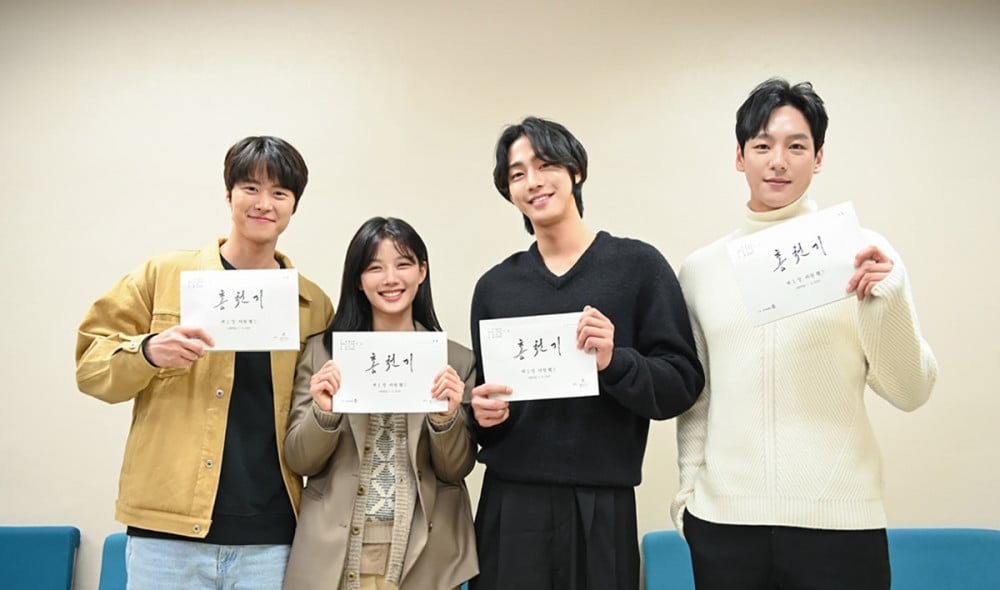 SBS's brand new historical fantasy drama series 'The Red Sky', premiering later this summer, has released still cuts of the lead cast members working together during their first script reading session.
Based off of a fantasy novel of the same name, 'The Red Sky' tells the story of a painter and astronomer who fall in love under unlikely circumstances. In the female lead role, Kim Yoo Jung plays Hong Chun Gi, a female painter bestowed with divine talent. Opposite her, actor Ahn Hyo Seop takes on the male lead role, an astronomer with frightening red eyes who can read the stars, Ha Ram.
Next, Gong Myung and Kwak Si Yang join the cast as prince Yang Myung and prince Joo Hyang of the royal family. Prince Yang Myung is a carefree spirit who loves art, while prince Joo Hyang has his eyes set on the throne.
SBS's 'The Red Sky' starring Kim Yoo Jung, Ahn Hyo Seop, Gong Myung, Kwak Si Yang, and more is slated to premiere this coming August, airing every Mondays and Tuesdays.