The film 'Recalled,' starring Seo Ye Ji, is receiving good reviews despite the series of controversies involving the lead actress.
For the past few days, actress Seo Ye Ji has been at the center of attention. She has been involved in various scandals and controversies such as gaslighting her past lovers, being a school bully, and fabricating her academic background. Ever since the surfacing of numerous controversies, the actress has been scrutinized by netizens in various aspects of her life, including her upcoming film.
With the release of 'Recalled,' many netizens took an interest in the film's performance and its ratings as its lead actress have been involved in various negative incidents. However, contrary to many netizen's expectations, 'Recalled,' ranked number 1 in box office reservations as it brought in a recorded real-time reservation rate of 36.6%.
In fact, many viewers have praised the film for the storyline, the perfection of the movie, and the lead male actor's acting skills after watching the first screening of the film. Netizens, who watched the movie, left positive comments on the CGV movie review site.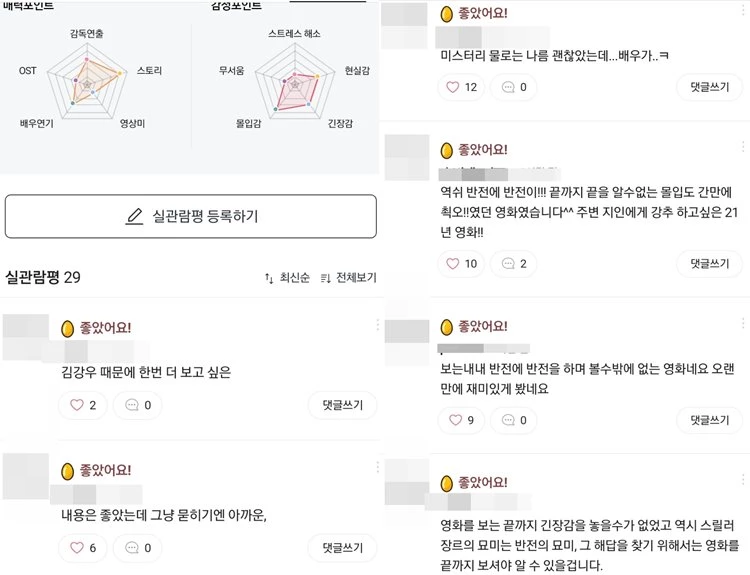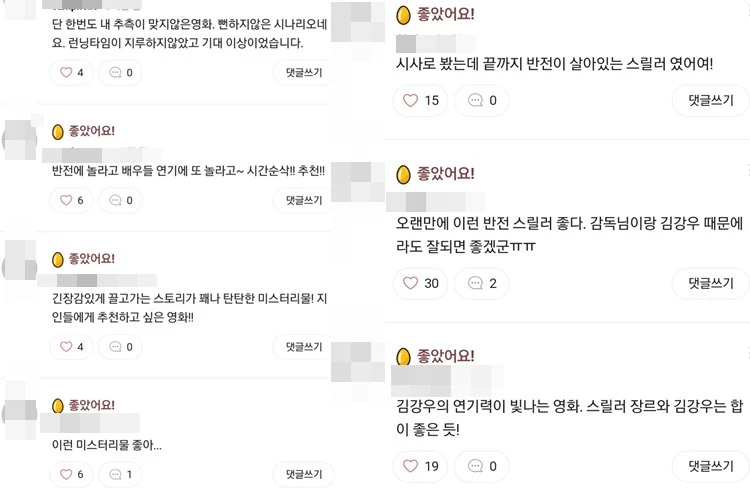 Netizens commented, "This is a film I'd like to watch again because of actor Kim Kang Woo," "The content of the movie was very good, it's a waste if this film goes unnoticed," "None of my guesses of the storyline were correct throughout the film," "I was so pleasantly surprised by the plot twists and the actors' acting skills. Time flew by while watching this! definitely would recommend!" "This is such a good mystery film, just unfortunate about the actress..." "I like this kind of mystery," "I was tense throughout the film," and "This film is amazing."


Meanwhile, 'Recalled' is a mystery thriller film about a woman struggling to regain her memory after the main female protagonist Su Jin suddenly wakes up from an accident and suffers from memory loss. She continues to live a happy life under the care of her husband until she begins seeing dangerous things about her neighbor's future. Seo Ye Ji was cast as the lead actress playing the role of Su Jin.